Use the table below to browse notable alumni from boarding schools around the world.
Famous Boarding School Alumni:
School Name
Notable School Alumni (Sample)
Saint Michaels University School

Steve Nash '92 - Two-time NBA MVP, founder and president of the Steve Nash Foundation for growing health in kids

Stewart Butterfield '91 - Co-founder of Flickr

Kenneth Oppel '85 - Award-winning author

Manoj Sood '81 - Star of CBC's hit show

Loomis Chaffee School

George Schultz '38 - Former Secretary of State

Ella T. Grasso '36 - Former Governor of Connecticut

Arthur Ochs Sulzberger '45 - New York Times Chairman

Henry R. Kravis '63 - Financier; founding partner, Kohlberg Kravis Roberts & Co.

James Widdoes '72 - Actor, writer, and producer

Gretchen Ulion '90 - 1998 Winter Olympic Games US women's ice hockey Olympic gold medalist

John D. Rockefeller III '25 - Successful businessman and philanthropist

Winthrop Rockefeller '31 - Former governor of Arkansas

Jason Wu '01 - Fashion designer (designed First Lady Michelle Obama's inaugural ball gown and other pieces for the first lady)

Frank Bruni '82 - Journalist, The New York Times and the New York Times Magazine

Williston Northampton School

Steve Porter '97 - PorterHouse Media produces ESPN video mashups

G.P. Gromacki '89 - Led Amherst College women's basketball team to the NCAA Division III championship, named Coach of the Year by D3hoops.com.

William S. Clark - UMass/Amherst President

Winthrop Crane - 40th Governor of Massachusetts, U.S. Senator

Brad Hall '75 - Actor, producer, writer. Saturday Night Live Weekend Update anchor

Patrick Rissmiller - Professional hockey player, NHL NY Rangers forward

George Crockett Strong, Class of 1851 - U.S. Civil War General

Robert Samuelson '63 - Economic columnist and journalist, editor for Newsweek and the Washington Post, author

George Stanley Hall - Psychologist, father of American Psychology

Tony Lavelli '45 - First overall NBA draft pick, accordionist for the Harlem Globetrotters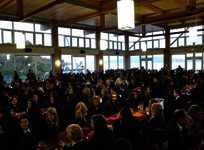 April 19, 2017
Get admissions officer's Clayton Johnston's perspective on how to choose the best boarding school for you.
April 19, 2017
Here are some answers to the more common concerns we parents have when our child goes off to boarding school.
April 19, 2017
In 1957-58 Peter Denis attended a boarding school in Switzerland. In this article he recounts his experiences for us.