Open Houses & Events
Find open houses and receptions for Fay School.
Open House Details:
Tue., April 24, 2018 - Southborough, MA
Open House
Fay School
54 Main Street, Southborough, MA, 01772, USA
10:00am - 12:00pm
RSVP needed: No
Further information: 508-490-8201, admission@fayschool.org
Please join us for one of our Classroom Visit Days this year. It's a unique opportunity for you and your child to see Fay School at its best as you tour our campus, talk with teachers and lead administrators, and observe students and teachers in action on a typical school day.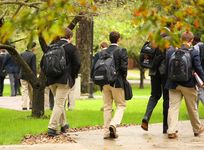 March 19, 2018
Some cynics think single-sex education is old-fashioned. The Kiski School shows how educating boys in a single-sex school is successful.
March 14, 2018
Determining which programs are 'must haves' is an important part of choosing the right boarding school for your child.
March 08, 2018
The wide range of fine academic, athletic, and other facilities found in boarding schools underscores the determination of schools to provide the very best for their students.