Open Houses & Events
Find open houses and receptions for Maplebrook School.
Open House Details:
Fri., April 20, 2018 - Amenia, NY
Open House
Maplebrook School
5142 Route 22, Amenia, NY, 12501, USA
9:30am - 11:30am
RSVP needed: Yes
Further information: Jeffrey L. Magnoli, 845-373-8191, admissions@maplebrookschool.org
The Academy and The Institute for Collegiate and Career Studies at Maplebrook School cordially invite you to attend our Spring Open House. We wish to provide prospective families with an opportunity to meet and interact with our administrators, faculty, and students while touring our beautiful, countryside campus and facilities. Drop-ins welcome, but reservations preferred; see you on campus.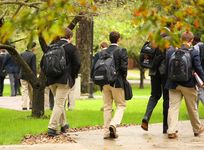 March 19, 2018
Some cynics think single-sex education is old-fashioned. The Kiski School shows how educating boys in a single-sex school is successful.
March 14, 2018
Determining which programs are 'must haves' is an important part of choosing the right boarding school for your child.
March 08, 2018
The wide range of fine academic, athletic, and other facilities found in boarding schools underscores the determination of schools to provide the very best for their students.