Open Houses & Events
Find open houses and receptions for New York Military Academy.
Open House Details:
Sat., June 02, 2018 - Cornwall-on-Hudson, NY
Open House
New York Military Academy
78 Academy Avenue, Cornwall-on-Hudson, NY, 12520, USA
10:00am - 1:00pm
RSVP needed: Yes
Further information: Kim Charalambides, 18455343710, kcharalambides@nyma.org
NYMA cordially invites you to attend an Open House for prospective students and their families. These Open Houses will provide an opportunity to meet and interact with administrators and students. We hope to see you there!
May 03, 2018
The quality of a summer camp depends very much on the quality and experience of the folks running it. When you select a summer program run by a boarding school, you are getting a program with experienced, well-organized professionals at the helm. More here.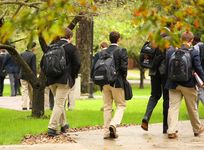 March 22, 2018
Some cynics think single-sex education is old-fashioned. The Kiski School shows how educating boys in a single-sex school is successful.
March 08, 2018
The wide range of fine academic, athletic, and other facilities found in boarding schools underscores the determination of schools to provide the very best for their students.