Millbrook School - Review #1
About the Author:

College Enrolled
New York University
Home Town, State (Country)
Katonah, NY
Years Attended Boarding School
1
Activities During Boarding School
Millbrook maintains a top notch arts program for students to explore various forms of art. Whether it be visual or performing arts, almost every student is involved. Millbrook sheds light on art to those who have not considered exploring it before. I'd often see hockey recruits act in the Fall Play, or Winter Musical.
Review

Description

New York University

When I think of Millbrook, I think of the overwhelming support from the student body and faculty. Millbrook to me is special in that it maintains a strong and connected community, that continues as you. . .

Syracuse University

One obvious factor that made my school unique was the on-campus zoo. This had an incredible range of animals from baby red pandas to otters. It has also an incredible amount of endangered animals as. . .

Washington University in St Louis

Millbrook's biggest differentiating factor from all other boarding schools is the Trevor Zoo. The Trevor Zoo is located on Millbrook's campus and is the only AZA accredited zoo on a high school campus in the. . .

Cornell University

One of our school mottos was everyone is known and needed. That couldn't have been more true. With such a small student size, every student was truly known and valued. The faculty was amazing and. . .

Show more reviews

(-1

reviews)
April 20, 2018
Actually, there is no secret to getting your child into boarding school. Just a lot of hard work and a heavy commitment of time.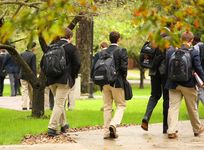 March 22, 2018
Some cynics think single-sex education is old-fashioned. The Kiski School shows how educating boys in a single-sex school is successful.
March 08, 2018
The wide range of fine academic, athletic, and other facilities found in boarding schools underscores the determination of schools to provide the very best for their students.