Open Houses & Events
Find open houses and receptions for The Phelps School.
Open House Details:
Sun., April 29, 2018 - Malvern, PA
Open House
The Phelps School
583 Sugartown Road, Malvern, PA, 19355, USA
11:00am - 3:00pm
RSVP needed: No
Further information: Admissions, 610-644-1754, admis@thephelplsschool.org
Join us for our Open House. Come meet the faculty, go on a student-led tour of the campus and learn about our uniquely outstanding program. Prospective students and families interested in attending should contact Admissions for more information at 610-644-1754 or admis@thephelpsschool.org.
April 20, 2018
Actually, there is no secret to getting your child into boarding school. Just a lot of hard work and a heavy commitment of time.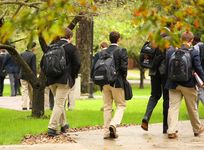 March 22, 2018
Some cynics think single-sex education is old-fashioned. The Kiski School shows how educating boys in a single-sex school is successful.
March 08, 2018
The wide range of fine academic, athletic, and other facilities found in boarding schools underscores the determination of schools to provide the very best for their students.