Open Houses & Events
Find open houses and receptions for The Storm King School.
Open House Details:
Sat., May 19, 2018 - Cornwall-on-Hudson, United States
Open House
The Storm King School
314 Mountain Road, Cornwall-on-Hudson, NY, 12520, United States
10:00am - 12:00am
RSVP needed: Yes
Further information: Toni Scherrer, 8454587536, tscherrer@sks.org
The Admissions Office cordially invites prospective students and their families to attend an Information Session. See for yourself why SKS students succeed!Information Sessions begin in Orr Commons at 10:00 with brief welcoming remarks. Next, during a tour of SKS's scenic campus, you will learn about our academics, sports, arts, and service programs. Please wear comfortable shoes and outerwear.Please call 845-534-9860 to reserve your spot.
April 20, 2018
Actually, there is no secret to getting your child into boarding school. Just a lot of hard work and a heavy commitment of time.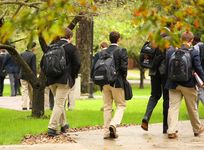 March 22, 2018
Some cynics think single-sex education is old-fashioned. The Kiski School shows how educating boys in a single-sex school is successful.
March 08, 2018
The wide range of fine academic, athletic, and other facilities found in boarding schools underscores the determination of schools to provide the very best for their students.