Open Houses & Events
Find open houses and receptions for West Nottingham Academy.
Open House Details:
Sun., May 06, 2018 - Colora, MD
Open House
West Nottingham Academy
1079 Firetower Road, Colora, MD, 21917, USA
1:00pm - 3:00pm
RSVP needed: Yes
Further information: Corinne Kahler, 410-658-9279, ckahler@wna.org
WNA's Office of Admission cordially invites you to attend our Spring Open House on Sunday, May 6. You'll get the chance to meet and interact with teachers, administrators, and students, as well as tour our beautiful 100-acre campus in the rolling hills of Maryland. RSVPs are requested. We hope to see you there!
April 20, 2018
Actually, there is no secret to getting your child into boarding school. Just a lot of hard work and a heavy commitment of time.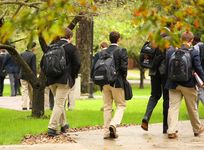 March 22, 2018
Some cynics think single-sex education is old-fashioned. The Kiski School shows how educating boys in a single-sex school is successful.
March 08, 2018
The wide range of fine academic, athletic, and other facilities found in boarding schools underscores the determination of schools to provide the very best for their students.