Reflections and Advice:
1.) What do you think makes your school unique relative to other boarding schools?
1) AWE - 26 Day backpacking trip in either High Sierras or Death Valley. It is truly a life-changing experience and you really get to know the 10 people that you are grouped with. It builds a memory that lasts a lifetime and creates formative experiences.2) Very open community and campus. Very easy to talk to other people and become close with your teachers. The campus is relatively large and beautiful to walk around. Never feel particularly constrained while on campus.
2.) What was the best thing that happened to you in boarding school?
The school has truly changed me and helped me achieve what I have. It has prepared me well for college. When you talk to other people in college about where you went to high school, you begin to realize how special of a place Athenian really is.
3.) What might you have done differently during your boarding school experience?
Embrace the culture of Athenian. It is an experience like nothing else. Do things outside your comfort zone, go after opportunities and enjoy your time. This is a place where the normal pressures of high school don't necessarily have to apply and where you can develop yourself more than just academically (though academics are certainly very important and central to life).
4.) What did you like most about your school?
The culture and the intense, but easygoing nature of the school. Students are respected and you get some amazing memories in your time there. There is no describing it. Visit the school and you'll scratch the surface of what the school is. Be warned that it is not a typical high school so be prepared for that.
5.) Do you have any final words of wisdom for visiting or incoming students to your school?
Find the fruit trees. They have really good fruit. Explore the area. All the dorms are pretty equal (though Ridgeview went through major construction and if they're done its probably the best dorm now). Go to the top of the hill and look at the view you get from there. It's quite incredible.
Academics:
1.) Describe the academics at your school - what did you like most about it?
Academics are rigorous, but teachers are accessible. Not a huge amount of flexibility until Junior/Senior year when you begin to pick what seminars you want to take. Not a whole lot of AP curriculum, but the benefit of this is that there classes customized to a uniquely "Athenian" education. The Athenian education strives to educate the entire individual, not necessarily just facts and figures.You may hear quite a bit about the "Cold War Paper" in sophomore year, but while certainly no walk in the park it is over-hyped. The Cold War Paper prepares you extremely well for the rigors of college.Languages offered at Athenian are Spanish, French and Chinese. All students are required to take 3 years of a foreign language.There is a final examination period where most classes will administer final exams or final projects. Something unique to this period is that Athenian has something called "Reading Day" instituted where students are encouraged (but not required with sufficient grades) to attend and meet with teachers where no classes are scheduled and ask questions/study for final exams.Overall academics are hard, but not overwhelming. At the end you'll be glad that you put the work in. Ask around about to find out what teachers to avoid and which ones that you should take classes from regardless of what they are teaching since it would simply be gratuitous of me to list them here.
Athletics:
1.) Describe the athletics at your school - what did you like most about it?
Be warned: no football team. This has benefits and drawbacks. Varsity teams are competitive and have won championships/gone to NCS. Most notably is the track team which is extremely competitive, but also lets anyone join if they are willing to put the work in. Soccer is also pretty competitive. There are a pretty wide diversity of sports available.I didn't have a whole of experience in the sports programs. There have been some complaints raised about the athletics director, but nothing too out of the ordinary.All students are required to take 7 semesters of PE to graduate. There are a very wide variety of PE classes offered from Ultimate Frisbee and Hiking to Rock Climbing and Yoga. Take your pick and enjoy it!
Art, Music, and Theatre:
1.) Describe the arts program at your school - what did you like most about it?
Athenian truly shines in this area. Students here are (for the most part) extremely multi-talented and proficient. Both the Advanced Choir and Advanced Combo are revered for their performances and rigor. Theatre puts on two major productions every year (a musical with BOTH acts and a major play such as Shakespeare). There are also a very wide variety of smaller student and class productions for theatre. For music there is the G-choir, G-band, Advanced Choir and Advanced Combo all of which are very rewarding to play in. Advanced Combo/Advanced Choir only take Sophomore students and above as well as having competitive auditions. G-choir and G-band are open to all and often do very interesting performances based on the makeup of the students every year.The musical director is wonderful at the school and empowers students to find their creative drive and make performances their own. Same goes with the choir director.
Extracurricular Opportunities:
1.) Describe the extracurriculars offered at your school - what did you like most about it?
Quality over quantity is the game here. There isn't a massive gamut of clubs that many other schools have (probably somewhat due to the small size of the school), but the clubs that the school does have are extremely interesting and open. The entrepreneurship program has grown significantly in recent years and has brought very interesting luminaries such as local entrepreneurs (CEO FireEye, Founder Siri, Local Entrepreneurs) as well as participating and winning finalists in entrepreneurship competitions. There are of course many of the typical clubs that you'll see at many schools such as yearbook, journalism, (chess club maybe? It was in my infancy when I graduated), Conservative club etc. There is something for everyone to participate in and it is very easy to get started with your own club if you'd like!
Dorm Life:
1.) Describe the dorm life in your school - what did you like most about it?
Dorm life isn't amazing, but its very comfortable. Rooms are well sized and people are friendly. There are two main people in each dorm (of which there are three) - the Dorm Prefect and the Residential Leader. Res leader is an adult hired by the school who lives in the dorm and manages many tasks relating to the dorms. They are very friendly and tend to be well integrated into the community. The Prefect is a student that is elected to the position and is in charge of many other tasks relating to the dorm.Internet is blocked here rather strictly. Get a VPN and you'll be fine in that area.
Dining:
1.) Describe the dining arrangements at your school.
Dining is very healthy and relatively good. Food is cooked every day by dining staff (who are very friendly and integrated into the community as bus drivers/coaches) and the food is locally sourced when possible. The school strives to be healthy and environmentally friendly so that comes out in the food. Breakfast is typically pretty run of the mill American breakfast (with some other options typically), Lunch varies quite a bit along with dinner. Teachers who live on campus also will occasionally eat breakfast/lunch/dinner with students.People like to eat all over campus since there are a lot of nice places to sit down and talk with friends.
Social and Town Life:
1.) Describe the school's town and surrounding area.
The school is in Danville (read: Blandville), but there are things to do if you make friends with someone who has a car. Weekend trips to San Francisco are AWESOME! Danville has some places to eat out if you can drive there (or Uber there) along with bubble tea places. There are some trails on campus along with a lot of area to explore (which a lot of people don't) which you should explore! Try to find all the fruit trees on campus which students are allowed to pick and eat fruit off of. Find the water tower and climb it! Go up mount diablo. Enjoy nature.
2.) Describe the social life at your school - what did you like most about it?
Small and friendly. You are able to know everyone in your grade by the end of 4 years extremely well. Very easy to talk to people. Social life is not an issue here. It is an issue if you like anonymity which you will not get here.
Mastering the Boarding School Selection Process: A 5-Step Guide
Discover the ultimate 5-step guide to choosing the perfect boarding school for your child. Explore essential factors, such as academics, campus facilities, extracurricular activities, and more. Make an informed decision to provide your child with an enriching and transformative educational experience. Read now!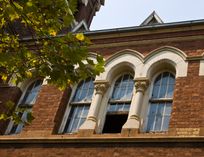 5 Founders and Their Boarding Schools
What prompts somebody to start a boarding school? The motives range from idealism to munificence right on through to capitalism. The common thread seems to be ample capital and a vision of what education can do.