Find upcoming jobs in (select one):
Boarding School Jobs:
Theology Teacher - MD (North Bethesda)
Georgetown Preparatory School
Posted on Tue., January 24, 2023
Starting date: Immediately
Expiration date: Wed., May 01, 2024

Job type: Full Time
Estimated salary: TBD
Education requirements: See below
Contact Information: Mrs. Gina Rentz; grentz@gprep.org
Georgetown Preparatory School, the nation''s oldest Jesuit high school, is currently seeking a full-time Theology teacher for the 2023-2024 academic year. All applicants should be practicing Roman Catholics and have a degree in Theology. To further clarify this requirement, in accordance with the requirements of the Archdiocese of Washington, we can only consider applicants for Theology positions who are practicing Catholics with at least one of the following degrees: Graduate degree in Theology, Divinity, Religious Studies or Religious Education; Bachelor of Arts degree in Theology, Religion or Religious Studies; or, Bachelor of Arts degree with a minor (18 well-rounded credits) in Theology, Religion or Religious Studies Applicants must be enthusiastic, energetic, flexible and willing to teach as a member of a team, in conjunction with the other Theology department members. The ideal applicant will also have experience with and appreciation for the Jesuit model of education, and the desire to train and care for the whole student in accordance with the Jesuit philosophy of cura personalis. Georgetown Prep requires a commitment to the mission and values of the school, as well as the willingness to contribute to the co-curricular program. Georgetown Preparatory School, located outside Washington, D.C. and founded in 1789, is an independent, Jesuit, college preparatory, residential and day school for young men in grades 9-12. Enrollment is 490. Average class size is 16. Georgetown Prep offers competitive compensation and a generous benefits package for all full-time faculty and staff positions. Successful candidates may also be eligible to apply for a role working with the boarding community in the dormitories. Faculty who also work as dorm parents are provided with housing accommodations and additional benefits. Visit https://www.gprep.org/about/employment
Mastering the Boarding School Selection Process: A 5-Step Guide
Discover the ultimate 5-step guide to choosing the perfect boarding school for your child. Explore essential factors, such as academics, campus facilities, extracurricular activities, and more. Make an informed decision to provide your child with an enriching and transformative educational experience. Read now!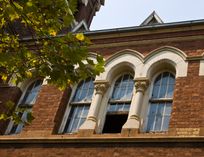 5 Founders and Their Boarding Schools
What prompts somebody to start a boarding school? The motives range from idealism to munificence right on through to capitalism. The common thread seems to be ample capital and a vision of what education can do.