Reflections and Advice:
1.) What do you think makes your school unique relative to other boarding schools?
The unique outdoors program at Cate makes the school stand out among its peers. Required week long trips at the beginning of every school year bring the student body together in a way that cannot be matched during the hustle and bustle of the school year. I was never an outdoorsy person-- in fact, I dreaded the trip to Catalina Island as I prepared for my freshman year; however, as time passed and I successfully completed the Yosemite backpacking trip and the dreaded Kern River trip, I grew to love the time i spent with my classmates out among nature. I even chose to go on an optional senior trip in which I and 13 other seniors canoed down the Colorado River.
2.) What was the best thing that happened to you in boarding school?
Boarding school exposes you at a very young age to lots of different types of people with lots of different types of backgrounds. Bringing all of those personalities and experiences together in a common environment naturally creates complex and interesting relationships, and as i reflect on my time at Cate, that is what i treasure the most-- the relationships. I am still in close contact with many of my classmates and teachers as well as students that graduated before me and have yet to graduate. The people make Cate what it is.
3.) What might you have done differently during your boarding school experience?
I have few regrets, but i suppose i would have had more fun early on and not taken myself so seriously. There are so many fun, unique experiences to be had but i waited until my senior year to take advantage of them. Advice i would give to new students: get good grades, but have fun and get to know as many of your fellow students and teachers as you possibly ca.
4.) What did you like most about your school?
The mix of everything i could hope for. Great academics, interesting student body, wonderful surroundings, unique opportunities.
5.) Do you have any final words of wisdom for visiting or incoming students to your school?
I suggest that students spend their time doing what makes them happy, and if they don't know exactly what that is when they first arrive, do everything until they do. Then, have so much pride in what you are involved in. I still brag about my dorm, my lacrosse team, my advisor. But those details are irrelevant. It doesn't matter which dorm I actually lived in or who my advisor was, what matters now is that i look back with so much pride and nostalgia-- I can't imagine that anyone had as great a time at Cate as i did. Yet, the great thing, is that I know many others did.
Academics:
1.) Describe the academics at your school - what did you like most about it?
Cate provides a great environment for all types of learners. The faculty is so knowledgeable and the small class sizes allow teachers to cater lessons to individual needs. I know i would not have made it through AP Calc if it hadn't been for the fact that i had only 8 people in my class and was able to ask questions whenever i needed to.
Athletics:
1.) Describe the athletics at your school - what did you like most about it?
Cate requires underclassmen to be involved in the sports program which is a great idea. It forces freshman who might not otherwise be athletically inclined to try something new. Some of them end up finding their niche and becoming varsity athletes. Not all do, and Cate recognizes that all students have different interests, so they provide other options to upperclassmen such as afternoon public service, assistant athletic training, surfing, outdoors activities, and fitness. I loved my experiences as an athlete, first as a member of the JV volleyball, soccer, and lacrosse teams, and finally just as a lacrosse player. I had never even played lacrosse before I arrived on the Mesa, but i graduated as captain of the varsity team. What's important is that those who want to can thrive in the programs, but those who decide that it's not for them are free to spend their time elsewhere.
Art, Music, and Theatre:
1.) Describe the arts program at your school - what did you like most about it?
These programs are growing. I was very involved with both the music and theater programs at Cate and I learned a lot, but i definitely wouldn't call either of those programs the strongest at Cate. That being said, I still sing and do theater in college and I don't feel like i am under prepared or out of my league.
Extracurricular Opportunities:
1.) Describe the extracurriculars offered at your school - what did you like most about it?
There are so many opportunities to volunteer, to join a club, to start your own club. The only thing thats unfortunate is that there isn't enough time to do it all. But, you are certainly encouraged to try.
Dorm Life:
1.) Describe the dorm life in your school - what did you like most about it?
Dorm life is so fun. All the freshman girls are in the same dorm, as are all the freshman boys. This creates a great sense of unity among the new students. After freshman year, the dorms are much smaller which is nice-- you have the opportunity to become very close with a smaller group of students from all the classes. By the time i was a senior, dorm pride was prevalent. Field day on the first day of school featured dorm t-shirts and and athletic shorts; School-wide competitions throughout the rest of the year were so much fun.
Dining:
1.) Describe the dining arrangements at your school.
The dining situation was decent. I think it is better since I have left - they were working hard to improve the variety and quality of food.Twice a week, dinner is required for all students and faculty and seating is assigned. Those dinners varied from awkward to hilarious. But all in all, it was a good way for students from different classes who wouldn't necessarily run into each other or get to know one another around campus to sit and eat 4 meals together (the seats were on two week rotations.) Sit down dinners, as they were called, were always interesting and there was always a big rush when the list was posted to see who you would be sitting with for the next two weeks.
Social and Town Life:
1.) Describe the school's town and surrounding area.
If you like the beach-- you couldn't ask for more. Walking distance from the mesa is a cute surf town we affectionately refer to as "Carp." Carpinteria has everything you might need to fulfill your weekend errands- supermarkets and drug stores and restaurants. A bus ride into Santa Barbara-- SB-- takes you to great shopping and even better beaches. Movies, shopping, great restaurants and a beautiful environment. We were so lucky to be so close to such a great city.
2.) Describe the social life at your school - what did you like most about it?
Cate is so casual and everyone is really laid back which made for a great high school experience. Social life is so varied. You see people hanging out all over campus when the weather is nice-- sitting on senior lawn, watching TV or playing ping pong in the community center, swimming by the pool, working out, playing Frisbee golf. There are lots of things Students can do right on campus. It is also really easy to leave campus on Wednesdays (half days) and on the weekends. You can leave for the weekend and stay with a friend or you can stay on campus and head to Carp or SB for lunch or to see a movie or to go shopping. You can even just pack up and go to the beach with friends for a day. The great thing is that there are so many options and they are all acceptable. There is not pressure to fit into a particular mold. Also, cliques are not a problem. Groups of friends overlap and there is even lots of interaction between the different grades.
Daily Schedule:
Weekday
7:45 AM
quick breakfast before class
5:00 PM
quick shower and get ready
5:30 PM
convocation (speakers, performances, etc)
Weekend
10:30 AM
sunday brunch with friends at the dining hall
12:30 AM
homework outside on the lawn by my dorm
2:00 PM
late lunch in Carp and errands
Cate is one of the unique places you could ever imagine. High up on a mesa with an ocean view surrounded by hundreds of acres of avocado trees, a utopian little community exists and thrives. . .
One aspect of Cate School that I think makes it unique is its campus. When I was doing my research for what kind of boarding school, I wanted to apply to, there were a few. . .
Cate is a smaller boarding school and has a very much community bubble. This is a west coast boarding school so people are more liberal and open to alternative teaching. They also emphasize outdoor learning. . .
Show more reviews (

16 reviews

)
Mastering the Boarding School Selection Process: A 5-Step Guide
Discover the ultimate 5-step guide to choosing the perfect boarding school for your child. Explore essential factors, such as academics, campus facilities, extracurricular activities, and more. Make an informed decision to provide your child with an enriching and transformative educational experience. Read now!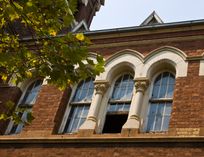 5 Founders and Their Boarding Schools
What prompts somebody to start a boarding school? The motives range from idealism to munificence right on through to capitalism. The common thread seems to be ample capital and a vision of what education can do.