Open Houses & Events
Find open houses and receptions for La Lumiere School.
Open House Details:
Sat., April 21, 2018 - La Porte, IN
Open House
La Lumiere School
6801 N. Wilhelm Road, La Porte, IN, 46350, USA
8:00am - 12:30pm
RSVP needed: Yes
Further information: Meg Stiphany, 219-326-7450, mstiphany@lalumiere.org
There`s no question about it:La Lu life is unique.It`s hard to imagine a small, independent boarding and day school tucked away in the woods of Indiana, playing home to young scholars from places all across the worldbut that`s exactly who we are.The people and stories that weave the fabric of our community are diverse, humbling, and inspiring. And, just like a family, we support each other`s growth at every step of the educational process. We invite you to experience it for yourself.
April 20, 2018
Actually, there is no secret to getting your child into boarding school. Just a lot of hard work and a heavy commitment of time.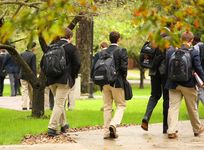 March 22, 2018
Some cynics think single-sex education is old-fashioned. The Kiski School shows how educating boys in a single-sex school is successful.
March 08, 2018
The wide range of fine academic, athletic, and other facilities found in boarding schools underscores the determination of schools to provide the very best for their students.