Reflections and Advice:
1.) What do you think makes your school unique relative to other boarding schools?
Besides having the prettiest campus and the most qualified faculty in the country, Middlesex is an idyllic place that has become a second home to all of its students. There is never a dry eye at graduation. Middlesex, sometimes called the "bubble", allows students to mold into their young adulthood independently without the influence of the outside world. I have found that when I return home, I have a much easier time communicating with adults, dealing with stress, and managing my time, than many of my other friends. Middlesex has well prepared me for the world outside the bubble.
2.) What was the best thing that happened to you in boarding school?
Crew. I started as a freshman on seventh boat and was able to move up the program the next year and jump to first. A very time consuming sport, crew has taught me to manage my academics and time. My sophomore year, crew gave me the opportunity to go to Nationals and place 5th, and in junior year, take the trip of a lifetime to England to row in the Henley Regatta. Crew has humbled me by testing my physical and mental strength.I am forever grateful to my school, the sport, and my coach Darby for the opportunity they have given me. This year, I was recruited to row at Duke University.
3.) What might you have done differently during your boarding school experience?
I would not have changed anything. From my mistakes I have learned and become a better person (and you can bet that I will not make the same mistake twice). I have never suffered an ounce of homesickness or missed my parents (although I love them very much). My advice for kids going away to school is live it up. This is a time when you are protected by the bubble and feel fortunate that the only thing that consumes your thoughts are due dates, tests, friends,sports. Boarding School allows you to gain independence, yet still be protected from the harsh realities of the real world. Once done with your four years in high school, you will be prepared for anything!
4.) What did you like most about your school?
Everything. My parents would always ask when they called from home, "So how is the Middlesex Experience going?". This is a surreal and enlightening experience to say the least. They were not kidding when they said that these are the days of our lives--glory days. :)
5.) Do you have any final words of wisdom for visiting or incoming students to your school?
Do everything you can:tryout for the play or a varsity sport, participate in a club. Do pond jumps in the spring all the time when you can, and hang out on the circle all the time. For Girls: live in Peabody at least once...it is the best and most magical dorm on campus. Enjoy the teachers and become friends with them.
Academics:
1.) Describe the academics at your school - what did you like most about it?
Academics are demanding and rigorous, however, not impossible with the faculty here. All teachers are willing to spend hours of extra help with any student at any time, as long as students are willing to ask. The teachers are the foundation of Middlesex. They are passionate, humorous, spirited, and truly love what they do. My personal favorite department is the English Department. This department consists of the brightest and best teachers in in the country. They are willing to jump up on tables and recite Othello, read and set the highest expectation on essays, and lead intense discussion attempting to reach higher up the ladder of abstraction. As a sophomore, along with a regular English course, students are required to take and pass out of a Writing Workshop Course, in which the student will come out having mastered grammar and the artful requirements of an essay. Also it is the only department that requires all Juniors to take the English Literature AP Exam. I have completely evolved into a more mature and sophisticated writer because of these teachers.
Athletics:
1.) Describe the athletics at your school - what did you like most about it?
All students are required to participate in athletics in some way. I find this a very unique requirement that urges students to try new things, whether it be starting on a varsity team, playing on thirds, or becoming a team manager. For me, it introduced me to Crew and allowed me to enjoy myself and the sport of soccer on a thirds team.
Art, Music, and Theatre:
1.) Describe the arts program at your school - what did you like most about it?
Along with athletics, Middlesex urges its students to participate in the Arts and Music Program. Freshman and Sophomore year, students are required to take a semester of Art History, Drawing, Music, and Drama. This requirement allows students to try things and develop new interests. Also for those interested in pursuing the Arts more specifically, Middlesex has the AP Art Studio Course, which ends with Art Shows for the student body; the Fall and Winter Plays and Spring Musical; Small Chorus, which creates a new CD with a collection of songs sung throughout the year that is sold to the whole school; and AP Art History, which enjoys monthly visits to the MFA and Malcom Russell's intense library of art images from throughout the world.
Extracurricular Opportunities:
1.) Describe the extracurriculars offered at your school - what did you like most about it?
There is not enough time. With all the academic and athletic requirements, students still manage to head and participate in hundreds of clubs ranging from Common Sense, the Environmental Group, to the Cheese Club, to Senate, all the way to Tea Club.
Dorm Life:
1.) Describe the dorm life in your school - what did you like most about it?
Dorms are not segregated by class, but instead highly integrated, creating bonds between and within all grades. As the year progresses, students become very close with both dorm heads and fellow dormmates. Although most freshmen choose to have singles, I requested a double and ended up becoming best friends with my room mate and living with her for two more years. My sophomore year I lived in a quad, and my junior year I lived in a triple. Dorm heads are wonderful and become your away from home parents(except sometimes nicer), making you late night treats once in a while.
Dining:
1.) Describe the dining arrangements at your school.
There is no assigned seating; however, different classes have migrated and claimed different parts of the dining hall as their own. There are so many option for food. We even have Showtime Cooking (food cooked right in front of us), a constant flow of ice cream, and a cappuccino maker. The most common meal on campus is Chicken and Rice for some reason. This is the best dining hall food you are going to find! The staff is wonderful, always open to new ideas and will give you treats if your nice!
Social and Town Life:
1.) Describe the school's town and surrounding area.
Dunkin Donuts and Starbucks are less then 10 minutes away. As a coffee drinker, this is vital. The bus goes into town ever half hour 6 days a week and then either into the Boston or Burlington mall on Sunday.
2.) Describe the social life at your school - what did you like most about it?
With this busy schedule, you would think that there is no time for fun and games. Wrong. Middlesex students are notorious for spring grilling, pond jumps, crazy themed dances. Students tend to create their own fun when nothing is planned. For example, a senior boy organized and invited all seniors to come out and play a game of flag football. A notorious group of Clay boys filmed a highly entertaining and comical short movie on life in the dorm without internet for a few weeks. Our student activities committee has organized an all school game of "Gotcha"(essentially an all school water-gun war..sort of). Even if there is not something planned, student can create their own entertainment.
Daily Schedule:
Weekday
9:00 AM
Sleep IN every Thursday because of Faculty Meeting
10:00 AM
Free Block (grab a snack at the dining hall)
10:45 AM
Plaque (only for Seniors)
12:15 AM
Hang out on the Circle
1:30 PM
Double Block of Environment Science (lecture then movie)
6:00 PM
Get Back from Pract., Dinner, meet with Club (Spectrum)
7:30 PM
Study Hours til 9:30, then watch a new episode of show at 10
Weekend
11:00 AM
Hang out on the circle
12:15 AM
Take a Bus to the Burlington Mall or Boston (Alewife)
7:30 PM
Clean Room and Study Hours
Middlesex is probably the boarding school that is far ahead in terms of student body diversity, and I mean that in a very good way. Between geographical and socioeconomic diversity, you really learn a ton. . .
The community that is centered around the circle is welcoming, and the nice fall and spring days leave the students socializing on the circle during free blocks throughout the day and in their free time. . .
The entire experience was not only unique, it was life changing! It opened my eyes and mind up to world I wasn't familiar with. I was able to meet, connect and bond with students from. . .
Show more reviews (

26 reviews

)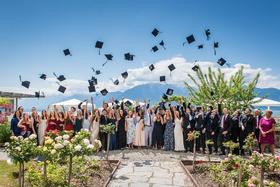 Nurturing Futures: A Journey through Boarding at Haut-Lac School in Switzerland
Nestled in the hills overlooking Lake Geneva in the French-speaking part of Switzerland lies an educational gem that embodies a unique blend of academic excellence, cultural richness and a profound sense of community. Founded over 30 years ago, Haut-Lac International Bilingual Day and Boarding School is now home to both 600 day students and a maximum of 30 boarders from around the world.
What To Wear at Your Job Interview
Navigating job interviews can be stressful, but knowing what to wear shouldn't be. Our comprehensive guide covers the essential dress code tips for men and women interviewing at boarding schools. Make your first impression count with style and professionalism.
Navigating the Modern Maze: Emerging Challenges for Boarding Schools
Explore the pressing challenges facing boarding schools, from marketing difficulties and rising insurance costs to facility maintenance and recruitment of competent trustees and teachers. This article delves into these complex issues and proposes innovative strategies to overcome them.