Reflections and Advice:
1.) What do you think makes your school unique relative to other boarding schools?
Great level of focus on developing clear and cohesive writing skills. Write countless essays and spend time working on the technicalities that improve your ability. Great long-standing traditions. We have a beautiful circle that allows students to hangout with their friends in-between classes, after sports, and weekends.
2.) What was the best thing that happened to you in boarding school?
The best thing about going to Middlesex is that you learn about what is important to you. You learn so much about yourself during your time at Middlesex. There's so many ways that you can mature and grow as an individual at Middlesex.
3.) What might you have done differently during your boarding school experience?
Be more proactive in the classroom. Sometimes I was too passive and didn't ask for enough help. There is no harm in asking for help.
4.) What did you like most about your school?
I enjoyed the bonds I built with all of my friends. They are unparalleled to anything I have ever experience before.
5.) Do you have any final words of wisdom for visiting or incoming students to your school?
Always have caffeine for those late night study sessions!
Academics:
1.) Describe the academics at your school - what did you like most about it?
There is no question that they were very challenging. Luckily, all faculty was being more than willing to help students after class hours. There're many chances to get help, but you need to put in the work in order to be a successful student at Middlesex.
Athletics:
1.) Describe the athletics at your school - what did you like most about it?
The athletics at Middlesex are high level and very intense. Every student is required to participate in a sport every season. The facilities are beautiful, and the coaches are very involved. You also have the option to participate in the recreational fitness program with our amazing trainer.
Art, Music, and Theatre:
1.) Describe the arts program at your school - what did you like most about it?
I was never to into the art program at Middlesex, but it has seen some amazing improvements lately. They just built a new state-of-the-art music building along with a beautiful new theater. There're many opportunities to take lessons or join music groups on campus.
Extracurricular Opportunities:
1.) Describe the extracurriculars offered at your school - what did you like most about it?
There are endless clubs and activities at Middlesex. People with all sorts of interests can find something they love.
Dorm Life:
1.) Describe the dorm life in your school - what did you like most about it?
Dorm life is one of the best aspects of attending boarding school. Students from all classes are spread equally throughout the many dorms on campuses. Freshman and seniors are living on the same floors, and it is a great chance for the older students to pass on some wisdom and develop great relationships with their younger classmates.
Dining:
1.) Describe the dining arrangements at your school.
Dining at Middlesex is a social activity. Most of the time, students are there to socialize. For meals, there are certain areas of the Dining Hall where the different classes tend to eat. I never saw this fact as a negative one. Many students break these traditions and sit with friends from other classes, but it is definitely nice to know where to sit from your first day. Our dining service is great. They are very flexible and are always asking for student input. Even the pickiest eater can find something to eat in Middlesex's Dining Hall. They always have pastas, sandwich materials, and different cereals available at all meals. In addition, there are usually some artisanal sandwiches and hot meal items available for the more adventurous eaters.
Social and Town Life:
1.) Describe the school's town and surrounding area.
Concord is an amazing place to call home. It's a great town and one of huge historical importance. The town center has several small restaurants, a few clothing stores, a park with a track, a Dunkin Donuts, a CVS, a grocery store and a Starbucks. The town bus runs several times a day from Middlesex, making the town incredibly accessible to students.
2.) Describe the social life at your school - what did you like most about it?
I would say that the social life at Middlesex is extremely inclusive. I made many friends from my extracurricular activities and sports teams; I made my many friendships through my classes and through other academic settings as well. There are countless spaces to hangout with all your friends on campus. The dorms, the circle, the library, the turf, and the athletic center are just some many places available to students at Middlesex.. You can find Middlesex students socializing anywhere on campus with their closest friends and new acquaintances.
Middlesex is probably the boarding school that is far ahead in terms of student body diversity, and I mean that in a very good way. Between geographical and socioeconomic diversity, you really learn a ton. . .
The community that is centered around the circle is welcoming, and the nice fall and spring days leave the students socializing on the circle during free blocks throughout the day and in their free time. . .
The entire experience was not only unique, it was life changing! It opened my eyes and mind up to world I wasn't familiar with. I was able to meet, connect and bond with students from. . .
Show more reviews (

26 reviews

)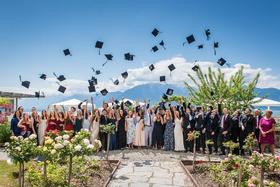 Nurturing Futures: A Journey through Boarding at Haut-Lac School in Switzerland
Nestled in the hills overlooking Lake Geneva in the French-speaking part of Switzerland lies an educational gem that embodies a unique blend of academic excellence, cultural richness and a profound sense of community. Founded over 30 years ago, Haut-Lac International Bilingual Day and Boarding School is now home to both 600 day students and a maximum of 30 boarders from around the world.
Navigating the Modern Maze: Emerging Challenges for Boarding Schools
Explore the pressing challenges facing boarding schools, from marketing difficulties and rising insurance costs to facility maintenance and recruitment of competent trustees and teachers. This article delves into these complex issues and proposes innovative strategies to overcome them.
What To Wear at Your Job Interview
Navigating job interviews can be stressful, but knowing what to wear shouldn't be. Our comprehensive guide covers the essential dress code tips for men and women interviewing at boarding schools. Make your first impression count with style and professionalism.