Culver Academies - Review #5
About the Author:

College Enrolled
The College of William and Mary
Home Town, State (Country)
Monroe, MI
Years Attended Boarding School
4
Activities During Boarding School
I played four years of both basketball and lacrosse, earning varsity letters my junior and senior year. I was also a basketball co-captain my senior year. My extracurricular clubs included serving as an Editor-in-Chief on the student newspaper The Vedette and a Co-Chair of the Leadership Committee for Africa. I was involved in the Prefectorial Leadership system as a CGA Council Secretary (the highest position for a junior girl), Dorm Chair, Leadership Training Prefect, and CGA Council Chair.
Daily Schedule:
Weekday
| | |
| --- | --- |
| 6:45 AM | Skip the shower to gain the extra 15 min. of sleep before waking up |
| 7:00 AM | Have my room ready for morning inspection |
| 7:15 AM | Walk over to the Dining Hall for breakfast (mandatory for all girls) |
| 7:45 AM | First Period begins at 7:50 a..m. |
| 9:30 AM | You will find nearly the entire school getting their daily fix of silk milk and a chewy bar provided by the school during mid morning break (between the 1st and 2nd class period) |
| 3:00 PM | Classes are over for the day. Students can go seek extra help from professors at this time. |
| 3:45 PM | Athletic practice begins |
| 5:45 PM | Athletic practice ends. Shower, then to the Dining Hall for dinner. |
| 6:30 PM | Usually a meeting of some sort will take place here, whether its leadership or newspaper |
| 7:30 PM | Required study time called |
Weekend
| | |
| --- | --- |
| 8:00 AM | Wake up early for basketball practice while the rest of the campus sleeps |
| 12:00 AM | Walk to town (only a five minute walk from campus) with friends for lunch at one of the local restaurants |
| 4:00 PM | Back from town and hanging out in the dorm with friends. Usually a half done page of homework sits at the desk as we decide watching a movie would be more fun. |
| 7:00 PM | Find something to wear for the one night of the week we can wear our own non-uniform clothes called |
| 11:00 PM | Students return to dorms |
Review

Description

Tulane University

One unique aspect of Culver is the fantastic leadership program. The academics and athletics are great, but the leadership is what sets Culver apart from other schools. The boys' leadership system is military while the. . .

Columbia University

I found Culver to be unique, in comparison to other boarding schools, for two main reasons: the Academy's setting and the emphasis placed on individual growth as a leader in one's community. Foremost, Culver's setting. . .

Princeton University

By far, the aspect that most distinguishes Culver from other schools is its emphasis on leadership education. For the boys, the military system is a key component of the Culver experience and truly helps develop. . .

United States Military Academy

The people of Culver Academies makes my school completely unique. The faculty and staff are comprised of a multitude of scholarly and well experienced individuals. Each member has their own impact with that they. . .

The College of William and Mary

At Culver, you really get a sense of down-to-earth Mid-West values. You don't have kids driving their fancy cars to school, since students cannot keep cars on campus, and the uniform school and recreational attire. . .

Show more reviews

(11

reviews)
April 20, 2018
Actually, there is no secret to getting your child into boarding school. Just a lot of hard work and a heavy commitment of time.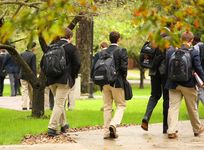 March 22, 2018
Some cynics think single-sex education is old-fashioned. The Kiski School shows how educating boys in a single-sex school is successful.
March 08, 2018
The wide range of fine academic, athletic, and other facilities found in boarding schools underscores the determination of schools to provide the very best for their students.