Reflections and Advice:
1.) What do you think makes your school unique relative to other boarding schools?
At Culver, you really get a sense of down-to-earth Mid-West values. You don't have kids driving their fancy cars to school, since students cannot keep cars on campus, and the uniform school and recreational attire really keeps everyone on an equal level. There are so many students on financial aid or merit scholarships and this economic and racial diversity really makes Culver a place that does not fit your average boarding school stereotypes.
2.) What was the best thing that happened to you in boarding school?
The traditions at Culver are what you will remember for the rest of your life. Making it through three whole years and then finally being able to step on the senior only grass - Beason - that is a thrill i will never forget. Also, watching the sunrise on the day of graduation with my fellow seniors (another tradition). These are two memories that define my Culver experience.
3.) What might you have done differently during your boarding school experience?
The only thing I would have done differently was be open to more spontaneous things around the dorm. I wish i wouldn't have waited till my senior year to stay up late chatting in other people's rooms instead of doing homework. You should do your work, obviously, but sometimes at boarding school your best memories will come on the late weekday nights of procrastinating and just hanging out and doing random things with your friends.
4.) What did you like most about your school?
The campus is more beautiful than any college campus I've seen. The students are the most unique, innovative, and driven teenagers in America. And the relationships you form with teachers, classmates, and fellow alumni will take you places you haven't even dreamed of in life.
5.) Do you have any final words of wisdom for visiting or incoming students to your school?
Something every Culver student should do: during the Spring (the prettiest time at Culver) go for a nice walk along Lake Maxinkuckee and watch the kids playing in field, sit by the lake, and just take a good look at how beautiful the campus is. Really take it in and enjoy it. There is not another place like it.
Academics:
1.) Describe the academics at your school - what did you like most about it?
The highlights of my academic experience at Culver can be summed up in two words: professors and "Harkness." The teachers at Culver are not just teachers - they are your lunch buddies, soccer coaches, honors project advisors, newspaper advisors, and neighbors. Most live right across the street from campus. The typical Culver professor would be my AP English teacher Dr. Erwin. Not only did she push us to excel in the classroom, but she could often be found around campus until late at night working with the Speech team after school and then running the Honors in Humanities program. Each term she baked breakfast for our entire class at her house and we ate breakfast casserole while discussing our latest poetry assignment at the table. You will find that this kind of compassion is not uncommon coming from Culver teachers. They are often more than willing to let you into their lives, creating a feeling of family around campus. They genuinely care about you - and not just as a student. They know everything about you - your sports, your clubs. They may even know more than they themselves want to know - as the same teacher you have first period Monday morning might have been chaperoning the dance that past weekend and seen who you were with. Overall, the professors are what truly make Culver academics so prestigious.The other aspect of the classroom that makes Culver so unique is a style of discussion called "Harkness." As a freshman this is ingrained into you as a part of your Humanities classes. This open discussion truly pushes the students to dive into the deeper meanings of the works they are studying and teach each other just as much as the professor does.
Athletics:
1.) Describe the athletics at your school - what did you like most about it?
At Culver, you find yourself making mini-families within the dorm and within the classroom. But some of the greatest ties come from with your teammates. Especially during the winter season (the longest at Culver) which can be a grind, your teammates are who you are spending the most time with during a given week and they go through every high and low together. While Culver is best known for its hockey programs it has found success in a variety of sports. Being a boarding school, Culver faces challenges unique to many of the other local teams it competes against as many of its players have never played with each other before and they cannot practice together all summer in between seasons. It is left up to the hard work of the players and coaches to come together as soon as possible to compete - and every single one of Culver's sports teams does just that. The leadership taught in the academic curriculum and in extracurriculars is made evident on the sports field. The hard work it takes to succeed at Culver academically is transferred to sports. This is part of what makes Culver'steams so successful. When not in a sport, Culver requires its students to complete an intramural at least 3 days a week, whether it be working out on your own in its spectacular workout facilities (which I always miss when I go home) or its playing intramural dodge ball with your dorm.
Art, Music, and Theatre:
1.) Describe the arts program at your school - what did you like most about it?
Culver just built a brand new dance studio - a great testament to the commitment it has shown to its Fine Arts programs. Most students make it to at least one performance each year. Even if they don't truly love theatre or musicals, most students attend just out of sheer camaraderie for their fellow classmates that are up on that stage. Everyone usually has a friend or at least a teammate or a classmate who performs in any given field whether its music, dance or theatre so they are usually out there to support them.
Extracurricular Opportunities:
1.) Describe the extracurriculars offered at your school - what did you like most about it?
There is so much to do at Culver as far as extracurriculars go that you will run yourself ragged if you try to do them all (I learned that the hard way.) The best part is you are always able and encourage to try new club and attend a meeting, even if its the middle of the year. Once you've tried a few different things, its usually best to pick one or two that you really like and stay committed to them. That will usually provide you with opportunities for leadership within those clubs. There are several student organizations on campus that really make a difference for campus life - the administration truly pays attention to what is going on and listens! There are always new clubs that students can start too. The innovative spirit and creativity of the Culver students to create these clubs and make such a difference on campus and in the community is truly inspiring and indicative of the success Culver students will have later on in life after high school. Specific clubs that are most popular are the newly formed Relay for Life, the Leadership Committee for Africa, Green Life, and the student newspaper (suggestion: write at least one article for the newspaper during your time at Culver, even if you think you're not a good writer - what better way to learn?)
Dorm Life:
1.) Describe the dorm life in your school - what did you like most about it?
Your dorm is your family. While it is possible to transfer dorms, you will find most students stay with the same dorm, or even the same roommate, all four years. Each dorm is fiercely loyal and somewhat competitive with the other dorms (this is fueled by activities such as "Spirit Games" - a competition between each dorm in the fall in events such as Egg Toss and Tug O War). Whenever someone in the dorm goes up on stage for an all school or wins an award, the loudest people in the auditorium will be your dormmates cheering for you. The best memories at Culver will occur in your dorm - whether its late night dance parties, dorm parties, or just making food in the kitchen (each dorm has one that everyone can use) and talking to whoever passes by. Most dorms are so trustworthy that the girls can leave items in the community refrigerator and trust it will be there when they return.
Dining:
1.) Describe the dining arrangements at your school.
The Dining Hall is always open during free periods to grab a bagel or a bowl of cereal. Effort is always being made to take student suggestions for improving the food (they do the best they can for serving so many people). And if you don't like whats for dinner that night - there's always the local pizza place you can order from.
Social and Town Life:
1.) Describe the school's town and surrounding area.
The term the 'Culver bubble' is used often around campus - and it is true: Culver is small, and surrounded by cornfields. We are in our own bubble here. But it isn't a bad bubble. While there isn't a TON of exciting things to do in town (one movie theater with just one screen, a variety of restaurants, and a fun children's park right in the middle of town that Academy students often relive childhood memories on), the town is what you make it. Saturday is the days most students are allowed to go to town, so it is this day that students can be found picking up junk food for their from from the local grocery store, going to the various restaurants for lunch (each of which has delicious food, something for everyone). When the town of Culver gets too boring, that's when its helpful to have a good relationship with your faculty mentor that the school assigns you to. Trips with your mentor to South Bend or other nearby cities can help break up the monotony of Culver life.
2.) Describe the social life at your school - what did you like most about it?
Social life at Culver is what you make it. While the school does its best to provide something every weekend, a lot of time its left up to you and your own creativity to make the nights fun. That's when the life long friendships are formed - trying to find something to do with your friends on a Saturday night. There are dances once a month that are well attended, and the student run Campus Activities Board often brings in bands and performers. One of the most looked forward to events of the year is the Hypnotist in the Spring. Select seniors get hypnotized and the whole school comes to watch - its hilarious. Other yearly social highlights include "The Inflatables" and the hockey game against our rival Shattock St. Mary's.
Daily Schedule:
Weekday
6:45 AM
Skip the shower to gain the extra 15 min. of sleep before waking up
7:00 AM
Have my room ready for morning inspection
7:15 AM
Walk over to the Dining Hall for breakfast (mandatory for all girls)
7:45 AM
First Period begins at 7:50 a..m.
9:30 AM
You will find nearly the entire school getting their daily fix of silk milk and a chewy bar provided by the school during mid morning break (between the 1st and 2nd class period)
3:00 PM
Classes are over for the day. Students can go seek extra help from professors at this time.
3:45 PM
Athletic practice begins
5:45 PM
Athletic practice ends. Shower, then to the Dining Hall for dinner.
6:30 PM
Usually a meeting of some sort will take place here, whether its leadership or newspaper
7:30 PM
Required study time called
Weekend
8:00 AM
Wake up early for basketball practice while the rest of the campus sleeps
12:00 AM
Walk to town (only a five minute walk from campus) with friends for lunch at one of the local restaurants
4:00 PM
Back from town and hanging out in the dorm with friends. Usually a half done page of homework sits at the desk as we decide watching a movie would be more fun.
7:00 PM
Find something to wear for the one night of the week we can wear our own non-uniform clothes called
11:00 PM
Students return to dorms
There is a vast international student acceptance which allows you to learn other cultures. Is also a very good school because it teaches you the importance of manners and routines (this is because is a. . .
One unique aspect of Culver is the requirement of a senior service project for graduation. Personally, I made the most out of this opportunity and took a trip to Morocco to give aid to the. . .
Culver's leadership development programs make it unique among boarding schools. Students are required to enroll in leadership development classes and participate in the leadership system. For boys this takes the form of the military system. . .
Show more reviews (

18 reviews

)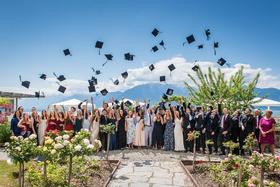 Nurturing Futures: A Journey through Boarding at Haut-Lac School in Switzerland
Nestled in the hills overlooking Lake Geneva in the French-speaking part of Switzerland lies an educational gem that embodies a unique blend of academic excellence, cultural richness and a profound sense of community. Founded over 30 years ago, Haut-Lac International Bilingual Day and Boarding School is now home to both 600 day students and a maximum of 30 boarders from around the world.
What To Wear at Your Job Interview
Navigating job interviews can be stressful, but knowing what to wear shouldn't be. Our comprehensive guide covers the essential dress code tips for men and women interviewing at boarding schools. Make your first impression count with style and professionalism.
Navigating the Modern Maze: Emerging Challenges for Boarding Schools
Explore the pressing challenges facing boarding schools, from marketing difficulties and rising insurance costs to facility maintenance and recruitment of competent trustees and teachers. This article delves into these complex issues and proposes innovative strategies to overcome them.