Reflections and Advice:
1.) What do you think makes your school unique relative to other boarding schools?
One unique aspect of Culver is the requirement of a senior service project for graduation. Personally, I made the most out of this opportunity and took a trip to Morocco to give aid to the Berber Mountain peoples, as well as replant the Argon Tree. This sparked my interest not only in giving back to the less fortunate but also in studying abroad, which continued into my college years. Another aspect of Culver that is unique is the military foundation. I'm sure that a handful of other boarding school have military programs as well, but I truly feel that students are given a huge advantage in life through Culver's regiment. I learned many lessons throughout my 4 years through the leadership system at CMA.
2.) What was the best thing that happened to you in boarding school?
As cliche as it sounds, the entire experience was the best thing to happen. I couldn't pick one thing because they all shaped me into who I am today. One particular achievement that I am proud of at my time at Culver was the Barefoot Award. This was given to the Senior Service Project that best exemplified the values of Culver. My group was also given $1200 to assist in our aid in Morocco. This is just one example of how Culver allows you to achieve whatever you want to. Another huge accomplishment for me was my scholarship through the English Speaking Union as the only North American selected to attend school in Argentina. Personally, I felt myself grow in terms of my discipline. There was a lot on my plate during these 4 years and being able to properly manage and prioritize is a skill that I have used in college and will continue into my career
3.) What might you have done differently during your boarding school experience?
I would have gotten involved in more clubs. I was fairly involved but I certainly could have been more involved, specifically in the Entrepreneurship School. As for advice, do as much as you can. 4 years flies by, and you never have a chance to relieve your tears at Culver. Get outside your comfort zone and try something new. You may not like it, but it will make you better well-rounded. And keep your head on straight. I know a lot of people that were kicked out of school and/or given harsh penalties for their actions. And if you are going to do something you shouldn't, at least don't get caught doing it. I certainly got away with my fair share of rule-breaking, but don't let your head get too big.
4.) What did you like most about your school?
I would say the campus. It is so beautiful. It is all brick, and they were renovating all the interior of the buildings in my years there. It is rated one of the most spectacular boarding school experiences in the country. I mean they have their own lake for god-sake. It wasn't until after I left that I really gained a true appreciation of what Culver has to offer, so really appreciate all you have there.
5.) Do you have any final words of wisdom for visiting or incoming students to your school?
You will not regret your choice if you decide to attend Culver. They are leaders in Academia as well as Athletics, which really allow you to achieve everything. I was in Company C, so I am naturally biased to recommend you request them. And if you get placed, tell Mr. Mo, I said Hi.
Academics:
1.) Describe the academics at your school - what did you like most about it?
I enjoyed the rigor of the classes. They are very challenging, which prepares you very well for college life. There was mandatory "CQ" time where you had 2 hours every night dedicated to homework. For extremely dedicated students, there are Honors and AP classes in nearly any subject that interests you. Teachers hold hours after classes for extra help, giving you the full ability to achieve your dreams. There is also a mentor-mentee program where you are assigned a teacher and can escape the everyday stresses. Sometimes, teachers will be on duty in your barracks and you can ask them questions while they are there. Academics were definitely the #1 focus for students at Culver. The workload is fairly heavy, especially in the junior year, when you are looking at colleges. But with motivation, it is certainly achievable and will prepare you for your future studies.
Athletics:
1.) Describe the athletics at your school - what did you like most about it?
The athletic program at CMA was also very demanding. My main sport was hockey, so my experience will be helpful to incoming hockey players. Tryouts are held for a full week, and after the week you will meet with the coaches to be placed on one of the 4 Men's teams (there was also 1 Girl's team when I attended). After placement, you begin practicing, which will vary in time throughout the week. There are 3 time slots (3pm-5, 530-730, and 8pm-10). If you have the late slot you are given an early study hall so you still have the ability to succeed academically. Overall, the program was amazing. The competition is the best around. Culver Hockey is widely respected and you play teams like Shattuck, Honey baked and Little Caesar's. Coaches are tough on you, they expect a lot. It isn't a program for hockey players who aren't serious about their game. But if you love the game, you will grow exponentially as a player here. The rink at Culver is sick, and there are plenty of road trips to bond with the team. I enjoyed how I was able to learn how to be a student athlete, which helped shape my habits as a college hockey player.
Art, Music, and Theatre:
1.) Describe the arts program at your school - what did you like most about it?
I wasn't too deep into the visual arts. I took one or two classes to try them out and they weren't for me. I had a bunch of friends who were in the visual arts school and had a lot of fun, as Culver has their own theatre and make their own plays that students can attend. They also have something called "Concert Series" where they bring in a wide array of performers. While I was there, they had Joby Rogers (Michael Jackson impersonator), a hypnotist, and many more. One class that I took was learning the basics of theatre production, including running the ropes and creating props to be used in plays. I also took a dance for Athletes class that was good for stretching. Culver had a strong commitment to creating a well-rounded experience for every student, and the visual arts were certainly part of it.
Extracurricular Opportunities:
1.) Describe the extracurriculars offered at your school - what did you like most about it?
Culver has every extra-curricular you could imagine. Personally, I joined the Sailing Team, which is actually a sport, but for me it was something to try out. It was really cool to get out on the lake and learn to sail. It is a life-long skill that can literally take you all around the world. Whatever your interests may be, Culver has something for you.
Dorm Life:
1.) Describe the dorm life in your school - what did you like most about it?
Dorm life was unique due to the military system at Culver. Inside the room was a bunk bed, wardrobe, and desk. You do not have the ability to bring additional furniture into your room unless you become an Officer. The dorm life is pretty strict, as you might imagine. Each unit (Company A, B, or C for example) will have their own respective counselor who is in his office all day. There is a military mentor who is in charge of each Battalion (Company, Battery, Band, and Troop). This military mentor is a veteran of one of the branches of the armed forces and keeps the boys in line. If you get written up for an infraction, you will have an early morning punishment to which you will answer to the military mentor. There are also daily inspections of your room, and while you are a new cadet, you have certain daily duties as well as uniform inspections. There is always someone on duty, even throughout the night they have an on duty security guard who periodically walks the halls to ensure nobody is doing things they shouldn't be. The room selection process is dependent on your rank, GPA, and involvement in the school. I really enjoyed the dorm life at Culver, but you should be weary that you do not have as much freedom as other schools.
Dining:
1.) Describe the dining arrangements at your school.
The food at Culver was pretty good honestly. They have ample lines for the hot food and there is a cold salad bar available for students. Throughout the year, they have different ethnic nights where they expand your taste. If you have a team trip for a sport, the dining hall will accommodate this and usually have pasta and chicken available. The only complaint I have is that the hours were sometimes a pain. For example, I would finish hockey practice at 10 pm and the dining hall wouldn't be open to get a bite after skating for 2 hours. This also happens on the weekend if you have a late game, the dining hall won't be open and you may be forced to order from town. You also have to eat pretty quickly. There are shifts for breakfast and lunch, so people aren't all Esto at the same time, but you only have 35-40 minutes to say before you have to class. Overall, pretty good setup and it's all you can eat, so it's hard to knock it too much.
Social and Town Life:
1.) Describe the school's town and surrounding area.
The town is pretty small, as you would imagine for rural Indiana. Mostly there are restaurants in walking distance, not much else to do. But the school has occasional trips to South Bend, where the city is a little larger and there is much to do. Each unit also has its own activities. In my experience, we had paintball trips and movie trips to bond with each other. It's a very quaint area, and it's nice to walk in town and around the lake.
2.) Describe the social life at your school - what did you like most about it?
There are a lot of chances for social life at Culver, they have hours on the weekend where you are allowed to go into town and hang around campus. They're also very strict on alcohol and tobacco so that won't be a part of your high school experience at CMA. There is also a senior-only hall where they have pool tables and a kitchen and TVs to reward the seniors which was pretty cool. If you're not much of a social butterfly, you can also keep to yourself pretty easily.
There is a vast international student acceptance which allows you to learn other cultures. Is also a very good school because it teaches you the importance of manners and routines (this is because is a. . .
One unique aspect of Culver is the requirement of a senior service project for graduation. Personally, I made the most out of this opportunity and took a trip to Morocco to give aid to the. . .
Culver's leadership development programs make it unique among boarding schools. Students are required to enroll in leadership development classes and participate in the leadership system. For boys this takes the form of the military system. . .
Show more reviews (

18 reviews

)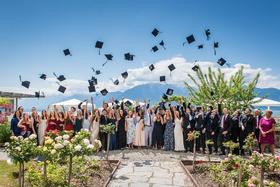 Nurturing Futures: A Journey through Boarding at Haut-Lac School in Switzerland
Nestled in the hills overlooking Lake Geneva in the French-speaking part of Switzerland lies an educational gem that embodies a unique blend of academic excellence, cultural richness and a profound sense of community. Founded over 30 years ago, Haut-Lac International Bilingual Day and Boarding School is now home to both 600 day students and a maximum of 30 boarders from around the world.
What To Wear at Your Job Interview
Navigating job interviews can be stressful, but knowing what to wear shouldn't be. Our comprehensive guide covers the essential dress code tips for men and women interviewing at boarding schools. Make your first impression count with style and professionalism.
Navigating the Modern Maze: Emerging Challenges for Boarding Schools
Explore the pressing challenges facing boarding schools, from marketing difficulties and rising insurance costs to facility maintenance and recruitment of competent trustees and teachers. This article delves into these complex issues and proposes innovative strategies to overcome them.