Reflections and Advice:
1.) What do you think makes your school unique relative to other boarding schools?
Phillips Exeter uses a singular method of teaching called the Harkness Method. I enjoyed this method because it moved beyond the simple lectures that tend to bore students in class. This method consisted of 12 students and one teacher who acted as a facilitator. The teacher would ask one question that was open-ended and the students would go into the class discussion learning from one another. The campus was another aspect that I liked. I now know how much the campus looked like a college campus with the dorms and the location away from a distracting big city. The school customs were interesting too. We had school from 8 am to 6 pm Monday through Saturday with half days on Wednesday and Saturday. Those are the things I enjoyed about the school and found beneficial to the students.
2.) What was the best thing that happened to you in boarding school?
I won an English award. It was a book award for being one the best students who brought up deep thoughts and helped lead discussions. That was a change for me. I came to Exeter as a shy person who was afraid to speak in class but I learn to contribute in a meaningful way and began to think outside the box.
3.) What might you have done differently during your boarding school experience?
I would have prepared more by doing a lot of work. I would also have applied earlier because I didn't apply until late in the season and I only had 3 choices for schools.
4.) What would you never want to change about your school?
The teaching method.
5.) What things could be improved about your school?
I would teach more about time management issues.
6.) Do you have any final words of wisdom for visiting or incoming students to your school?
I would say go to the Grill and have fun and hangout with people from other countries. Go to the largest library among prep schools and see the people that are there and learn the ins and outs. Finally, go check out Soule Hall and talk to the head man about wrestling (Dean Shapiro).
Academics:
1.) What did you like best about your school's academics?
The way the school taught was its forte. It brought a large class of international students that allowed me as well as my domestic classmates to gain from their culture and thoughts. The teching method was the key to the learning. It was a "thinking outside the bounds" style that sets Exeter apart from other schools.
2.) What did you like least about the academics in your school?
I did not like the rigidness to the school's academics and the requirement of homework. The classload is 5 classes with the schedule set up differently than at other schools. In those 5 classes some will meet 5 times a week and others will meet 4 times a week but they will have 1-2 hours of work to do per night. This is the only mandatory academic structure I did not like. The competitive enviroment was high due to the high number of students going to Ivy League colleges.
Athletics:
1.) What did you like best about your school's athletics?
There was a large diversity of sports. I was able to learn to play hockey even though I was from Texas. I joined the club team as a goalie and had a great time when I played. The sports were good at the varsity level. I thought for the most part, students weren't recruited but those that played sports tended to be good at those sports. The facilities made up a large portion of the campus with 2 hockey rinks and 2 football fields and a large area for other sports.
2.) What did you like least about the athletics in your school?
There was nothing I found out of touch from the students. Those students who did not know what sport to play could try a whole range of sports.
Art, Music, and Theatre:
1.) What did you like best about your school's art program?
The teachers were excellent. I spent time taking a few courses and the facilities there are great for students to act in plays or enjoy watching some.
2.) What did you like least about your school's art program?
I did not participate enough in the program to give an opinion on this program.
Extracurricular Opportunities:
1.) What did you like most about the extracurricular activities offered at your school?
There are huge opportunities to join groups and volunteer in the community or outside by creating activities.
2.) What did you like least about the extracurricular activities offered at your school?
There were no extracurricular activities I did not like.
Dorm Life:
1.) What was the best thing about dorm life in your school?
The dorms were good for the most part. The diversity of students created good discussions and great friendships. Room selection was good because the dorm rooms were large, much larger than my college rooms. I enjoyed the people who ran the dorms too. There were 4 teachers--3 lived in the dorm with one outsider. I enjoyed those mentors because we were assigned to one and had meetings with them and they could point us in the right direction.
2.) What did you like least about dorm life?
The curfew and the study hours from 8-10 pm everynight for the Freshman and Sophomores. There were rigid visting hours for girls-- only from 7-7:45 PM every night and 8-10:45 on Saturday nights with the one shoe length open door rule.
Dining:
1.) What was the best thing about your dining arrangements?
You could go anytime you wanted to go. I enjoyed the food, I could go in anytime and make a snack between classes and it was mine to enjoy. I had many healthy options too from all different types of food.
2.) What did you like least about your dining arrangements?
The food was mass-produced but there were no other problems.
Social and Town Life:
1.) How welcome did you feel by the other students when you first arrived at the school
I felt welcome from the first day because I was welcomed from an orientation to the new students. The first day, I traveled alone and moved in alone. It was quite daunting but I was able to get through it because people from my new dorm took me around. I was nervous but I quickly adapted to the new ways and the new people. I really fell in love with my dorm and the school.
2.) Describe the level of diversity and integration of students in your school:
The students were integrated well at the dorm level.
3.) Describe typical fun activities you did on a weekend:
I went to dances and hungout at the Grill. It was fun on Saturdays when I wasn't playing football.
4.) What was the town like?
I went into the small town and hit up a small IOKA movie theater that looks like a 1940's theater. The town had only 12,000 people. It was an interesting small New England town.
Daily Schedule:
Weekday
Weekend
Phillips Exeter is distinct for its use of the Harkness Method and its unique athletic opportunities afforded by a robust alumni network and excellent teachers from various high-level academic positions within their fields. Harkness, a. . .
The Harkness method is one of Exeter's unique and best aspects. Teachers have very little involvement in class — homework is either reading or problem based, and nearly every class, from Math to English. . .
Exeter is the founding place of the Harkness method, in which students gather around a round table to discuss their homework and class material as a group. The idea of this method is that. . .
Show more reviews (

27 reviews

)
Mastering the Boarding School Selection Process: A 5-Step Guide
Discover the ultimate 5-step guide to choosing the perfect boarding school for your child. Explore essential factors, such as academics, campus facilities, extracurricular activities, and more. Make an informed decision to provide your child with an enriching and transformative educational experience. Read now!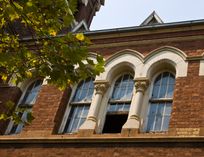 5 Founders and Their Boarding Schools
What prompts somebody to start a boarding school? The motives range from idealism to munificence right on through to capitalism. The common thread seems to be ample capital and a vision of what education can do.