Reflections and Advice:
1.) What do you think makes your school unique relative to other boarding schools?
The use of the Harkness table. The discussion based, or flipped, classroom is what truly separates Exeter from all other private schools.
2.) What was the best thing that happened to you in boarding school?
The connections I made at Exeter were definitely the best thing that's happened. I made a lot of friends that I still talk to regularly. I also enjoyed winning athletic competitions with my teammates.
3.) What might you have done differently during your boarding school experience?
I would have branched out more and made more non-athlete friends. I would try and avoid that athlete non-athlete divide that appears at pretty much every boarding school. I would also stay away from my dorm room as much as possible and just be with people.
4.) What did you like most about your school?
I like my classmates and the athletics.
5.) Do you have any final words of wisdom for visiting or incoming students to your school?
Go and meet as many people as possible.
Academics:
1.) Describe the academics at your school - what did you like most about it?
The academics are very challenging at Exeter. The teachers and your classmates push you to be the best you can be in the classroom. I, personally, liked the discussions. The classroom design allows you to here everyone's opinions about the topic rather than just the teachers.
Athletics:
1.) Describe the athletics at your school - what did you like most about it?
Exeter has some of the best athletics compared to all of New England private schools. During my 3 years at Exeter, we were 2x New England wrestling champs (1x runner-up) and 3x New England golf champs. If sports aren't for you, there a multiple physical education and club sports programs you can participate in. A physical activity is required every trimester.
Art, Music, and Theatre:
1.) Describe the arts program at your school - what did you like most about it?
I took one stagecraft class, which I truly enjoyed. The theater productions are a huge part of Exeter, there are a large percentage of students who are involved in each show.
Extracurricular Opportunities:
1.) Describe the extracurriculars offered at your school - what did you like most about it?
I was mostly an athlete, but I did attend a few club meetings. Each group at Exeter makes you feel like a part of something bigger. My wrestling team was a family to me.
Dorm Life:
1.) Describe the dorm life in your school - what did you like most about it?
The dorm life was fun. There were multiple bonding experiences with my dorm mates. However, there was a check-in time every night that varied by class year.
Dining:
1.) Describe the dining arrangements at your school.
The food was really good. Exeter had 2 dining halls on campus that gave you more options. There were also many different choices at every meal with in each dining hall.
Social and Town Life:
1.) Describe the school's town and surrounding area.
The town of Exeter is very small and there isn't much to do off-campus. There are some restaurants and stores you can walk to.
2.) Describe the social life at your school - what did you like most about it?
I really enjoyed hanging out with my teammates. I wish more people went outside when the weather was nice though.
Phillips Exeter is distinct for its use of the Harkness Method and its unique athletic opportunities afforded by a robust alumni network and excellent teachers from various high-level academic positions within their fields. Harkness, a. . .
The Harkness method is one of Exeter's unique and best aspects. Teachers have very little involvement in class — homework is either reading or problem based, and nearly every class, from Math to English. . .
Exeter is the founding place of the Harkness method, in which students gather around a round table to discuss their homework and class material as a group. The idea of this method is that. . .
Show more reviews (

27 reviews

)
Mastering the Boarding School Selection Process: A 5-Step Guide
Discover the ultimate 5-step guide to choosing the perfect boarding school for your child. Explore essential factors, such as academics, campus facilities, extracurricular activities, and more. Make an informed decision to provide your child with an enriching and transformative educational experience. Read now!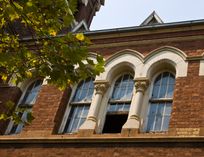 5 Founders and Their Boarding Schools
What prompts somebody to start a boarding school? The motives range from idealism to munificence right on through to capitalism. The common thread seems to be ample capital and a vision of what education can do.