Reflections and Advice:
1.) What do you think makes your school unique relative to other boarding schools?
The sense of community at Besant hill is truly unique. I almost never felt homesick because I always felt at home. My teachers became my best friends, and my best friends became my brothers and sisters. I became excited to go to class and learn every day for the first time in my life. Besant hill really turned me on to learning.
2.) What was the best thing that happened to you in boarding school?
I lost a lot of weight and my depression. I grew into a human being I dreamed of becoming.
3.) What might you have done differently during your boarding school experience?
I would have talked to more kids from different countries.
4.) What did you like most about your school?
The community and the relationships.
5.) Do you have any final words of wisdom for visiting or incoming students to your school?
Don't be shy, just be yourself. Everyone will love you.
Academics:
1.) Describe the academics at your school - what did you like most about it?
The academics at our school are very adapting to each child's learning technique. There is so much help available for each student, that no one gets left behind. The classes are the perfect size for the teacher to have a personal relationship with each student, and it gives no room for slacking, therefore each student is pushed to work hard.
Athletics:
1.) Describe the athletics at your school - what did you like most about it?
Our school is a non-competitive school, therefore our athletics aren't as extreme as other schools. The only extremely competitive sport at our school is our basketball team, who went undefeated this year. Each student is required to take at least one semester of sports while at the school, and it gives each kid a great chance to exercise.
Art, Music, and Theatre:
1.) Describe the arts program at your school - what did you like most about it?
The visual arts, music, and theater programs at Besant hill are truly incredible. Even if a student doesn't have talent, the teachers are so talented that they bring out the artistic talent in each student. It is an incredible program.
Extracurricular Opportunities:
1.) Describe the extracurriculars offered at your school - what did you like most about it?
I love how much the school offers for extracurricular activities.
Dorm Life:
1.) Describe the dorm life in your school - what did you like most about it?
Dorm life builds such a strong connection between the kids. We all become one big family.
Dining:
1.) Describe the dining arrangements at your school.
The food was mostly grown on campus which i loved. I also loved how there were always different options for everyone.
Social and Town Life:
1.) Describe the school's town and surrounding area.
Ojai is a somewhat boring town, but santa barbara and ventura are fun. I love santa barbara trips.
2.) Describe the social life at your school - what did you like most about it?
I love how everyone is one big family. There are no cliques or popular groups.
Daily Schedule:
Weekday
Weekend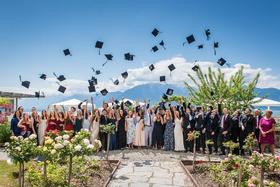 Nurturing Futures: A Journey through Boarding at Haut-Lac School in Switzerland
Nestled in the hills overlooking Lake Geneva in the French-speaking part of Switzerland lies an educational gem that embodies a unique blend of academic excellence, cultural richness and a profound sense of community. Founded over 30 years ago, Haut-Lac International Bilingual Day and Boarding School is now home to both 600 day students and a maximum of 30 boarders from around the world.
What To Wear at Your Job Interview
Navigating job interviews can be stressful, but knowing what to wear shouldn't be. Our comprehensive guide covers the essential dress code tips for men and women interviewing at boarding schools. Make your first impression count with style and professionalism.
Navigating the Modern Maze: Emerging Challenges for Boarding Schools
Explore the pressing challenges facing boarding schools, from marketing difficulties and rising insurance costs to facility maintenance and recruitment of competent trustees and teachers. This article delves into these complex issues and proposes innovative strategies to overcome them.