Admiral Farragut Academy - Review #1
About the Author:

College Enrolled
Stanford University
Home Town, State (Country)
Brandon, FL
Years Attended Boarding School
4
Activities During Boarding School
I participated in Cross Country, Soccer, Volleyball and Track & Field all as a team captain. Also, I was president of the Student Athletic Advisory Committee, Secretary of Spanish National Honor Society, member of National Honor Society, Knitting club, Book club and Mu Alpha Theta.
Review

Description

Stanford University

The most unique aspect of the school, would definitely be the Naval traditions and guidelines that the school follows. It allows for students to gain self- discipline, strive to be leaders and also have awesome. . .

University of South Florida St. Petersburg

Admiral Farragut Academy is a military college preparatory school that provides a variety of academic courses to chose from. The teachers truly care about their students and the small class sizes allow the teachers to. . .

University of South Florida

Admiral Farragut Academy is a very unique experience. With over 80 years of history and traditions, the school knows their product and execute it well. The experiences my peers and I shared was the catalyst. . .

Columbia Southern University

AFA was unique in that it's military background and focus, coupled with the Naval Science curriculum, helped establish in our minds that we were getting a first class education. Friends of mine that attended other. . .

Jacksonville University

A naval preparatory school on Bocas Ciega Bay in St. Petersburg, Fl. making it ideal for naval sciences. It has increased it's curriculum of sailing and navigation to include snorkeling, scuba diving and marine. . .

Show more reviews

(3

reviews)
April 20, 2018
Actually, there is no secret to getting your child into boarding school. Just a lot of hard work and a heavy commitment of time.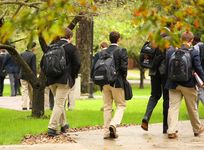 March 22, 2018
Some cynics think single-sex education is old-fashioned. The Kiski School shows how educating boys in a single-sex school is successful.
March 08, 2018
The wide range of fine academic, athletic, and other facilities found in boarding schools underscores the determination of schools to provide the very best for their students.