Reflections and Advice:
1.) What do you think makes your school unique relative to other boarding schools?
A naval preparatory school on Bocas Ciega Bay in St. Petersburg, Fl. making it ideal for naval sciences. It has increased it's curriculum of sailing and navigation to include snorkeling, scuba diving and marine life studies. They now offer an aviation program to obtain a pilot license. They have expanded their educational program to include PreK through high school and have become coed. They continue to mainly offer a curriculum of English, math and sciences and not "feel good" classes. They are a Jr. NROT certified school and offer nominations to all of the country's military academies to qualified students. They are staffed with highly educated and dedicated teachers and administrators. I have personal observed the fine young women and men in my recent visits to AFA. I could not recommend any other school so highly.
2.) What was the best thing that happened to you in boarding school?
Obviously the excellent education, but probably the friendships and comradery that were made and lasted. Of 46 seniors, I am on FB with 10 of them all over the U.S.
3.) What might you have done differently during your boarding school experience?
I probably would have been a little more serious on the advancement in the military aspect. I was more devoted to the academics and I was a bit of a hellion at times and a little rebellious. But I learned a lot from that also.
4.) What did you like most about your school?
Please read above missives. I don't want to become too repetitive.
5.) Do you have any final words of wisdom for visiting or incoming students to your school?
Embrace your new found friends and and don't just study to get good grades, Try to delve into the subjects and enjoy the knowledge that will stay with you always. Don't forget to raise a little hell now and then. It's good for the soul. Most of all, like yourself. If your happy, the others around you will be happy. Enough of my philosophizing.
Academics:
1.) Describe the academics at your school - what did you like most about it?
At the time I attended AFA, my classes were all english, math, science, history and naval sciences. My instructors consisted of three US Naval Academy, one US Military Academy and one US Coast Guard Academy graduates. Twelve of my high school instructors had obtained Master's degrees. The classes were small and highly competitive; ie. One time my monthly GPA was 96% and I was 5th in a class of 46 seniors. If you are looking for high quality education, look no further. I truly believe AFA prepared me better for the real world better than my university. I must say that it was mainly the reason for the college letdown. Truth in advertisement, you know. AFA gave me the core dedication to be able to marry a wonderful woman and remain married for 39 years and rear a great son and daughter. Retired at 59 and loving life.
Athletics:
1.) Describe the athletics at your school - what did you like most about it?
At the time, we were a smaller school and finding schools to play competitively was difficult. Many more losses than wins, but I played football with a dedicated group of guys for three years that never gave up in practice or games. I ran track and enjoyed running the long distances. AFA has a full range of varsity sports and a great program of intramural sports for those that wish to play in a less strenuous atmosphere. There is no mandatory participation in sports, but the school encourages physical activity to maintain a healthy person. The facilities are top notch with lights for the football, baseball fields and the newly rubberized track and they an Olympic sized pool. The basketball gymnasium was also refurbished in the recent past. There in addition is a basketball,tennis courts,softball field and volleyball court for intramural play.
Art, Music, and Theatre:
1.) Describe the arts program at your school - what did you like most about it?
During my time there was only a music program which I participated. I was in the marching band and the concert band. My understanding is that they theater program and a state of the arts computer and visual arts program.
Extracurricular Opportunities:
1.) Describe the extracurriculars offered at your school - what did you like most about it?
There was a music appreciation, model ship, math, chess, language, photography, navigation, astronomy, stamp, humanities, regatta, monogram and cotillion clubs. The Cotillion Club offer several dances a year and dance lessons. The spring Ring Dance was the crowning dance of the year, dedicated to the Senior Class.
Dorm Life:
1.) Describe the dorm life in your school - what did you like most about it?
Back in the old days, the rooms were very spartan with two to four men in room. Wooden floors that needed to be polished and no air conditioning. Today they are all air conditioned, carpeted and more personalized. They have a secured women's dorm. I missed out on the coed statistics by a few years.
Dining:
1.) Describe the dining arrangements at your school.
One large dining hall and the food service got better as I neared my senior year. Food was very healthy, but it was still institutional food. The staff was wonderful, especially at Thanksgiving when they would give up their day off to make a great dinner for a few cadets who were not able to go home for that holiday. I was one of those one year. My understanding is that food is more diversified and better, but it is always difficult to feed 250+ cadets three times a day.
Social and Town Life:
1.) Describe the school's town and surrounding area.
St.Petersburg is a very large city and has all the good and bad points, but the school is in a very high area of the city. It sits on Boca Ciega Bay and offers sailing seven days a week. Across the causeway is Treasure Island with a large beautiful beach that locals also go. That is where my Alabama, New Jersey, Florida friends and I went almost every weekend. Rarely were we every apart and are fifty years we still get together except for New Jersey who sadly passed.
2.) Describe the social life at your school - what did you like most about it?
Social life on campus was minimal due to the academic, sports and studying, but we always managed to get together a few times a day and share info about our day, especially the girlfriends back home or sometimes a local girl.
Daily Schedule:
Weekday
Weekend
Boarding at Admiral Farragut Academy was one of the best experience of my life, even though I was a foreign student, I never felt home sick.Staff at Farragut where always supportive and well experience. They. . .
A naval preparatory school on Bocas Ciega Bay in St. Petersburg, Fl. making it ideal for naval sciences. It has increased it's curriculum of sailing and navigation to include snorkeling, scuba diving and marine. . .
Great education, although i didn't appreciate at the time. i also learned how to be a gentleman and Naval Science. . .
Show more reviews (

6 reviews

)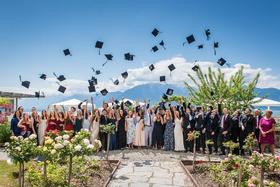 Nurturing Futures: A Journey through Boarding at Haut-Lac School in Switzerland
Nestled in the hills overlooking Lake Geneva in the French-speaking part of Switzerland lies an educational gem that embodies a unique blend of academic excellence, cultural richness and a profound sense of community. Founded over 30 years ago, Haut-Lac International Bilingual Day and Boarding School is now home to both 600 day students and a maximum of 30 boarders from around the world.
What To Wear at Your Job Interview
Navigating job interviews can be stressful, but knowing what to wear shouldn't be. Our comprehensive guide covers the essential dress code tips for men and women interviewing at boarding schools. Make your first impression count with style and professionalism.
Navigating the Modern Maze: Emerging Challenges for Boarding Schools
Explore the pressing challenges facing boarding schools, from marketing difficulties and rising insurance costs to facility maintenance and recruitment of competent trustees and teachers. This article delves into these complex issues and proposes innovative strategies to overcome them.