Reflections and Advice:
1.) What do you think makes your school unique relative to other boarding schools?
The academics are very challenging. The professors really care about the success of each student. They will offer assistance to ensure the rigorous material is thoroughly understood. The classes are very small, perfect for serious athletes Who want to achieve a D1 scholarship to college. The environment is one of positive leadership with classmates who want to be top performers.
2.) What was the best thing that happened to you in boarding school?
The best thing that happened to me is that I made honor role and the prep team. I have had the opportunity to train with older kids and improve at a rapid rate. I have not been homesick because I'm to busy. I'm much more mature and very responsible since attending prep school. I understand what a opportunity prep school is to Provide a solid opportunity to achieve in college.
3.) What might you have done differently during your boarding school experience?
My advice is for parents. I know a lot of kids that would thrive at prep school but their parents won't let them go. This is a great opportunity especially for athletes to prepare you for college.
4.) What did you like most about your school?
I love the opportunity to be accountable for my own success!
5.) Do you have any final words of wisdom for visiting or incoming students to your school?
I shadowed at 4 prep schools all over the US and the people and program at Northwood just felt like home after meeting the teachers/students. You will know if it's a good match after shadowing At the facilities.
Academics:
1.) Describe the academics at your school - what did you like most about it?
Academics I really like the small classes and how the teachers really care about you as a student. You develop solid relationships with adults who have your best interest. The teachers are highly educated and really care about the students. The environment is very competitive in academics And especially in sports. Northwood hockey is a leading hockey school in the east coast.
Athletics:
1.) Describe the athletics at your school - what did you like most about it?
I love hockey at Northwood. Our home ice is The Miricle On Ice home rink. A player makes one of the three teams depending on your skill level. If you are serious about a professional career in hockey Northwood has a world reknown program. Our training facilities and coaches are top notch. Sports are serious and training and winning is a way of life here. Northwood is for kids who are overachievers.
Art, Music, and Theatre:
1.) Describe the arts program at your school - what did you like most about it?
I really like the coordinated activities organized by the school. We have theatre night. Dress night for dinner and are expected to be role models and leaders for the school where ever we go. I'm taking language now my teacher is from France.
Extracurricular Opportunities:
1.) Describe the extracurriculars offered at your school - what did you like most about it?
All my hockey teammates are like brothers to me. I'm the youngest on the team but they watch out for me. Every kind of extracurricular activity you could ask for is at Northwood. We have a running club up the mountains Ive participated in. The surrounding area is beautiful and within walking distance to the school. We have incredible facilities with indoor tennis to downhill skiing.
Dorm Life:
1.) Describe the dorm life in your school - what did you like most about it?
Our rooms in the dorm are clean large with a walk in closet. Freshman share a room. I like the quiet study time that has mandatory study time and lights out. Hockey travel is on the schools Northwood bus. Fitness, diet and well rested are Mandatory responsibilities of living in the dorm. After freshman year you can request a single room. Healthy snacks are available as well as beverages.
Dining:
1.) Describe the dining arrangements at your school.
We all eat in the school cafeteria which has healthy Food selections. The hockey players have a hockey section for more carbs. Food is prepared well. The entire day allows a student to stay inside as all buildings are attached.
Social and Town Life:
1.) Describe the school's town and surrounding area.
The town of Lake Placid is beautiful. Probably the most beautiful surroundings available to attend school. The towns people know all the Northwood kids. It's a small town atmosphere with very nice people. We have many outdoor ice rinks in the winter and their is always planned activities at the school. Every week we receive a email of all the activities if we are not traveling with our team.
2.) Describe the social life at your school - what did you like most about it?
Social life is great as I have relationships with friends from all over the country. We are like brothers. We have dances and dress dinners Around holidays. The school is very organized And does a great job ensuring the students experience life.
Daily Schedule:
Weekday
Weekend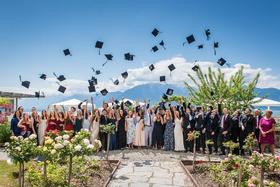 Nurturing Futures: A Journey through Boarding at Haut-Lac School in Switzerland
Nestled in the hills overlooking Lake Geneva in the French-speaking part of Switzerland lies an educational gem that embodies a unique blend of academic excellence, cultural richness and a profound sense of community. Founded over 30 years ago, Haut-Lac International Bilingual Day and Boarding School is now home to both 600 day students and a maximum of 30 boarders from around the world.
What To Wear at Your Job Interview
Navigating job interviews can be stressful, but knowing what to wear shouldn't be. Our comprehensive guide covers the essential dress code tips for men and women interviewing at boarding schools. Make your first impression count with style and professionalism.
Navigating the Modern Maze: Emerging Challenges for Boarding Schools
Explore the pressing challenges facing boarding schools, from marketing difficulties and rising insurance costs to facility maintenance and recruitment of competent trustees and teachers. This article delves into these complex issues and proposes innovative strategies to overcome them.