Reflections and Advice:
1.) What do you think makes your school unique relative to other boarding schools?
CSW values social justice and celebrates diversity in an incomparable way. Every one of my peers looks back on our high school experience as positive and nurturing. The faculty and community at CSW truly encouraged my growth and were genuinely invested in my transition into young adulthood. I was constantly supported and heard, and definitely could not have asked for or expected a greater high school experience than i received at CSW.
2.) What was the best thing that happened to you in boarding school?
I grew a lot in every aspect of my person. I grew as an artist, a writer, an academic, and a member of society. I genuinely cannot think of one specific memory or experience that stands out, as each one was formative and enlightening.
3.) What might you have done differently during your boarding school experience?
I would have taken advantage of more opportunities. I did not get super involved until I was an upperclassman even though there were plenty of options as an underclassman. I wish I had dove right in and participated in everything I was offered.
4.) What did you like most about your school?
The curriculum and the faculty, for sure. I was extremely prepared for the rest of my academic career and knew exactly what I wanted to do moving forward.
5.) Do you have any final words of wisdom for visiting or incoming students to your school?
Don't be afraid to reach out to the adults on campus if you need help, either in academic or personal matters. If you are not comfortable reaching out to administrators, CSW has a great advisor program, and your teachers are genuinely invested in your success, as well.
Academics:
1.) Describe the academics at your school - what did you like most about it?
The academic options at CSW are extensive, diverse, and cater to the interests of the students. There is a wide range of classes in all subjects. Rather than being divided into semesters or trimesters, the year is divided up into seven "mods", and each student takes three or four classes each mod, allowing students to experiment and pursue specific subjects. The offerings of arts courses, specifically, is arguably unmatched at any other institution at the high school level. Furthermore, the faculty are amazing. The school fosters one-on-one relationships between teachers and students. I am still in touch with some of my high school teachers.
Athletics:
1.) Describe the athletics at your school - what did you like most about it?
Each student is required to fulfill athletic credits for each year at CSW. However, these credits are flexible and can be awarded in a variety of ways. For example, there is an exemption for students in theater productions. That being said, students who have all sorts of interests are encouraged to participate in athletics, regardless of their academic or artistic interests.
Art, Music, and Theatre:
1.) Describe the arts program at your school - what did you like most about it?
As I have referenced in my other responses, CSW arts exceed the rigor and options of any other high school. The art that comes out of CSW is better than the work of most college level artists, which is really saying something as a student currently attending an art institution.
Extracurricular Opportunities:
1.) Describe the extracurriculars offered at your school - what did you like most about it?
Student leadership is an integral part of the CSW experience. Student voices are present in every aspect of life at CSW, including curriculum, disciplinary, faculty selection, and handbook decisions, as well as clubs and affinity groups.
Dorm Life:
1.) Describe the dorm life in your school - what did you like most about it?
The boarding community is a minority in a greater body of day students. It is very small and close-knit, allowing tight bonds both among students and adults on campus.
Dining:
1.) Describe the dining arrangements at your school.
All meals are included in tuition for boarding students (lunch for day students, as well), relieving the burden of meal costs. The dining staff are quite friendly and very open to suggestions. I will say that during my time at CSW there were some issues with the dining service providers; I believe we went through three or four companies during my four years there. Students are free to do what they please with the one hour provided for lunchtime.
Social and Town Life:
1.) Describe the school's town and surrounding area.
There is not much to do in Weston, but it is a lovely area to walk around in. I spent a lot of time bonding with my friends during nighttime walks. There are a few businesses which are great for students including a great ice cream stand. Waltham is within medium walking distance or a short cab ride from campus, which has lots of great food and shopping options. The school offers weekly transportation to Cambridge, the mall, and the movies (as well as other activities).
2.) Describe the social life at your school - what did you like most about it?
There are really no hierarchies at CSW. Some students are more outspoken and social than others, but it is a very open community. There were never any bullying issues, and although I had a very small social group my freshman year, by my senior year I was at least friendly, if not close with, most people in my class.
I started very soon after the module system started at CSW. The module academic system coupled with an integrated studies design or approach to curricula are two aspects that truly make CSW unique.In addition. . .
The Cambridge School of Weston is a liberal arts institution filled with some of the most incredible teachers in the world. The atmosphere is incredible. There is a special place for every student, teacher, and. . .
The academic program at CSW was surely the most obvious attribute that made it unlike any other school. The "module program" , along with broad requirements, allowed a really personalized and self-directed education. At no. . .
Show more reviews (

12 reviews

)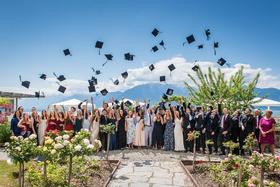 Nurturing Futures: A Journey through Boarding at Haut-Lac School in Switzerland
Nestled in the hills overlooking Lake Geneva in the French-speaking part of Switzerland lies an educational gem that embodies a unique blend of academic excellence, cultural richness and a profound sense of community. Founded over 30 years ago, Haut-Lac International Bilingual Day and Boarding School is now home to both 600 day students and a maximum of 30 boarders from around the world.
What To Wear at Your Job Interview
Navigating job interviews can be stressful, but knowing what to wear shouldn't be. Our comprehensive guide covers the essential dress code tips for men and women interviewing at boarding schools. Make your first impression count with style and professionalism.
Navigating the Modern Maze: Emerging Challenges for Boarding Schools
Explore the pressing challenges facing boarding schools, from marketing difficulties and rising insurance costs to facility maintenance and recruitment of competent trustees and teachers. This article delves into these complex issues and proposes innovative strategies to overcome them.