Reflections and Advice:
1.) What do you think makes your school unique relative to other boarding schools?
I started very soon after the module system started at CSW. The module academic system coupled with an integrated studies design or approach to curricula are two aspects that truly make CSW unique.In addition, the campus lends itself to building a tight community. Strong bonds between faculty and staff and students is fostered, and life-long friendships are created. After 30 years I am still close to and remain in touch with four of the people I boarded with.
2.) What was the best thing that happened to you in boarding school?
I learned how to learn! Moreover, I learned how to learn at the beat of my OWN drum!
3.) What might you have done differently during your boarding school experience?
I would have connected with my advisor a lot more than I did. I was too young to realize/understand the purpose of having an advisor. They are there for YOU, so use them!Meeting people and making new friends is hard sometimes. But that difficulty is easily overcome once you get settled in your room in your dorm. The residents of your dorm quickly become your "family".
4.) What did you like most about your school?
That we were not a number or just a student. We were people, individuals, each unique and complex. And we each got individual attention and our success was measured not only by grades, but by improvements and personal growth, by our voice (however long it might have taken to find it), by our interest and involvement. i.e. - the courses were integrated as was our review.
5.) Do you have any final words of wisdom for visiting or incoming students to your school?
The Barn is an awesome dormYe Old Cottage in Weston center is a great "greasy spoon" eateryCat Rock Conservation area, which the school is adjacent to, is a great place to go for a walk and be outdoors.
Academics:
1.) Describe the academics at your school - what did you like most about it?
When I first got the catalog in the mail, I was amazed at how many different courses were offered. The title of the courses and the descriptions were so amazing. I wanted to take them all! The titles of the course were so varied and seemed to often cover more than one subject. This was very unlike what I was used, and it made me very excited about going to school, which was a first!If I had to choose the one thing that made the academics at CSW unique from all other schools, without a doubt it is the individual attention that each student gets from faculty and the community. My advisor, also an English teacher and my dorm parent, was so incredibly thoughtful, engaged and invested in my success. Other than at home, Where else can you find that kind of attention and care? The faculty meetings is where they talk about individual students and seek input from all the faculty about how to foster that student who may be having some difficulty.
Athletics:
1.) Describe the athletics at your school - what did you like most about it?
I have to admit, I have never been interested in athletics. I am the wrong person to ask about anything sports related.I took field hockey (briefly)and basketball. It must have been because I had to.Sports do not excite me in the least bit, I'm embarrassed to say.
Art, Music, and Theatre:
1.) Describe the arts program at your school - what did you like most about it?
When I was at CSW there were so many courses to take in the arts that it was hard to decide on which ones to take! I was in the play "Alice Is" and I remember we were all involved in all the aspects of the production - set design, costume design, and lights, everything. All of our productions took place in the gymnasium in the 'old days', but now there is a fabulous theater (two actually) and the Mugar Theatre and Kluchman Center for Performing Arts is an incredible facility and resource.The Art building, as I mentioned, is a living, breathing art studio. The open work spaces allowed me to explore using different media and gave me the physical space to spread out as well. I spent a great deal of independent and serious time in the studio. I was exposed to so many different kinds of art that I had never even considered. The drawing, weaving and pottery classes were my favorites.I played the violin at the time, and not very well either. It was the music director at CSW, Lee Wilson, and an intern (Jeff ??) who really helped me not only advance my studies in playing, but taught me how to see music as more than just notes on the page. At other schools, I used leave my lessons feeling like I had just done 20 laps in a pool; i.e. an exercise in endurance. It was at CSW that I truly enjoyed learning and practicing music. I no longer saw the violin as a single instrument, or just read the notes on the page as something I had to "get through". I discovered the history, the science, the math and the music within a musical score or piece. They took the TIME to help me open my eyes!
Extracurricular Opportunities:
1.) Describe the extracurriculars offered at your school - what did you like most about it?
Skiing. What I liked most was getting to go away for a weekend with close friends, both day students and boarders.Community Service or Community Work Day (I think that is what it was called) was always great. It brought the larger CSW community together and got us all working toward a common goal. Plus, it was always a chance for us to come together and have a lot of fun too.
Dorm Life:
1.) Describe the dorm life in your school - what did you like most about it?
I lived in the Barn. I could write a book about dorm life. In stead I will highlight some things that stand out for me: * Strong STRONG friendships formed * We all helped take care of each other. Like sisters * Open doors. We would just visit each other when we needed a break from studying * The common areas were where we had our dorm meetings. * The dorm parents were really like surrogate parents - watching out for us and there to help us along with the typical teenage questions and troubles * Each dorm had a kitchen for the studentsThis is a broad question.
Dining:
1.) Describe the dining arrangements at your school.
Dining Hall - it is where the community, especially boarding life during non-school hours, come together.We used to be able to make our own hot breakfast. Now they have cooks to make it for you.Food selection was always great. Varied. No complaints.
Social and Town Life:
1.) Describe the school's town and surrounding area.
Weston has over 25 miles of walking/hiking trails and thousands of acres of conservation land. Great for x-country skiing too.Fantastic public library.Quaint, intimate Town Center.
2.) Describe the social life at your school - what did you like most about it?
I loved that there were always so many opportunities to come together as a family - a community. The two words are intertwined for me. When you live at the school, your community (faculty, staff, day and boarding students) becomes your family.The campus in spring is fabulous. Hanging out on the quad during lunch, playing Frisbee.
Daily Schedule:
Weekday
Weekend
The thing that stands out most obviously about the Cambridge School is probably its unique schedule. The "mod system" allows for block scheduling in a truly innovative way. Because of the way classes. . .
The Cambridge School of Weston is a liberal arts institution filled with some of the most incredible teachers in the world. The atmosphere is incredible. There is a special place for every student, teacher, and. . .
CSW values social justice and celebrates diversity in an incomparable way. Every one of my peers looks back on our high school experience as positive and nurturing. The faculty and community at CSW truly encouraged. . .
Show more reviews (

12 reviews

)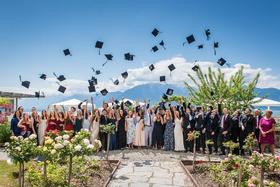 Nurturing Futures: A Journey through Boarding at Haut-Lac School in Switzerland
Nestled in the hills overlooking Lake Geneva in the French-speaking part of Switzerland lies an educational gem that embodies a unique blend of academic excellence, cultural richness and a profound sense of community. Founded over 30 years ago, Haut-Lac International Bilingual Day and Boarding School is now home to both 600 day students and a maximum of 30 boarders from around the world.
Navigating the Modern Maze: Emerging Challenges for Boarding Schools
Explore the pressing challenges facing boarding schools, from marketing difficulties and rising insurance costs to facility maintenance and recruitment of competent trustees and teachers. This article delves into these complex issues and proposes innovative strategies to overcome them.
What To Wear at Your Job Interview
Navigating job interviews can be stressful, but knowing what to wear shouldn't be. Our comprehensive guide covers the essential dress code tips for men and women interviewing at boarding schools. Make your first impression count with style and professionalism.