Reflections and Advice:
1.) What do you think makes your school unique relative to other boarding schools?
The school is super international, with students from over 35 countries around the world. At CATS, I was able to learn more about other culture from my friends and sometimes from teachers, as well. My advisor is Lebanese-American, and one of my favorite teachers is from England.
2.) What was the best thing that happened to you in boarding school?
Coming to CATS, I was shy and only focused on my academic performance. CATS has helped me to make friends, not just with students but also with teachers and other faculty members. I have learned to accept and respect people's differences.
3.) What might you have done differently during your boarding school experience?
I would not be shy to talk to people from other countries. It is natural for us to hang out with students from the same country because it feels safe and comfortable. Try to break through that barrier and you will learn and grow so much more. Don't be ashamed of your English, because almost everyone here has an accent, and it is the trademark of people knowing many languages. Socialize more. Don't lock yourself all day in the comfy single room.
4.) What did you like most about your school?
I love the teachers most at CATS. They know you on a personal level and always willing to share and help when you are in trouble.
5.) Do you have any final words of wisdom for visiting or incoming students to your school?
Choose Dorm B - it is the best one (female only) Favorite drink at the vending machine: Fuze Tea Check out the college counseling office - everyone there is awesome Things you must eat at the cafeteria: lasagna, brownie, blueberry yogurt mixed with granola, waffle, and clam chowder
Academics:
1.) Describe the academics at your school - what did you like most about it?
There are 7 blocks in total. One of them is the lunch block. Students are allowed to take maximum 2 study hall blocks. There are typical 3 levels for classes" College Prep (the easiest), Honors, and AP. Art classes have a different level division. The teachers responsible for teaching AP courses are the best. However, if you want both rigor and flexibility in your subjects, choose to take Honors classes. I also enjoyed the electives offered at CATS. Throughout my 2 years at CATS, I took Fashion Design, Painting and Drawing Advance, Robotics, Big Data, Financial Management, and Professional Communication, all of which I enjoyed.
Athletics:
1.) Describe the athletics at your school - what did you like most about it?
The athletics program at CATS is not strong compared to other schools, first of all, because international students do not put as much emphasis on high school sport as American students, and also, CATS is a relatively new school. The variety of sports includes Basketball, Soccer, Frisbee, Crew, and Boxing. However, CATS has athletics program for students who are not interested in competitive sports, such as Yoga and Gym.
Art, Music, and Theatre:
1.) Describe the arts program at your school - what did you like most about it?
CATS has a strong art department. There are roughly 15- 20 art events in a school year. There are fashion shows, spring flings, talent shows, art exhibitions, variety shows, musicals, and plays. The best thing about CATS is that students can take initiative in designing their activities, and the school will financially support them. The play this year is directed and organized completely by students. My friend also started a dance team that has never precedented at school. There are many art classes, such as drawing and painting, fashion designing, digital designing, actor studio, chorus, piano lessons, etc. The school provides state-of-the-art materials for the classes, such as 3D printer, sewing machines, pianos, and modern computers. The most interesting thing about CATS' art performances is that through them, you can see the diversity of the student body, with instruments and songs from all over the world.
Extracurricular Opportunities:
1.) Describe the extracurriculars offered at your school - what did you like most about it?
Students can start their own clubs here and receive full support from the school. Students can decide whether to participate in extracurricular activities or not. I joined the Gay-Straight Alliance and the Community Service Club. However, if you are interested in working on a personal project that does not belong to your club, other club advisors are more than willing to help. There are many other activities held on the weekends, such as hiking, skiing, or white water rafting.
Dorm Life:
1.) Describe the dorm life in your school - what did you like most about it?
All students have single room and single bathroom, so there is a lot of freedom and comfort. Dorm parents and student prefects are extremely friendly and willing to help. You can only order food from 5pm to 8pm. The dorms are on campus, so it is very convenient for students. There are curfews for students and they differs depending on the days of the week and the students' grade and academic performance. You cannot choose your room at the beginning of the year, but you can change rooms during the year. There are security on campus 24/7. On the weekends, there are frequent shuttle buses to take students to the mall nearby and the train station. There are washing machines and dryers in the basement of each dorms, and students can use them for free.
Dining:
1.) Describe the dining arrangements at your school.
The dining hall is too small for 400 students. The sandwich line is what I like best about CATS since you can customize your own food. The cafeteria is open 3 times on weekdays and twice on weekends (brunch and dinner). It often change their food and design according to special events, such as Lunar New Year, Halloween, Thanksgiving, Red Sox game, etc. Students can sit wherever they want.
Social and Town Life:
1.) Describe the school's town and surrounding area.
There is nothing special about the neighborhood nearby. Near CATS are CVS, a Chinese restaurant, Family Dollar, and 2 Pizza places.
2.) Describe the social life at your school - what did you like most about it?
The student body is so diverse. You can learn so many things from your international friends. During break or vacations, there is always somewhere in the world you can go and have your friends around.
Daily Schedule:
Weekday
9:45 AM
Advanced Drawing and Painting
4:00 PM
Gay-Straight Alliance
Weekend
12:00 AM
Free time to study or nap
3:00 PM
Play basketball at the gym
6:00 PM
Go shopping or hanging out with friends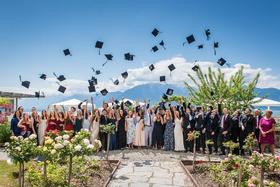 Nurturing Futures: A Journey through Boarding at Haut-Lac School in Switzerland
Nestled in the hills overlooking Lake Geneva in the French-speaking part of Switzerland lies an educational gem that embodies a unique blend of academic excellence, cultural richness and a profound sense of community. Founded over 30 years ago, Haut-Lac International Bilingual Day and Boarding School is now home to both 600 day students and a maximum of 30 boarders from around the world.
What To Wear at Your Job Interview
Navigating job interviews can be stressful, but knowing what to wear shouldn't be. Our comprehensive guide covers the essential dress code tips for men and women interviewing at boarding schools. Make your first impression count with style and professionalism.
Navigating the Modern Maze: Emerging Challenges for Boarding Schools
Explore the pressing challenges facing boarding schools, from marketing difficulties and rising insurance costs to facility maintenance and recruitment of competent trustees and teachers. This article delves into these complex issues and proposes innovative strategies to overcome them.