Reflections and Advice:
1.) What do you think makes your school unique relative to other boarding schools?
Be prepared for a 6-day class week at Brooks. While Saturday classes are a requirement, schedules even out with a half day schedule on Wednesdays.
2.) What was the best thing that happened to you in boarding school?
Learning and social spaces at Brooks rarely allowed me the opportunity to hide. I credit Brooks with fostering the beginnings of my development as a critical thinker. In turn, I became a more confident and well-rounded person/scholar .
3.) What might you have done differently during your boarding school experience?
One regret i had looking back at my experience at Brooks was not becoming more involved in student government to take part in affecting policy for the betterment of future generations at Brooks. Interests and needs change from generation to generation at Brooks and I wish I participated on a broader level in the decision making process.
4.) What did you like most about your school?
it's cliche but the relationships I developed at Brooks are just as strong today as they were 20 years ago. Being a boarder, I appreciated the higher level of independence I had and the equal level of accountability expected of me towards myself, my peers and the Brooks community. I would go through the experience again in a heartbeat.
5.) Do you have any final words of wisdom for visiting or incoming students to your school?
Give yourself a chance to shine... dive in. Understand from the beginning that you have certain personal gifts to share with your peers and in turn lots to learn from them. Keep your eyes, ears and heart open, but take advantage of the many opportunities you'll have to offer your diverse opinion. Brooks will almost guarantee a better you on the other end.
Academics:
1.) Describe the academics at your school - what did you like most about it?
The academic experience at Brooks is consistently rigorous, but one where you're not being taught to master the guidelines of a test. I enjoyed that faculty encouraged me to exist fully in each academic space I found myself in. This meant engaging as a critical thinker, respectfully/ carefully considering the input of classmates and precedence of the knowledge and thinkers that existed before us.
Athletics:
1.) Describe the athletics at your school - what did you like most about it?
Because of the rather small student body, students are required to participate in a certain number of sports depending on the form they're in. For example, third formers are required to participate in athletics in each season and sixth formers are required to only participate in 1 athletic season.Besides the great rivalries, I enjoyed competing against athletes who went on to compete at the highest levels of NCAA athletics. Also, as a senior i appreciate having the flexibility and option to focus on just one or two sports. Lastly, the coaches and trainers were truly mentors who cared about my development as a student athlete. Case in point, the head trainer at Brooks took time to send my medical history file to the trainers at Bates, so as to facilitate my seamless transition into college athletes.
Art, Music, and Theatre:
1.) Describe the arts program at your school - what did you like most about it?
The VMAT culture at Brooks is a very visible and one that is open and accessible to students regardless of experience and/ or interest level. Productions and exhibits in the fall and spring are phenomenal and student driven.As an amateur artists, I appreciated the opportunity to showcase my work to peers. I also enjoyed the numerous opportunities to travel to Boston for professional theater and musical performances.
Extracurricular Opportunities:
1.) Describe the extracurriculars offered at your school - what did you like most about it?
EC offerings at Brooks offer a number of options that allow students to participate in campus life in new and diverse ways. Volunteer initiatives are an important staple of the Brooks community wherein the campus partners with local organizations to assist under-served populations.EC opportunities on small and large scales offered me opportunities to affect positive change on and off of campus.
Dorm Life:
1.) Describe the dorm life in your school - what did you like most about it?
Third form boarders are typically placed housed with other third form peers. As you progress into higher forms you're given the option to choose your living situation, whether that be a traditional dorm structure or a house. Dorm prefects organize nightly dorm chores for litter form boarders.Dorm parents live in apartments connected to the dorm and serve as a consistent guide/ parental figure during the school year.Saturday evening dorm parties were one of my favorite experiences of dorm life at Brooks. They have me a safe and nurturing space to unwind over food and a movie with peers.
Dining:
1.) Describe the dining arrangements at your school.
Three meals are offered Monday-Saturday and brunch and dinner are offered on Sundays. There are usually enough options to cater to diverse dietary needs and options.Sit-down diners are mandatory two days a week during the fall and winter. School attire is required.The sandwich bar at lunch was a favorite of mine, along with days where local restaurants served popular dishes from their menus (I will always love Fudruckers!)
Social and Town Life:
1.) Describe the school's town and surrounding area.
Because the Brooks campus is slightly off of the beaten path, there isn't much town life. However, there are local popular staples like Harrison's (best roast beef sandwiches ever!) and Benson's ice cream shop. Many a day student with a car were generous enough to partake with me.There are shuttles available on weekends to local malls and movie theatres. There were also faculty available to transport me to my favorite barbershop in Lawrence... if you were like me and felt you needed a haircut every 10 days.
2.) Describe the social life at your school - what did you like most about it?
Having classes on Saturdays kind of makes you cherish your free time on Saturday evenings and Brooks understood this. As mentioned previously, there are always several options available on and off campus. The campus usually organizes annual boat pasties in the Boston harbor and the Green and White prom. Wednesday and Sunday chapel were a great time to catch with peers and celebrate/recognize our campus' diversity.The administration rarely disappointed when catering to the students.
Daily Schedule:
Weekday
1:15 PM
Afternoon classes begin
4:00 PM
Practice or games start
10:00 PM
Study hall ends/Dorm check in/Dorm duties
Weekend
12:30 AM
Lunch/ Classes end
1:30 PM
Prepare for campus games or travel to away games
7:30 PM
Campus shuttles leave
10:30 PM
Check-in/Dorm parties begin
Strong sense of community, lack of judgment for unique individual qualities (bullying because of different personalities), adaptive teaching techniques for individual needs. . .
The community at Brooks, including teachers, staff and students, all share an extremely tight-knit bond that I've never experienced at any other institution. Teachers care about the students, and get to know them extremely well. . .
Be prepared for a 6-day class week at Brooks. While Saturday classes are a requirement, schedules even out with a half day schedule on Wednesdays. . .
Show more reviews (

7 reviews

)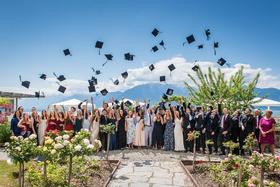 Nurturing Futures: A Journey through Boarding at Haut-Lac School in Switzerland
Nestled in the hills overlooking Lake Geneva in the French-speaking part of Switzerland lies an educational gem that embodies a unique blend of academic excellence, cultural richness and a profound sense of community. Founded over 30 years ago, Haut-Lac International Bilingual Day and Boarding School is now home to both 600 day students and a maximum of 30 boarders from around the world.
What To Wear at Your Job Interview
Navigating job interviews can be stressful, but knowing what to wear shouldn't be. Our comprehensive guide covers the essential dress code tips for men and women interviewing at boarding schools. Make your first impression count with style and professionalism.
Navigating the Modern Maze: Emerging Challenges for Boarding Schools
Explore the pressing challenges facing boarding schools, from marketing difficulties and rising insurance costs to facility maintenance and recruitment of competent trustees and teachers. This article delves into these complex issues and proposes innovative strategies to overcome them.