Reflections and Advice:
1.) What do you think makes your school unique relative to other boarding schools?
We are a military school and it really feels like family at Camden Military Academy.
2.) What was the best thing that happened to you in boarding school?
Probably just the fact that my grades have raised, and I achieved the rank of first sergeant in the top 3 and its fun to lead others and teach them the right things to do. I think I have become a much better person by coming here.
3.) What might you have done differently during your boarding school experience?
I would have done nothing differently I don't really regret any of the choices I've made because it's made me who I am. My advice would be that the time you spend here is what you make of it, if you wanna have a good day then you'll have a good day, if you wanna have a bad day then you'll have a bad day.
4.) What did you like most about your school?
Probably the friends I have made and also just the people and all the memories I have had there.
5.) Do you have any final words of wisdom for visiting or incoming students to your school?
Don't be too worried about coming here everyone is pretty nice and you'll see that if you do what you are supposed to then you won't get yelled at or get in trouble. Also, if you know this environment will benefit you, then do it. And the Dallas barracks (Charlie.co and Delta.co) is the best barracks and Charlie is the best company.
Academics:
1.) Describe the academics at your school - what did you like most about it?
I enjoyed it, the classroom sizes are smaller so you really get to know your classmates and teachers. The teachers are also very supportive and willing to help you.
Athletics:
1.) Describe the athletics at your school - what did you like most about it?
I loved playing sports for my school it was always fun playing football with all of my friends and we have really great coaches. And the best part is definitely going to games and not only playing but being there it's very relaxing compared to the military lifestyle we live at school.
Art, Music, and Theatre:
1.) Describe the arts program at your school - what did you like most about it?
I was in drama class my junior year, and I loved it. Mrs. Thaxton was a great teacher, and acting in the plays was fun despite our limited resources. My favorite moment was probably when she took a few of us to go perform in a play for the fine arts center in Camden and we got to do a real play.
Extracurricular Opportunities:
1.) Describe the extracurriculars offered at your school - what did you like most about it?
We have many clubs to choose from and they are all fun. I only did Key club and I remember going to the national conference in Raleigh and it was very fun, we also did little local trips to volunteer and help the community which was fun as well.
Dorm Life:
1.) Describe the dorm life in your school - what did you like most about it?
At first I was in the original Dallas barracks which was the oldest barracks on campus at the time and it had a little wear but it was fun living in those barracks. But the year I got here we moved into the new Dallas barracks and it was a very nice change. The rooms are very nice and pretty big too, there is definitely enough room for both roommates to have their personal space and the beds are fairly comfy as well also the new barracks are very clean and nice.
Dining:
1.) Describe the dining arrangements at your school.
Even though I've been eating the same meals for the past 4 years its honestly pretty good and its served family style which is very convenient. There is also a salad bar and the seniors are allowed to get coffee which is a nice perk. The dining hall is also in pretty good shape and the staff that work in it are all very nice.
Social and Town Life:
1.) Describe the school's town and surrounding area.
I'm from charlotte so I'm used to a big city but Camden is pretty nice, Its very small and pretty quiet besides the highway that runs through it but it's cool to watch Camden get a big name restaurant like Starbucks for the first time and see it grow a little. I like downtown Camden the most cause it's got an Old time feel to it.
2.) Describe the social life at your school - what did you like most about it?
It was very fun I have made friends with people who have already graduated and I still talk to them this day. Since we are in barracks together we really get to know each other and it feels like family so some people you meet can become your best friends.
One thing that separated Camden from any other school I've looked at or attended was the small and personal classes. My biggest class went from being 34 at a public school to 12 at Camden. . .
This school creates extreme bonds with brothers you will forever remember. Me and my brothers worked hard together, learned together, and learned the values of truth and discipline. Camden Military Academy is a life changer. . .
There is a brotherhood that can be found nowhere else. I would not trade in my experience here for anything. This has been a one in a lifetime experience. The teachers here can help the. . .
Show more reviews (

15 reviews

)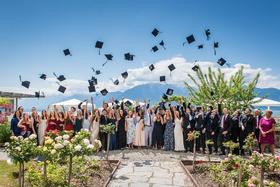 Nurturing Futures: A Journey through Boarding at Haut-Lac School in Switzerland
Nestled in the hills overlooking Lake Geneva in the French-speaking part of Switzerland lies an educational gem that embodies a unique blend of academic excellence, cultural richness and a profound sense of community. Founded over 30 years ago, Haut-Lac International Bilingual Day and Boarding School is now home to both 600 day students and a maximum of 30 boarders from around the world.
What To Wear at Your Job Interview
Navigating job interviews can be stressful, but knowing what to wear shouldn't be. Our comprehensive guide covers the essential dress code tips for men and women interviewing at boarding schools. Make your first impression count with style and professionalism.
Navigating the Modern Maze: Emerging Challenges for Boarding Schools
Explore the pressing challenges facing boarding schools, from marketing difficulties and rising insurance costs to facility maintenance and recruitment of competent trustees and teachers. This article delves into these complex issues and proposes innovative strategies to overcome them.