Reflections and Advice:
1.) What do you think makes your school unique relative to other boarding schools?
My school is in the prime spot for somebody interested in going into politics or any kind of law field. The location of GW allows for many students to intern on the Hill and network to one's benefit.
2.) What was the best thing that happened to you in boarding school?
I was able to grow as an individual mentally and emotionally. I have become way more independent as a young adult.
3.) What might you have done differently during your boarding school experience?
Honestly, I would have gone out more and made more memories with friends. I wish I didn't have to work so much to pay for GW.
4.) What did you like most about your school?
I loved the academic experienced rendered by GW. As a result, I have come out a better person mentally and emotionally.
5.) Do you have any final words of wisdom for visiting or incoming students to your school?
Take advantage of every opportunity that comes your way. College is four years, but it goes by so fast. Cherish it all and have fun overall.
Academics:
1.) Describe the academics at your school - what did you like most about it?
The academics at my school is what has madded me love GW the most. The workload and many whiles not all the professors at GW look to academically challenge students and broader their concepts of the world. Additionally, the classroom at GW has served as a platform for me to expand my knowledge outside of what I once knew and grow as an individual. I would say that there needs to be more of an availability of classes each semester, but that is a problem with any large institution. Furthermore, the kinds of classes they offer are classes I didn't even know existed. I enjoy the academics at GW.
Athletics:
1.) Describe the athletics at your school - what did you like most about it?
I did not go to a lot of my school's home games, but the few times I did attend the gym was packed with supporters and fans from all over. The promotion of GW athletics are great and widely celebrated. If I've students, the opportunity to make new friends and indulge in sports, even if it's recreationally and not professionally.
Art, Music, and Theatre:
1.) Describe the arts program at your school - what did you like most about it?
I am not a Theatre Major but I did take a class on Play Analysis with Allyson Stokes and it was so much fun. I did not expect this class to turn out as well as it did. We were instructed to perform a scene of one of the many plays we read ad it was a great experience being on stage. Additionally, GW holds plays at our Lisner Auditorium from month to month and it is such a fascinating experience.
Extracurricular Opportunities:
1.) Describe the extracurriculars offered at your school - what did you like most about it?
I like how the activities offered are diverse and open-minded. The undergraduate law review team I was selected for allowed me to not only meet new people but learn so many new things that will benefit me In the future.
Dorm Life:
1.) Describe the dorm life in your school - what did you like most about it?
Majority of my years at GW, I was fortunate enough to not have a roommate assigned due to housing placements. However, the housing department does a pretty good job matching students up based on a questionnaire. You, of course, meet new people and often times create long-term friendships that pay off. Furthermore, the housing department actually listens to your preferences and tries their best to accommodate those.
Dining:
1.) Describe the dining arrangements at your school.
The dining plan is very flexible which I enjoy a lot about GW. GW does not limit students to merely cafeteria food but so much other food. Being here for almost four years you might get tired, but there is always the option of cooking. They have also allowed us to use what's called our GWORLD or Dining card at stores like Safeway, Whole Foods and CVS to buy groceries, etc.
Social and Town Life:
1.) Describe the school's town and surrounding area.
The town GW is located at is a very upbeat town with lots to do like bars, shows, museums, and more. This allows students to branch off campus and explore DC for themselves. DC is such a beautiful place with so much to get into and so many diverse types of individuals.
2.) Describe the social life at your school - what did you like most about it?
I worked a lot during school and still do, but when I did get time to hang out with friends, it was amazing. Because there is so much to do, you will not ever be bored honestly.
Mastering the Boarding School Selection Process: A 5-Step Guide
Discover the ultimate 5-step guide to choosing the perfect boarding school for your child. Explore essential factors, such as academics, campus facilities, extracurricular activities, and more. Make an informed decision to provide your child with an enriching and transformative educational experience. Read now!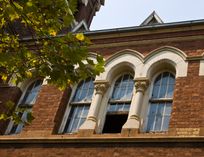 5 Founders and Their Boarding Schools
What prompts somebody to start a boarding school? The motives range from idealism to munificence right on through to capitalism. The common thread seems to be ample capital and a vision of what education can do.