Reflections and Advice:
1.) What do you think makes your school unique relative to other boarding schools?
The MacDuffie is a private school like no other as it has the diversity that other schools strive to attain. Students from all over the country and world are integrated within a close environment that facilitates incredible transpiration of knowledge, perspective, and creativity. The student body is so close that nearly everyone knows everyone not only by face and name but also tidbits about their personality and background at the least. Subsequently, another divergent aspect of The MacDuffie School in comparison to others is that of personable teacher-student interaction that motivates and drives student's passion, learning, and curiosity in their education. Most notable from my time at the school are teachers Ms. Joan O'Brien, Mr. Daniel Taravella, Mrs. Kristina Hamel, and Mrs. Valentine. They have so much focus and dedication in cultivating student's academic and personal character, and I attribute so much of my success to them.
2.) What was the best thing that happened to you in boarding school?
The MacDuffie school allowed me to find my niche passions and explore my niche passions through my classes, organizational involvement, and experiences with fellow students. It had allowed me to recognize and act on my potential and create a sense of confidence in myself.
3.) What might you have done differently during your boarding school experience?
If there is anything that I would have done differently, it would have been to be involved in student government to a greater extent than being a prefect. For students that are looking into attending boarding school, I would extensively recommend finding a school that fits who you are or who you want to become.
4.) What did you like most about your school?
I enjoyed the aura of the school that was created from the student body, organizations, faculty, classes, opportunities, and school bonding experiences.
5.) Do you have any final words of wisdom for visiting or incoming students to your school?
If you are a student at MacDuffie or want to be one, and you have the privilege of attending, I would recommend taking Latin for your language requirement. I know that many stray away from the language because of its lack of use, but it truly is remarkable to learn. The Latin teacher, Mr. Taravella is an exquisite, profound scholar in the subject and had an enthusiasm that radiates and inspired some college classes that I have taken.
Academics:
1.) Describe the academics at your school - what did you like most about it?
The academics at The MacDuffie School are unique in the diversity and depth of classes available for being such a small school. However, I do wish that there were more electives offered for older students with more niche subjects. The depth of classes is incredibly profound as the teachers are very dedicated scholars of the subjects they teach and that transpires in their classroom environments. Consequently, the workload is rigorous. However, there is ample support and guidance provided by teachers to delineate one's academic journey.
Athletics:
1.) Describe the athletics at your school - what did you like most about it?
The athletics at The MacDuffie School are small but robust. I was an athlete for the first two years of my academic career, and my experience was embedded with practices, games, and finding a community with teammates. However, the athletics program does need a change in policy to seamlessly fit with the academic rigor of the school.
Art, Music, and Theatre:
1.) Describe the arts program at your school - what did you like most about it?
MacDuffie has a wonderful program for new students in which they rotate throughout each arts department in their first year. I was most involved with the Dance program in which I was able to learn about the history of modern dance as well as practice the art. Furthermore, I was able to choreograph my own Bollywood-fusion dance my senior year in which I learned the whole process of choreography from start to finish.
Extracurricular Opportunities:
1.) Describe the extracurriculars offered at your school - what did you like most about it?
The extracurriculars offered were diverse and robust. Specifically, many students had the initiative to create their own clubs, and that offered a lot of this diversity. I enjoyed the level of involvement I was able to have in these clubs that led me to contribute to running the logistics and dynamics of the clubs and organizations that I was a part of.
Dorm Life:
1.) Describe the dorm life in your school - what did you like most about it?
I was not a boarding student, so I cannot speak to this aspect. However, I have heard good things about the boarding life at the school.
Dining:
1.) Describe the dining arrangements at your school.
The dining was phenomenal and something that the school prides itself on. The diversity in options catered to everyone's needs and the dining staff was incredible in the dishes they made. Truly, I cannot say enough good things about the dining at MacDuffie.
Social and Town Life:
1.) Describe the school's town and surrounding area.
The town encompassing MacDuffie is a small, quaint, typical New England town. There is not much to do or see, but venturing out of the town lines, students can find coffee shops, restaurants, shopping areas, and day trips to explore the Pioneer Valley.
2.) Describe the social life at your school - what did you like most about it?
The incredible aspect of social life was that everyone knew everyone to some extent beyond acquaintanceship. I had friends from Turkey, Brazil, and Denmark and it was an experience that I otherwise would have not had attending a school with fewer international students. It was incredible to learn about our differences and similarities and create such a close bond.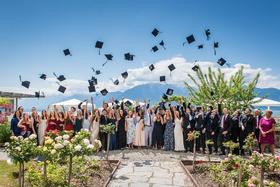 Nurturing Futures: A Journey through Boarding at Haut-Lac School in Switzerland
Nestled in the hills overlooking Lake Geneva in the French-speaking part of Switzerland lies an educational gem that embodies a unique blend of academic excellence, cultural richness and a profound sense of community. Founded over 30 years ago, Haut-Lac International Bilingual Day and Boarding School is now home to both 600 day students and a maximum of 30 boarders from around the world.
What To Wear at Your Job Interview
Navigating job interviews can be stressful, but knowing what to wear shouldn't be. Our comprehensive guide covers the essential dress code tips for men and women interviewing at boarding schools. Make your first impression count with style and professionalism.
Navigating the Modern Maze: Emerging Challenges for Boarding Schools
Explore the pressing challenges facing boarding schools, from marketing difficulties and rising insurance costs to facility maintenance and recruitment of competent trustees and teachers. This article delves into these complex issues and proposes innovative strategies to overcome them.