Reflections and Advice:
1.) What do you think makes your school unique relative to other boarding schools?
Being an international student at Merrick Preparatory College, I was surrounded by a supportive environment that has helped me grow academically and socially. The ecosystem is constructed in a way that facilitates and encourages learning and networking. The daily school routine was optimized in a way that maximizes learning, health, as well as physical, mental and emotional fitness. This was done by ensuring all students have access to at least 3 healthy meals a day, intensive classes, breaks to walk around the village as well as numerous extra-curricular activities.
2.) What was the best thing that happened to you in boarding school?
When I joined Merrick Prep, I was very young, shy and my English was not as good. I would look up to so many students who performed better than me, and it made me feel inferior. However, as days passed, the culture, environment, and role models I have interacted with in the school helped me improve myself exponentially. The teachers built a connection with me that acted as a catalyst for me to improve in all dimensions, whether socially, academically, or professionally. The headmaster was a leader by example, and this had a huge positive effect on my personality growing up. When I graduated, I was at the top of the class, the recipient of the Headmaster's Award for Integrity and Leadership, and a Validcotrian.
3.) What might you have done differently during your boarding school experience?
If I went back in time, I would have made more friends in the school's village. I have built a few relationships there, but to this day, those people still interact with me and help me with many things! I would advise young kids to consider the effect the environment has on personal development. Not only the environment is well suited for success in school, but the environment outside of school is also one of a kind. I have always enjoyed the luxury of walking and biking in the wilderness, enjoying vintage shopping, and meditating by the Rideau River. Being an international student, I felt welcomed and treated with kindness and respect in and outside the school. (Note: Merrickville is granted World Heritage Site status by UNESCO)
4.) What did you like most about your school?
I have mostly enjoyed being friends with students and staff from different countries. This has enabled me to immersively learn and appreciate other cultures, and even learn some new languages.
5.) Do you have any final words of wisdom for visiting or incoming students to your school?
I would recommend the students to immediately visit the ice-cream shop right next to the school, even before you enter the school!
Academics:
1.) Describe the academics at your school - what did you like most about it?
MPS provided me with multidisciplinary courses and helped guide me in taking the courses that are most relevant to my degree of choice. The daily classes were constructed in a way that blends a theoretical understanding of content, with practical applications in class. Classes were long enough to accommodate students in need for extra support. Teachers and staff were very committed to ensuring students' success to the point there would provide supplementary classes and support after school hours and on weekends. Moreover, some of the Residence Coordinators provided extra support after hours, as many of them were certified teachers. Thanks to MPS teachers, I was ahead of most of my peers in university, as I have learned the fundamental knowledge for all my first-year courses.
Athletics:
1.) Describe the athletics at your school - what did you like most about it?
The athletics program was diverse, which enabled students to pick their first choice of sports. However, so that students learn new sports, rotations were made every month. This way I was able to learn about others sports activities that I was not familiar with. Occasionally, athletic clubs would compete for internal and external competitions, which motivated me to improve my performance. What I liked most about the athletics program is that it is integrated into our daily life, which helped me stay consistently active physically.
Art, Music, and Theatre:
1.) Describe the arts program at your school - what did you like most about it?
One of the most exciting clubs was the Drama club. We were asked to act and shoot a scary movie for Halloween. Since Merrickville is full of hiking trails, we were able to find a fitting spot in the wilderness. The staff in charge of the activity was talented in music and film, and she helped guide us in the entire process. Another school event was MPS Talent Show. Students were able to show all their talents in music, acting, dancing, painting, and others. What I liked most is the performance aspect of these events, as all the school staff and students - it gave me a sense of being with a family.
Extracurricular Opportunities:
1.) Describe the extracurriculars offered at your school - what did you like most about it?
The extra-curricular were diversed, student had the choice to ingage in atheltic, cultural, intellectual, arisitc and social activies, in and out side the school campus. I liked the diversity, and being able to try multiple experiences.
Dorm Life:
1.) Describe the dorm life in your school - what did you like most about it?
The dorm life is very well managed, with 24 hours support from staff. Quality control measures were ensured to make sure that rules are not broken and to also make sure everyone is healthy, comfortable and productive.
Dining:
1.) Describe the dining arrangements at your school.
I liked that the cooking staff was considerate of the student's cultural and dietary diets. The food was not only healthy, but as an international student, the cooking staff always made sure to incorporate meals from different countries, including my own.
Social and Town Life:
1.) Describe the school's town and surrounding area.
The school's town is super friendly, quiet and peaceful. The ecosystem around the school is rich with culture, history, and natural landscapes.
2.) Describe the social life at your school - what did you like most about it?
The social life at school is very easygoing, and everyone is interested in being friends with others. It is very easy to form authentic friendships with the students, as we are all in the same boat.
There are so many aspects of Merrick Prep School (MPS) that makes it unique, but if I was to mention two aspects, they will be the following: Aspect 1: Small class sizes By having small class. . .
Our school is located in a small city and is a small school but the school still organizes trips and outings for us. They have transportation and prepare anything we need. We have a say. . .
Merrick is a home to students from all over the world. This makes it unique because students with different cultures and backgrounds work together during the academic year and learn new things whilst working. . .
Show more reviews (

6 reviews

)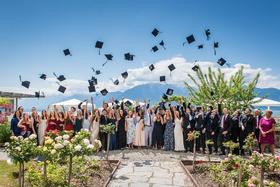 Nurturing Futures: A Journey through Boarding at Haut-Lac School in Switzerland
Nestled in the hills overlooking Lake Geneva in the French-speaking part of Switzerland lies an educational gem that embodies a unique blend of academic excellence, cultural richness and a profound sense of community. Founded over 30 years ago, Haut-Lac International Bilingual Day and Boarding School is now home to both 600 day students and a maximum of 30 boarders from around the world.
What To Wear at Your Job Interview
Navigating job interviews can be stressful, but knowing what to wear shouldn't be. Our comprehensive guide covers the essential dress code tips for men and women interviewing at boarding schools. Make your first impression count with style and professionalism.
Navigating the Modern Maze: Emerging Challenges for Boarding Schools
Explore the pressing challenges facing boarding schools, from marketing difficulties and rising insurance costs to facility maintenance and recruitment of competent trustees and teachers. This article delves into these complex issues and proposes innovative strategies to overcome them.