Reflections and Advice:
1.) What do you think makes your school unique relative to other boarding schools?
I consider Phillips Exeter Academy ("Exeter") one of the greatest places on Earth. I came from a town on the coast of Maine with good (though unchallenging) public schools; I was restless (academically and socially) and in need of a change. When I first set foot on the Exeter campus, I felt completely at home. Here was a place where I could be myself, where the coolest kids were also the smartest, where girls or boys in your dorm would be from states across the country and countries around the world.The setting is beautiful: lush green grass on the Academy lawn and other quads throughout campus, snowy New England winters, tree-shaded walking paths. Inside the beautiful academic buildings marble stairs and mahogany hallways lead you to the Harkness tables, the modern intellectual equivalent of King Arthur's round table.What makes this school such an amazing haven for intelligent, ambitious, ready-for-a-challenge high schoolers is the faculty and the true focus on achievement, integrity, and healthy rigorous debate.
2.) What was the best thing that happened to you in boarding school?
Discovering an environment where I wasn't ridiculed for being smart, for my achievements, for my opinions was heaven to me. This school gave me a chance to be myself, and to be rewarded for being myself... something I hadn't experienced at my previous schools. The course work was challenging, and offered a ton of choices, both for academics and extracurriculars.The quirkier and more intelligent you are, the more outspoken or thoughtful, the more your fellow students will respect you and enjoy your company. This is the way an education should be.It's funny, because my subsequent experience in the Ivy League wasn't half as rewarding as my two short years at Exeter. I would recommend this school to anyone who wants to learn and live in the most challenging and rewarding academic environment, and who wants to enjoy the exploration, tolerance, and joy of learning taught at Exeter for the rest of his or her life.
3.) What might you have done differently during your boarding school experience?
I would have gone for more than 2 years. I think I was ready to go away at 13, though some students were not. The optimum age at which a student leaves home for boarding school (or even as a day student beginning the challenging life that is Exeter) obviously differs for each teenager. I would recommend ensuring that this is the student's choice, that this is truly where he or she wants to be.The students who were excited every day for these opportunities and this environment were by far the most successful, both at PEA and beyond.
4.) What did you like most about your school?
Almost everything.
5.) Do you have any final words of wisdom for visiting or incoming students to your school?
Be yourself, enjoy the campus, be sure this is where you want to be. "Grill" is the best hangout for a cold drink or down time with friends, definitely worth checking out between classes if you're a visitor. It will offer a quick but telling insight into the social life at Exeter. And be sure to sit in on a few classes!
Academics:
1.) Describe the academics at your school - what did you like most about it?
Academics are very challenging. Class is held 6 days a week (half days Wednesdays and Saturdays) so time management is perhaps the greatest skill I gained while at Exeter.I loved the constant debates around the Harkness tables... you learn as much about listening as you do about speaking. Exploring nearly every subject (from calculus to the works of Hemingway, from ancient Greek to evolution...) through the Harkness method will help each student to develop the priceless ability to speak his or her mind, intelligently and effectively, for the rest of his or her life.The faculty is amazing. Their level of knowledge in their subject areas, commitment to students both inside and outside of the classroom, and their deep involvement in residential life make this quite possibly the most rewarding and nurturing academic environment in the U.S.
Athletics:
1.) Describe the athletics at your school - what did you like most about it?
The coaches are also often highly skilled teachers, which allows for an even deeper working relationship between student and coach/instructor. Equipment and facilities are top-notch, and there is absolutely an athletic activity for everyone!Sports are required each trimester, though dance, "free time" in the gym, theatre all qualify.
Art, Music, and Theatre:
1.) Describe the arts program at your school - what did you like most about it?
Exeter has a beautiful music building with extensive practice rooms and group spaces available throughout the day. There are several small student-run theatre groups as well as several larger "main stage" productions each year.The art programs are also extensive, and all instructors are highly talented artists in their own right. Exploration and discussion (in true Harkness fashion) are the cornerstones to the arts curricula at Exeter.
Extracurricular Opportunities:
1.) Describe the extracurriculars offered at your school - what did you like most about it?
Where to begin? Activities on and off-campus abound, and are as diverse as the student body. All clubs have a faculty advisor, which allows students to interact with mentors and instructors on yet another level. Offerings range from a student-run and live-broadcast radio station (WPEA 90.5) to an economics club to varied social service organizations serving the town and greater Portsmouth area. There is a pirate club, many dance, a cappella and performance groups, and the oldest high school debate society in the country.And if you don't find what you're looking for... you have every resource at your fingertips to start your own club!
Dorm Life:
1.) Describe the dorm life in your school - what did you like most about it?
In the dorms is probably where I learned the most about myself and about leading a rewarding social life. The diversity is absolutely the greatest part. I formed close friendships with the girls in my dorm, friendships I will treasure and maintain for the rest of my life.Dorms are kept very clean, have phone lines and internet in every room, and lovely common spaces. A faculty member (or two or three) reside in every residential facility so there is always supervision.Check-in is at 8pm for preps (equivalent to freshmen) and lowers (sophomores), 9pm for uppers (juniors), and 10pm for seniors. Check-in Saturday nights is 11pm for everyone.There are dormitories (30-60 students) and houses (9-16 students, available to upper classmen only).
Dining:
1.) Describe the dining arrangements at your school.
Two dining halls provide a large variety of food choices, including salad bars, make-your-own waffles and stir fry, and made-to-order omelets.Dining halls are kept very clean, there is no assigned seating or assigned dining hours.
Social and Town Life:
1.) Describe the school's town and surrounding area.
Exeter, NH is a charming New England town, with several cafes, great restaurants, small shops, and only 15 minutes from Portsmouth.
2.) Describe the social life at your school - what did you like most about it?
Again, diversity was the most rewarding aspect of social life at Exeter. To have friends from all over the world, to watch the news and have discussions with students from the towns, cities, and countries mentioned about their experiences... it was priceless.Most students are very bright, outgoing, and friendly. Exeter is less cliquey than the other public or private schools I have experienced.
Daily Schedule:
Weekday
8:00 AM
Class or athletics
9:00 AM
Class or athletics
9:45 AM
School-wide assembly
1:00 PM
Class or athletics
2:15 PM
Class or athletics
3:45 PM
Class or athletics
5:00 PM
Class or athletics
6:00 PM
Classes end, typical dinner time
7:00 PM
Musical rehearsal, club meeting, study time
9:00 PM
Check-in (for uppers, preps & lowers at 8, seniors at 10)
9:15 PM
Homework (usually some can be done during the day, though there's still a fair amount left each night)
Weekend
12:30 AM
End of academics for the week
1:00 PM
Sports practice or athletic contests
Phillips Exeter is distinct for its use of the Harkness Method and its unique athletic opportunities afforded by a robust alumni network and excellent teachers from various high-level academic positions within their fields. Harkness, a. . .
The use of the Harkness table. The discussion based, or flipped, classroom is what truly separates Exeter from all other private schools. . .
The Harkness table is used in all classrooms, facilitating discussion and exploration of subjects that allow students to take the reins on their own education. With classes averaging 12 students or fewer, every student is. . .
Show more reviews (

27 reviews

)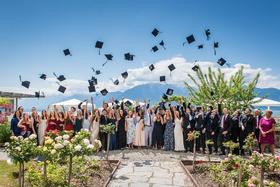 Nurturing Futures: A Journey through Boarding at Haut-Lac School in Switzerland
Nestled in the hills overlooking Lake Geneva in the French-speaking part of Switzerland lies an educational gem that embodies a unique blend of academic excellence, cultural richness and a profound sense of community. Founded over 30 years ago, Haut-Lac International Bilingual Day and Boarding School is now home to both 600 day students and a maximum of 30 boarders from around the world.
What To Wear at Your Job Interview
Navigating job interviews can be stressful, but knowing what to wear shouldn't be. Our comprehensive guide covers the essential dress code tips for men and women interviewing at boarding schools. Make your first impression count with style and professionalism.
Navigating the Modern Maze: Emerging Challenges for Boarding Schools
Explore the pressing challenges facing boarding schools, from marketing difficulties and rising insurance costs to facility maintenance and recruitment of competent trustees and teachers. This article delves into these complex issues and proposes innovative strategies to overcome them.