Reflections and Advice:
1.) What do you think makes your school unique relative to other boarding schools?
The unique Harkness method is what sets Exeter apart from its peer institutions. Instead of lecture-style classes with rows of desks, Exeter uses a seminar-style method centered around a large, wooden, oval table. This format encourages active participation from all members of the class. Also, the size of the table limits class sizes to a maximum of 14 students, though 12 is the most common number. At Exeter, the teachers facilitate the conversations, guiding them along the way, instead of doling out information to be written down. Certain disciplines require more teacher involvement (such as the sciences), while English and history classes are largely student-directed.
2.) What was the best thing that happened to you in boarding school?
Really, the best thing I got out of going to Exeter were the time management skills and the friendships. These bonds will last a lifetime, and, speaking from a career standpoint, Exeter has an amazing alumni network that can open even more doors in the future. I've also become a lot more aware of issues on an international level. Exeter has students from something like 20+ countries, bringing a real international perspective to everyday life.
3.) What might you have done differently during your boarding school experience?
Don't be afraid to jump right in. Some Exonians are sixth-generation legacies with XXVI after their names, but most are as new to the game as anyone else. It's a learning process, and learning from one another is the way to go.
4.) What did you like most about your school?
Again, the combination of the boarding atmosphere with the academic rigor lends Exonians to strong friendships. The school brings us together extremely well.
5.) Do you have any final words of wisdom for visiting or incoming students to your school?
Exeter has it's own lingo, and it can be confusing for the first few moments after you hear a new term. Also, the schedule looks abosultely insane at first, but it makes a lot of sense when you get used to it. It's just that they use letters to make the schedule, and the classes aren't always the same length (depending on the day). And there's one class called X. I found that strange. Also, Saturday classes used to spell out ACHE (now it's ACEH).
Academics:
1.) Describe the academics at your school - what did you like most about it?
The Harkness method is the jewel of an Exeter education, no doubt about it. Aside from that, the sheer number of courses available is amazing. There are courses to please every palate. Exeter offers at least ten foreign languages as well as off-campus programs in Mexico, Germany, Washington, D.C., France, China, Spain, England, Russia, and a few others. In addition to the teaching method and the depth of the curriculum, Exeter has a shining faculty filled with brilliant minds. The workload can be very intense; Exeter is not for the student looking for an easy time. Homework is a big factor in an Exonian's daily routine, running from one hour to all-night (though all-nighters are rare). Exeter is as competitive as you make it, though there is very little GPA comparing and that sort of thing. Everyone knows that it's not all about the final grades.
Athletics:
1.) Describe the athletics at your school - what did you like most about it?
I pursued club sports at Exeter, feeling that I wouldn't have enough time for myself if I were to pursue a varsity sport, though many do. There are tons of options (squash, tennis, crew, lacrosse, wresting, track, etc.) on all levels, from club to varsity. We compete mainly against other New England prep schools, and our crew and water polo programs are particularly strong.
Art, Music, and Theatre:
1.) Describe the arts program at your school - what did you like most about it?
Exeter has everything from drawing to architecture, ceramics to advanced painting, film-making to directing a play, photography to art history. There really is something for everyone. I loved the ceramics program, and many of my friends were involved in the drama department. There are frequently exhibits of art from both inside and outside of the school in the Lamont Gallery.
Extracurricular Opportunities:
1.) Describe the extracurriculars offered at your school - what did you like most about it?
Exeter has a ton of clubs to keep its students busy. Check the list on the profile page to see, but keep in mind that new clubs are founded each year.
Dorm Life:
1.) Describe the dorm life in your school - what did you like most about it?
The dorms at Exeter are pretty good, and they're uniform for the most part. There are the big brick dorms, and there are also smaller houses that house fewer students, usually upperclassmen. Dorm bonds are very strong here; students always shout out the dorms' names at Assembly, and most of an Exonian's best friends will be in his/her dorm. Seniors usually have singles, and underclassmen can have either a single or a double, depending on which dorm he/she is in. Check-in (Sunday-Thursday) is at 8 for preps and lowers (freshmen and sophomores), 9 for uppers (juniors), and 10 for seniors. On Fridays with no classes the next day, check-in is at 10 for everyone; if there are Saturday classes, the same pattern as Sunday-Thursday applies. Saturday night check-in is 11. Dorms organize activities throughout the year. Every year, a few rising seniors are selected to be proctors, who help the dorm faculty with managing the dorm.
Dining:
1.) Describe the dining arrangements at your school.
There are two dining halls, one on South Side (Elm St.) and one on North Side (Wetherell). Elm is always open from 7 am to 7 pm. Wetherell is open from 7 am to 7 pm on Monday, Tuesday, Thursday, and Friday. It closes after lunch on Wednesday, and isn't open on Saturday or Sunday. The food is pretty good and varied. There's always the salad bar, pasta bar, cereal, sandwich bar, and then the main line with the food that changes daily. They keep things interesting, and there's always Grill (school convenience store thing/hangout) if the food isn't up to par one day. There's no assigned seating. Dress code is "required", but it's actually not.
Social and Town Life:
1.) Describe the school's town and surrounding area.
Exeter is a small town. There are a few good restaurants, a CVS, and a Walgreens, but that's about it. The school offers buses to Wal-Mart, Shaw's, and the mall, so one can get off campus if need be. You can also get out-of-town and catch the train down to Boston for the day/weekend.
2.) Describe the social life at your school - what did you like most about it?
The social life is very active. The bonding between students is very strong and tangible. We all went through the early check-in times and the brutal papers, and the sense of camaraderie is great. The school can be a bit lacking as far as planned events (there are dances and movies weekly on Saturday nights, but they get old fast), but Grill is a great place to hang out with friends. The new Academy Center has a game room in the basement that is quite fun.
Daily Schedule:
Weekday
7:00 PM
Free time until 10, then check-in and HW.
Weekend
11:30 AM
Another class format (I didn't have it, so my free time started now)
1:00 PM
Hanging out around the dorm, relaxing from classes.
7:00 PM
Movie in Academy Center.
8:00 PM
Dance in Academy Center/ in a dorm.
Phillips Exeter is distinct for its use of the Harkness Method and its unique athletic opportunities afforded by a robust alumni network and excellent teachers from various high-level academic positions within their fields. Harkness, a. . .
The use of the Harkness table. The discussion based, or flipped, classroom is what truly separates Exeter from all other private schools. . .
The Harkness table is used in all classrooms, facilitating discussion and exploration of subjects that allow students to take the reins on their own education. With classes averaging 12 students or fewer, every student is. . .
Show more reviews (

27 reviews

)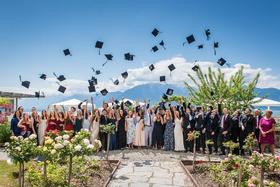 Nurturing Futures: A Journey through Boarding at Haut-Lac School in Switzerland
Nestled in the hills overlooking Lake Geneva in the French-speaking part of Switzerland lies an educational gem that embodies a unique blend of academic excellence, cultural richness and a profound sense of community. Founded over 30 years ago, Haut-Lac International Bilingual Day and Boarding School is now home to both 600 day students and a maximum of 30 boarders from around the world.
What To Wear at Your Job Interview
Navigating job interviews can be stressful, but knowing what to wear shouldn't be. Our comprehensive guide covers the essential dress code tips for men and women interviewing at boarding schools. Make your first impression count with style and professionalism.
Navigating the Modern Maze: Emerging Challenges for Boarding Schools
Explore the pressing challenges facing boarding schools, from marketing difficulties and rising insurance costs to facility maintenance and recruitment of competent trustees and teachers. This article delves into these complex issues and proposes innovative strategies to overcome them.