Reflections and Advice:
1.) What do you think makes your school unique relative to other boarding schools?
Miss Porter's School is a school built on tradition, and a common goal of achieving excellence. We have mandatory community service hours, rigorous classes, excellent sports, and most of all a community that truly cares.
2.) What was the best thing that happened to you in boarding school?
I loved the traditions, and I never ever want them to change. They might be scary as a new girl, but that's only because there is mystery behind it.
3.) What might you have done differently during your boarding school experience?
Speak your mind, and get involved in clubs or student government early if you want.
4.) What did you like most about your school?
The traditions, the people, the location, everything is perfect and I wouldn't change it for the world.
5.) Do you have any final words of wisdom for visiting or incoming students to your school?
Brick and New Place are the best underclassmen dorms, and go to every meal. You will get hungry if you don't and pig out on gross snack stuff later.
Academics:
1.) Describe the academics at your school - what did you like most about it?
Most of the classes were held on student to teacher conversation. You and your classmates discuss topics pertaining to the class with your teacher. The teachers truly care about how your doing, and they will not let you fail. We have great extra help available, and most teachers are understanding when it comes to being one or two minutes late to class. The relationship with my teachers was the best part of my academic career. I can honestly say the teachers changed my life. School was very competitive and everyone wanted to be the best they can be.
Athletics:
1.) Describe the athletics at your school - what did you like most about it?
Our sports were quite good while I attended. Our crew team went to Henley, and we swept New Englands. Other teams were very competitive as well, and it takes a great amount of dedication to be a varsity athlete at MPS. The coaches were always very dedicated, but very tough at times.
Art, Music, and Theatre:
1.) Describe the arts program at your school - what did you like most about it?
The plays and musicals were always good, yet I never participated in them. The theater has comfy, and you can see from every seat.
Extracurricular Opportunities:
1.) Describe the extracurriculars offered at your school - what did you like most about it?
There were a lot of clubs that everyone was welcome to participate in. Every weekend there was always community service opportunities with the nearby boys school Avon Old Farms.
Dorm Life:
1.) Describe the dorm life in your school - what did you like most about it?
Dorm life was amazing. You get extremely tight with the people in you dorm and they become your second family. The dorm parents are always really nice and understanding, and they are there for you always. The rooms were big with large walk in closets, big windows, nice carpet, not to awful wallpaper, and well maintained furniture. There was a lot of food places in Farmington to order from like, Chinese, Indian, Italian, and sushi. Your can walk to an AMAZING pizza place, Naples, and there is a gourmet sandwich shop, Truffles, Starbucks, CVS, a market, and a Kzen (high class makeup store).
Dining:
1.) Describe the dining arrangements at your school.
Food was really good, and we had a great daily variety. Also the Daisy Cafe is open at certain times during the day, and you can buy snacks and drinks. The cafeteria is only open for breakfast lunch and dinner.
Social and Town Life:
1.) Describe the school's town and surrounding area.
We have at great area around us. you can walk to, like I said before, an AMAZING pizza place, Naples, and there is a gourmet sandwich shop, Truffles, Starbucks, CVS, a market, and a Kzen (high class makeup store). Or you can take a 10 minute cab ride to the Westfarms mall, the Loews Cinema, Avon Old Farms, or day trips to Boston, NYC, or Newport.
2.) Describe the social life at your school - what did you like most about it?
Yes, you will see boys. Every weekend if you want to! There are always dances, carnivals, coffee houses, bowling, laser tag, rollerblading, and concerts. All the activities are with other single sex schools.
Daily Schedule:
Weekday
9:30 AM
Milk Lunch/ Clubs/ Assembly
Weekend
6:00 PM
Do Whatever I Want
Two defining factors about Miss Porter's is the sense of community and the ability for students to create lasting connections with teachers. The community fostered by the students and faculty at Porter's is unlike any. . .
Miss Porter's has unique traditions unlike any other school aimed at including students and making them feel like part of a campus community, such as the school ring tradition. Part of the fun is learning. . .
I would definitely have to say that something unique about Porter's is the connection between Alumnae (called "Ancients") and students. The ability to talk about shared experiences and traditions across generations is something I rarely. . .
Show more reviews (

2 reviews

)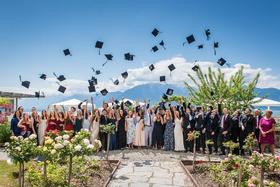 Nurturing Futures: A Journey through Boarding at Haut-Lac School in Switzerland
Nestled in the hills overlooking Lake Geneva in the French-speaking part of Switzerland lies an educational gem that embodies a unique blend of academic excellence, cultural richness and a profound sense of community. Founded over 30 years ago, Haut-Lac International Bilingual Day and Boarding School is now home to both 600 day students and a maximum of 30 boarders from around the world.
What To Wear at Your Job Interview
Navigating job interviews can be stressful, but knowing what to wear shouldn't be. Our comprehensive guide covers the essential dress code tips for men and women interviewing at boarding schools. Make your first impression count with style and professionalism.
Navigating the Modern Maze: Emerging Challenges for Boarding Schools
Explore the pressing challenges facing boarding schools, from marketing difficulties and rising insurance costs to facility maintenance and recruitment of competent trustees and teachers. This article delves into these complex issues and proposes innovative strategies to overcome them.