Reflections and Advice:
1.) What do you think makes your school unique relative to other boarding schools?
Deerfield is a small school (600 students) that emphasizes community. If you pay a visit and take a tour you will hear and feel that consistently. I loved that aspect and now that I am no longer a student there, I miss it. The idea of being able to walk around campus and say hi to everyone who passes is wonderful. Even just smiling at a passing faculty member can brighten your morning. It may sound cheesy, but at Deerfield you grow to love and respect communication with those that live amongst you. You do not have to be a part of Deerfield's student council to appreciate and want to serve the community. It becomes a part of you once you become a Deerfield boy or girl, as we call it.
2.) What was the best thing that happened to you in boarding school?
Coming from New York City, I thought I wouldn't find excitement 24/7 when I first arrived, but I was wrong. I found friends that I will always keep in touch with and the best high school experience I could have been given. I was not as rich as my peers, but I had the same and perhaps a better experience than some of the wealthiest students on campus. I was taught to be a open and insightful woman and that was the best thing about going to Deerfield.
3.) What might you have done differently during your boarding school experience?
If the following is all you can remember from what I've written here, let it be: STAY OPEN AND MEET EVERYONE. I regret TREMENDOUSLY not having meet all of my peers. That doesn't mean I am telling you to say hi to every single person you see on campus, but it does mean staying open to people you have never been exposed to in your life (people who are different than you). Also, assume good will out of everyone. That will get you far.
4.) What did you like most about your school?
Deerfield is not just a high school. Once you graduate, you are part of a network of successful people. Just that makes it all worth while.
5.) Do you have any final words of wisdom for visiting or incoming students to your school?
People from Deerfield always say that you should hike up to the rock at least once. Sure go ahead. However, Deerfield is big on sports, so go out and cheer for your favorite teams. Support your school!
Academics:
1.) Describe the academics at your school - what did you like most about it?
Academics are not about going to classes at Deerfield. They are about interacting with your peers and faculty, becoming a leader and learning more about yourself. My freshman year was a smack in the face when I realized I was a shy student. I had always thought of myself as intelligent and well known, in the sense that everyone knew I was a straight A student and I did not need to prove it. However, I did at Deerfield because I found smart students just like me who were not shy about answering questions or even asking them. They knew how to learn and what they wanted to be. I was in the midst of getting there my first year at Deerfield and I soon woke up to take advantage of what Deerfield was offering me. The faculty are intelligent and the students even more so. I learned that it was okay to be smart and still have more to learn about yourself and your peers.
Athletics:
1.) Describe the athletics at your school - what did you like most about it?
Deerfield's colors are greeen and white, and when we face our rival Choate we love to say to our athletes: "BLEED GREEN!". Our school spirit is all about tradition and we love to cheer on our teams. We are never shy in the stands and we are big on being proud of our players. We play and cheer HARD. There is nothing like being in the stands and feeling good about being on the side that is winning.
Art, Music, and Theatre:
1.) Describe the arts program at your school - what did you like most about it?
I'll pay you good money if you find more talent in the faculty and students a school can offer someplace else! Deerfield has wonderful programs in all the visual and performing arts. I am always amazed at what students produce (their work is always posted in the Memorial Arts building). I encourage you to visit Deerfield and take a look!
Extracurricular Opportunities:
1.) Describe the extracurriculars offered at your school - what did you like most about it?
If you can not find a club you would like to join, then you can start one! New clubs are always welcomed. As for volunteer opportunities, you can do many things in the surrounding towns such as mentor children or volunteer as a firefighter.
Dorm Life:
1.) Describe the dorm life in your school - what did you like most about it?
The BEST thing about Deerfield is that 75% or more of the rooms are singles. So, if you are like me, a single child, you do not have to worry about living with another person (I had a single throughout my four years). If you would like to live with a roommate, that can be requested to the Deans as well.
Dining:
1.) Describe the dining arrangements at your school.
Deerfield is a tradition school as I lightly touched upon in the sports section, and that goes for the dining options. Deerfield has sit down meals, where about 9 students will sit around a table with one faculty member. I loved sit down meals because I always got the opportunity to meet new students and spend extra time getting to know a faculty member. The table assignments are rotated every 3-4 weeks. As for the food, it is delicious. Students love the Christmas dinner and the chicken cutlets the kitchen makes.
Social and Town Life:
1.) Describe the school's town and surrounding area.
Honestly, our outside town, Greenfield, is not New York City. However, one can make do, especially since there is plenty to do on campus. Greenfield has many great restaurants, a cinema, CVS, Wendy's and more.
2.) Describe the social life at your school - what did you like most about it?
Like I previously stated, there are plenty of events to attend on campus such as the dance program's performing arts showcase or a dance party. Also, we have the Greer (the campus social spot) where students can watch TV, eat burgers and other fast food, and hang out with their friends.
Daily Schedule:
Weekday
7:00 AM
WAKE UP and GET BREAKFAST
8:30 AM
FIRST CLASS: French 4
1:45 PM
Philosophy: Existentialism
3:15 PM
STEP Team practice
6:00 PM
Dinner, then homework, then sleep @ 12am
Weekend
4:00 PM
hang out with friends
7:00 PM
go to the Greer for food
8:00 PM
dance party or movies
11:45 PM
hang out with friends
One unique aspect of living in the Pioneer Valley is all the outdoor activities that come along with it. Whether it be biking, hiking to the rock, running the small loop, or swimming in the. . .
Deerfield has a very student-centered learning environment that encourages students to learn to ask for help and use all the resources available to them. Deerfield also has "feeds," when the hall associate on duty for a. . .
Deerfield's location in the Pioneer Valley makes it an incredibly beautiful place to live, and opportunities abound for hiking, biking, swimming, and otherwise engaging with the surroundings. Because the school is tucked away from the. . .
Show more reviews (

11 reviews

)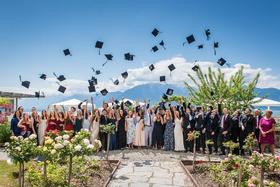 Nurturing Futures: A Journey through Boarding at Haut-Lac School in Switzerland
Nestled in the hills overlooking Lake Geneva in the French-speaking part of Switzerland lies an educational gem that embodies a unique blend of academic excellence, cultural richness and a profound sense of community. Founded over 30 years ago, Haut-Lac International Bilingual Day and Boarding School is now home to both 600 day students and a maximum of 30 boarders from around the world.
What To Wear at Your Job Interview
Navigating job interviews can be stressful, but knowing what to wear shouldn't be. Our comprehensive guide covers the essential dress code tips for men and women interviewing at boarding schools. Make your first impression count with style and professionalism.
Navigating the Modern Maze: Emerging Challenges for Boarding Schools
Explore the pressing challenges facing boarding schools, from marketing difficulties and rising insurance costs to facility maintenance and recruitment of competent trustees and teachers. This article delves into these complex issues and proposes innovative strategies to overcome them.