Reflections and Advice:
1.) What do you think makes your school unique relative to other boarding schools?
The academic program at CSW was surely the most obvious attribute that made it unlike any other school. The "module program" , along with broad requirements, allowed a really personalized and self-directed education. At no other high school could one be so free to design one's own curriculum. I had the opportunity to work with my favorite teachers one-on-one, to pursue my own thoughts and ideas, yet within that self-motivated study I was also required to present myself articulately, to truly evaluate my own perspective. I felt so much a part of my education, rather than a passive recipient.Secondly, the advising system was an enormous asset. We met almost daily in our advising groups, which let us get to know students from all different back grounds and grades. We also had weekly community meetings. Discussion, debate, and the interchange of ideas was ingrained in the way the school operated. Students were given so much power to shape the school, its goals and ideals, and to do it deeply and thoughtfully. Accountability was a huge part of that. Judicial processes (the J-Board) was student-and-teacher-run, so that even punishment for rule breaking was a group decision, and really made all aware of how their actions affect their peers.
2.) What was the best thing that happened to you in boarding school?
I think it was a more positively formative experience than college was. I learned how to feel passionate and curious. I went to a somewhat traditional liberal arts college at somewhat of a disadvantage, but not because my own experience lacked but because the educational experience at college was somehow less fulfilling or engaging than at high school. It was a rich experience for me, even as an immature and confused teenager. I helped organize our Senior Night a couple days before graduation. It was such an amazing experience, because we all cried, we all had stories about each other, we saw what an important time it was for us.
3.) What might you have done differently during your boarding school experience?
I would have loved to be part of the boarding program for a little while, but it was an expense my parents couldn't handle and I lived nearby. I think a lot of people got frustrated with how small the boarding program was. There were some divisions between the day and boarding program.
4.) What did you like most about your school?
The sense of community, the creativity.
5.) Do you have any final words of wisdom for visiting or incoming students to your school?
Cat's Rock was a popular place in the trails by the school. I hear the new science center is fantastic. The library was a favorite spot to sit and gossip or nap.
Academics:
1.) Describe the academics at your school - what did you like most about it?
See above- module system and the method of requirements. We had 7 "modules" that were 5 weeks long. we took an average of three classes per module, each class lasted about 1.5 hours per day. This allowed very in-depth study of very specific topics. I took a Raku pottery class, where we studied every aspect of the history, culture, and style of Japanese pottery making. The curriculum was very oriented towards social awareness. "Big Book" classes would demand that we read one book and study it in depth for 5 weeks. It was about learning how to think, engaging our curiosities, discovering new and unusual topics. Requirements were loose so instead of AP Biology, I took zoology, ornithology, went on a trip to Costa Rica and tested water samples and drew plant and animal species. My Spanish classes were 4 people, we spoke in Spanish for 1.5 hours a day and my Spanish was at its best in my life then.
Athletics:
1.) Describe the athletics at your school - what did you like most about it?
We had phys. ed requirements, and JV and Varsity sports. I wasn't athletic but I was able to do something that interested me. I took tennis lessons, I learned some dance, I did a lot of yoga. Most of my friends were on varsity soccer and basketball and I happily cheered them on at every game.
Art, Music, and Theatre:
1.) Describe the arts program at your school - what did you like most about it?
What an incredible program. The art building was beautiful, home to so many people. A beautiful open space, the photo lab was my second home. There were so many classes, from collage to book-making, to darkroom and digital photo. wheel working and fashion design. I did a few independent studies for painting and photography. I TA'd the intro. photo classes and did my Capstone (Senior Year) Project in photography - I traveled to Spain for a month and developed the photos I took.
Extracurricular Opportunities:
1.) Describe the extracurriculars offered at your school - what did you like most about it?
There was a lot of community service work. We had requirements, and many opportunities to do different things. The school was very socially conscious and definitely was an activist community. People held drives for a woman's shelter, did the Walk for Hunger en masse in Boston. We went on a trip to Costa Rica and did some service work. There were quite a few activities and clubs during lunch hours. Also, student participation on the judicial board, curriculum board, and even board of trustees were very important and taken seriously.
Dorm Life:
1.) Describe the dorm life in your school - what did you like most about it?
I was a day student, but I had friends who were boarding. Families of teachers lived in the dorms, so there was a nice relationship between the students and these dorm parents. The boarding program was very international. Some of the dorms could have used repair (they may have been renovated since the recent capital campaign), but it felt like a very closely knit community.
Dining:
1.) Describe the dining arrangements at your school.
The food was OK- hot food and sandwich bar type of stuff,, for both day and boarding students. There were many vegetarian and vegan options since the school was something like 30% veggie. It was a relaxed atmosphere. We liked coming to school early for breakfast. They were very into being socially responsible about recycling and not using paper plates. Students were required to wash dishes occasionally as part of our school service.
Social and Town Life:
1.) Describe the school's town and surrounding area.
The area was pretty wooded and very classic new England. I commuted from about a half hour away. It was close to the commuter rail (public transit). There was a big mall and movie theater nearby the boarding kids liked to go to. Everyone also went into Cambridge to Harvard Square.. It was an easy trip to Boston.
2.) Describe the social life at your school - what did you like most about it?
It was so close. We all knew each other. There was little in terms of a popularity contest. The school was a place where underdogs, alternative types could feel safe. Obviously teenagers have drama and competition, but I felt really safe and supported there. We stood up for each other. We admired each other's successes. Art shows, performances, events were all fun and we wanted to be part of everything.
Daily Schedule:
Weekday
8:30 AM
A Block (1st period)
10:45 AM
B Block (2nd period)
1:15 PM
C Block (3rd period)
3:45 PM
D Block (extra curriculars)
Weekend
The thing that stands out most obviously about the Cambridge School is probably its unique schedule. The "mod system" allows for block scheduling in a truly innovative way. Because of the way classes. . .
The Cambridge School of Weston is a liberal arts institution filled with some of the most incredible teachers in the world. The atmosphere is incredible. There is a special place for every student, teacher, and. . .
CSW values social justice and celebrates diversity in an incomparable way. Every one of my peers looks back on our high school experience as positive and nurturing. The faculty and community at CSW truly encouraged. . .
Show more reviews (

12 reviews

)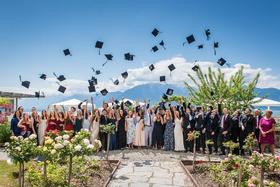 Nurturing Futures: A Journey through Boarding at Haut-Lac School in Switzerland
Nestled in the hills overlooking Lake Geneva in the French-speaking part of Switzerland lies an educational gem that embodies a unique blend of academic excellence, cultural richness and a profound sense of community. Founded over 30 years ago, Haut-Lac International Bilingual Day and Boarding School is now home to both 600 day students and a maximum of 30 boarders from around the world.
What To Wear at Your Job Interview
Navigating job interviews can be stressful, but knowing what to wear shouldn't be. Our comprehensive guide covers the essential dress code tips for men and women interviewing at boarding schools. Make your first impression count with style and professionalism.
Navigating the Modern Maze: Emerging Challenges for Boarding Schools
Explore the pressing challenges facing boarding schools, from marketing difficulties and rising insurance costs to facility maintenance and recruitment of competent trustees and teachers. This article delves into these complex issues and proposes innovative strategies to overcome them.