Reflections and Advice:
1.) What do you think makes your school unique relative to other boarding schools?
I really enjoyed the boarding school life at Loomis Chaffee. Dorm activities on the weekends and family style dinners twice a week allowed me to make strong connections with girls in the dorm and get to know my dorm parents. Prefects set up ice-breakers as a way to get to know people in the beginning of the year and that helped to get to know people too.
2.) What was the best thing that happened to you in boarding school?
At Loomis Chaffee I learned how to balance my time between sports, schoolwork, and social life. It's a very valuable skill to have and it has made the transition to college very easy.
3.) What might you have done differently during your boarding school experience?
I really enjoyed my time at Loomis Chaffee. If I could do it over again, instead of entering as a sophomore, I would have started as a freshman instead!
4.) What did you like most about your school?
The community and the school spirit. Prefects were very important in helping new students get adjusted to life at Loomis. Before the first day of classes in the fall, prefects walked around with new students in order to show them where all their classroom buildings would be for the next day. As a new sophomore, taking the time to do this was very helpful and quite a relief!
5.) Do you have any final words of wisdom for visiting or incoming students to your school?
Go to at least one sports game and theater production every season! Support your fellow students in extracurricular activities.
Academics:
1.) Describe the academics at your school - what did you like most about it?
The teachers at Loomis Chaffee were wonderful. They presented concepts in fun and interesting ways, and made learning fun. They were more than willing to meet with students and go over any material that was confusing, either during office hours or meeting with them when they were on dorm duty in your dorm that night. Very helpful.
Athletics:
1.) Describe the athletics at your school - what did you like most about it?
Loomis Chaffee has great school spirit. Every season, every sports team, parents, students and friends gather on the sidelines or fill the stands and cheer on LC teams.
Art, Music, and Theatre:
1.) Describe the arts program at your school - what did you like most about it?
Arts programs were very unique - each season brought a new production from a different era - from Hamlet to Guys n' Dolls. Actors and actresses were talented and fun to watch! It was great to see the range of talents students had, such as a classmate from math class up there on stage.
Extracurricular Opportunities:
1.) Describe the extracurriculars offered at your school - what did you like most about it?
The activities fair at the beginning of the year was always entertaining and fun to watch - students from each club holding signs, wearing mismatched outfits, trying to convince students to join their club. Club members showed great energy and enthusiasm.
Dorm Life:
1.) Describe the dorm life in your school - what did you like most about it?
Great atmosphere. There were many dorm activities throughout the year that brought the girls closer together and created a close-knit environment.
Dining:
1.) Describe the dining arrangements at your school.
There was always something to eat at the dining hall! The hours worked well with my class schedule and the variety of food was good.
Social and Town Life:
1.) Describe the school's town and surrounding area.
Walking into Windsor with friends for dinner at the diner was a fun pastime.
2.) Describe the social life at your school - what did you like most about it?
There were always many activities to choose from on the weekends - trips to the mall, interdorm basketball or dodgeball games, movie nights.
Daily Schedule:
Weekday
6:00 PM
family style dinner
Weekend
11:00 AM
Travel to sports game
Approachable teachers and staff, overwhelming pride in the school from everyone on campus. Close relationship of day students and boarding students. Post graduate students integrated very well into the senior class. . .
The close-knit campus. The fact that the campus was small (or at least the buildings being so close together) made everyone close like a family. It made my transition from my class with a graduation. . .
The location of the school definitely shaped the school dynamic of Loomis. It isn't necessarily isolated but it's formed in a very large location of its own. As a result, Loomis is very secure for. . .
Show more reviews (

27 reviews

)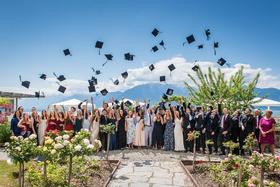 Nurturing Futures: A Journey through Boarding at Haut-Lac School in Switzerland
Nestled in the hills overlooking Lake Geneva in the French-speaking part of Switzerland lies an educational gem that embodies a unique blend of academic excellence, cultural richness and a profound sense of community. Founded over 30 years ago, Haut-Lac International Bilingual Day and Boarding School is now home to both 600 day students and a maximum of 30 boarders from around the world.
What To Wear at Your Job Interview
Navigating job interviews can be stressful, but knowing what to wear shouldn't be. Our comprehensive guide covers the essential dress code tips for men and women interviewing at boarding schools. Make your first impression count with style and professionalism.
Navigating the Modern Maze: Emerging Challenges for Boarding Schools
Explore the pressing challenges facing boarding schools, from marketing difficulties and rising insurance costs to facility maintenance and recruitment of competent trustees and teachers. This article delves into these complex issues and proposes innovative strategies to overcome them.