Reflections and Advice:
1.) What do you think makes your school unique relative to other boarding schools?
The school encompasses many of the qualities associated with the midwest. If you go to a restaurant nearby or order delivery on a semiweekly basis, the business will know you by name. The small class size also accentuates the extent to which you know everyone else in your class; by graduation you know everyone in your own class fairly well.
2.) What was the best thing that happened to you in boarding school?
Wayland is not perfect. There are many things that I disliked about the school and the way it is run. However, when I suffered, I suffered with my classmates and the teachers with whom I was closest. And when I rejoiced, it was with those same people. Boarding school in general provides for some great bonding experiences.
3.) What might you have done differently during your boarding school experience?
Always pack less. You never quite need all that you think you do, and it is easier to buy the one thing you are missing while you are out there than it is to cram everything you own into your half of a freshman single.
4.) What did you like most about your school?
The people. I had a great class, and there are a lot of teachers with whom I became close over the years.
5.) Do you have any final words of wisdom for visiting or incoming students to your school?
If you like Chicago-style food, then check out Windy City restaurant. They have the best Chicago-style food in the area.
Academics:
1.) Describe the academics at your school - what did you like most about it?
I enjoyed the cooperative nature of my peers. Students enjoy working together here and are typically not competitive against one another. Furthermore, the depth of the humanities courses is impressive. The science and math programs are admittedly on the weaker side at the moment, but the school is working strong to improve both programs. Advanced mathematics classes past BC Calculus are now starting to be offered, and most of the AP science courses are offered on a regular basis now (as opposed to every other year).
Athletics:
1.) Describe the athletics at your school - what did you like most about it?
The athletics program puts a great deal of emphasis on character. In addition to acknowledging the most talented athletes with the MVP, each team acknowledges an athlete who supports his teammates, maintains a strong work ethic, and keeps good morale with the champion of character award.
Art, Music, and Theatre:
1.) Describe the arts program at your school - what did you like most about it?
I do not have much to say about the arts program, as I did not participate in it this past year. Our music program though is top-notch in terms of how many students we send to compete at state solo ensemble this year, and I am always amazed by the students who focus on the arts. The only complaint I would have is that certain instruments - such as mine (the guitar) - are not given as much of a place in the music program. I never participated in theatre, but I do not recall a poor production in my four years. I enjoyed every play and musical that has been put on.
Extracurricular Opportunities:
1.) Describe the extracurriculars offered at your school - what did you like most about it?
Extra-curricular activities are usually led by zealous students. A group does not exist for the sake of being there. Even if you do not participate in a particular club or team, you will notice their presence on campus through club-sponsored events, advertisements around campus, guest speakers, etc. There is a wide diversity of clubs too. You can find anything from I Love Food Club to the Ecology Club. There is also a great deal of unregistered groups/clubs.
Dorm Life:
1.) Describe the dorm life in your school - what did you like most about it?
I have found that the room accommodations are better than those at most universities. The upperclass dorms have a jack-and-jill setup where there are two rooms connected by a shared bathroom, complete with shower, toilet, and two sinks. Underclass dormitories are more varied. I cannot speak for the underclass girls dormitory, but I have heard that it is quite spacious. Wayland Hall is the underclass boys dormitory, and it is being renovated right now. It should be the nicest dorm on campus starting next year.The room selection process can be a little bit unpredictable and seem unfair at times. However, if you find someone else who wants to be your roommate starting sophomore year, then you improve your chances of getting the room you want and rooming with a friend. Nevertheless, there are occasional slip-ups. This past year, my best friend and I were mistakenly not roomed together despite our joint request. On the bright side, my roommate turned out to be one of my best friends, and I am really glad I met him this year. And even if your rooming situation is not the best, you can petition for a room change. Albeit, it is very difficult.There is no late night food access, and the school is strict about deliveries. For the most part, you can only get a delivery during a one-hour timespan between 5:30 and 6:30. On the weekends you can order later, but the economy has sort of wrecked local businesses making it hard to find places that will deliver.
Dining:
1.) Describe the dining arrangements at your school.
The dining hall has a salad bar, coffee&tea station, cereal bar, waffle machines, and toast machines. Learning to be creative with the aforementioned is critical to surviving. As mentioned before, the economy has hit Beaver Dam pretty bad and there has been a noticeable decline in food quality. We still get a decent meal every now and then, but I would say half the student body forgoes dinners. Occasionally they do made-to-order omelettes at breakfast, which is always a treat. There is no assigned seating, but you can usually find a friendly table to join.
Social and Town Life:
1.) Describe the school's town and surrounding area.
I met quite a few nice people outside of the school. I have made friends and acquaintances at the local high school, a local church, and my favorite local restaurants. In a small town, it's easy to get to know locals. And if you are good friends with a day student, you may be lucky enough to be invited over for a home-cooked meal every now and then.
2.) Describe the social life at your school - what did you like most about it?
Wayland is very diverse. There are students of all backgrounds (racial, socioeconomic, personality, etc.). Students hail from countries such as Germany, Kenya, Somalia, Rwanda, Ghana, Spain, Mexico, Puerto Rico, Canada, Czech Republic, Saudi Arabia, Pakistan, South Korea, and China. There are kids from Chicago, the suburbs around Chicago, and midwest farmland, as well as kids from the west, south, and east.Everyone is so different that there is not much of a norm, and cliques do not have as strong a presence as they do at public high schools.
Daily Schedule:
Weekday
5:00 AM
wake up, shower, and start homework
9:30 PM
break until lights out
Weekend
8:00 AM
wake up, shower, etc
1:00 PM
take break from work
7:00 PM
get off work and shower
7:30 PM
go hang out, study, or sleep :-)
I liked Wayland Academy because there are many students from different backgrounds. At school I was able to create friendships with my classmates from South Korea, Japan, China, and 28 more countries. They introduced me. . .
Wayland is a college-prep boarding school in the Midwest. That is not seen very often. Wisconsin only has 2 other boarding schools, and one being a Christian School, the other being a military school. That. . .
The school encompasses many of the qualities associated with the midwest. If you go to a restaurant nearby or order delivery on a semiweekly basis, the business will know you by name. The. . .
Show more reviews (

1 review

)
Mastering the Boarding School Selection Process: A 5-Step Guide
Discover the ultimate 5-step guide to choosing the perfect boarding school for your child. Explore essential factors, such as academics, campus facilities, extracurricular activities, and more. Make an informed decision to provide your child with an enriching and transformative educational experience. Read now!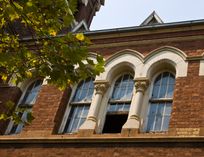 5 Founders and Their Boarding Schools
What prompts somebody to start a boarding school? The motives range from idealism to munificence right on through to capitalism. The common thread seems to be ample capital and a vision of what education can do.