Reflections and Advice:
1.) What do you think makes your school unique relative to other boarding schools?
The thing that truly sets CSW apart from other schools is the importance given to the development of creative and critical thinking. The discussion-based class structure and encouragements to constantly question knowledge rather than rote memorization really helped me prepare for and feel at ease in the college class setting. This is particularly true for international students who may come from an educational system which does not encourage class discussion. I've always considered myself to be pragmatic and did not believe in the importance of creative expression. CSW's large offering of art classes allowed me to discover a creative side of myself I didn't know. The interest in photography and the photo-editing skills I acquired in CSW still serve me today both professionally and in terms of personal expression.
2.) What was the best thing that happened to you in boarding school?
CSW taught me to be a leader and a critical thinker in ways that I could not have achieved in the French school system. I felt truly at ease in the college environment as I was accustomed to its system.
3.) What might you have done differently during your boarding school experience?
My only regret is not taking more art classes. I came to CSW with a very specific goal of taking the classes which would best aid me in being admitted to the best colleges. I find in retrospect that many of my most formative and courses were in subjects I was mandated to take (i.e. art and creative writing courses).
4.) What did you like most about your school?
The actual physical location. It's a truly wonderful campus, make sure to explore it fully.
5.) Do you have any final words of wisdom for visiting or incoming students to your school?
Aleph dorm is the best dorm, bar none. Don't let anyone else tell you otherwise. Make sure to try out ultimate frisbee if you haven't already.
Academics:
1.) Describe the academics at your school - what did you like most about it?
CSW taught me to write and to think critically. The academic rigor and the wide variety of classes offered allowed me to constantly challenge myself and develop my skills while staying deeply interested in the subject of study.
Athletics:
1.) Describe the athletics at your school - what did you like most about it?
As a 3 sport athlete CSW's athletic program played a central role in my daily life. I appreciated the sense of camaraderie I shared with my teammates and the opportunities for leadership it provided me. CSW offers a large variety of sports and competes with other private schools. JV and varsity teams ensure all levels of skill are accommodated.
Art, Music, and Theatre:
1.) Describe the arts program at your school - what did you like most about it?
There's no question CSW is a very arts-oriented school. It offers a very wide range of artistic opportunities within a very large number of fields. I was particularly drawn to photo editing and found CSW photo studio to be very well equipped. Teachers were knowledgeable and passionate about their work and the students' creations. CSW holds frequent art shows which attract hundreds of visitors. I was surprised and pleased when I first found out a few visitors were interested in purchasing my photography work.
Extracurricular Opportunities:
1.) Describe the extracurriculars offered at your school - what did you like most about it?
CSW mandates community service and offers a wide range of extracurricular activities. I was a member of several clubs and usually participated in yearly fundraisers for various charities.
Dorm Life:
1.) Describe the dorm life in your school - what did you like most about it?
I truly loved the sense of brotherhood fostered in my dorm. I am still in close contact with many of the friends I made in my dorm. I particularly appreciated that students were encouraged to make suggestions and contributions as to how to improve dorm life and that the suggestions were voted on by a panel of students and faculty. Rooms are large and students generally got to become close with their roommates. Upper classmen could choose to live in single rooms. Students usually ended up strongly identifying with their dorm, often organizing inter-dorm competitions. There is no lights out policy and students are given more freedom than most schools.
Dining:
1.) Describe the dining arrangements at your school.
I've heard the dining experience has changed significantly since my time at CSW so I don't feel qualified to comment on this aspect.
Social and Town Life:
1.) Describe the school's town and surrounding area.
Life for international students could be described as somewhat insular. I rarely ventured into Weston or nearby Waltham though I often took the train to Boston. I am particularly fond of Boston and its cultural, culinary, and academic offerings.
2.) Describe the social life at your school - what did you like most about it?
The great thing about schools the size of CSW is the fact that everyone gets to know each other. I knew most students and faculty by name and felt comfortable within all social circles. I spent most of my time with my dormmmates and my sport teammates but felt a connection with nearly everyone in the school community. CSW fosters the sense of community by holding weekly town hall sessions in which they keep students and faculty apprised of community news and allow students to voice their opinion on any issue of concern.
Daily Schedule:
Weekday
7:00 AM
wake up, wake a few dorm mates up. get ready for class, bfast
4:00 PM
Get ready for sports practice
6:00 PM
End of practice, dinner with friends and teammates
9:00 PM
end of study time, go hang out with other dorm students at the lounge or play video games with dormmates
Weekend
11:00 AM
wake up, get breakfast/lunch with dormmates
1:00 PM
Go to boston or hang out with friends
7:00 PM
Go to movies, get dinner
10:00 AM
Get back to the dorm, hang out with dorm mates
The thing that stands out most obviously about the Cambridge School is probably its unique schedule. The "mod system" allows for block scheduling in a truly innovative way. Because of the way classes. . .
The Cambridge School of Weston is a liberal arts institution filled with some of the most incredible teachers in the world. The atmosphere is incredible. There is a special place for every student, teacher, and. . .
CSW values social justice and celebrates diversity in an incomparable way. Every one of my peers looks back on our high school experience as positive and nurturing. The faculty and community at CSW truly encouraged. . .
Show more reviews (

12 reviews

)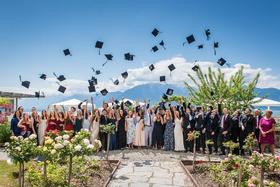 Nurturing Futures: A Journey through Boarding at Haut-Lac School in Switzerland
Nestled in the hills overlooking Lake Geneva in the French-speaking part of Switzerland lies an educational gem that embodies a unique blend of academic excellence, cultural richness and a profound sense of community. Founded over 30 years ago, Haut-Lac International Bilingual Day and Boarding School is now home to both 600 day students and a maximum of 30 boarders from around the world.
What To Wear at Your Job Interview
Navigating job interviews can be stressful, but knowing what to wear shouldn't be. Our comprehensive guide covers the essential dress code tips for men and women interviewing at boarding schools. Make your first impression count with style and professionalism.
Navigating the Modern Maze: Emerging Challenges for Boarding Schools
Explore the pressing challenges facing boarding schools, from marketing difficulties and rising insurance costs to facility maintenance and recruitment of competent trustees and teachers. This article delves into these complex issues and proposes innovative strategies to overcome them.