Reflections and Advice:
1.) What do you think makes your school unique relative to other boarding schools?
One aspect of Westminster that you might not find at larger boarding schools was its sense of community. Community is something that is emphasized at Westminster, and I definitely felt this way when I attended there. Everyone knew everyone, and you knew all the teachers. Also, the teachers were extremely available to their students. Since most of the faculty lives on campus, you can easily access any of your teachers and almost all I had were very willing to work with you inside and outside the classroom. Since the average class size is so small, the teachers are able to invest their time in you as an individual, and really care about their students.
2.) What was the best thing that happened to you in boarding school?
For the most part, I really enjoyed my time at Westminster. I did feel as though I grew as both a person, and certainly academically. Although I had gone to public school the entire time before I attended Westminster, I was very glad that I went to Westminster over public school, as I had an experience that I felt I would not have gotten otherwise (and probably would not have gotten at bigger or different boarding schools). I did not know anyone when I first arrived at Westminster, but I made really good friends there, and also was able to get into college and feel prepared when I got there. I would definitely recommend Westminster to any student looking for a well rounded, great high school experience.
3.) What might you have done differently during your boarding school experience?
I would pursue classes that you are really interested in. If you like art, then take an art class. Also, everyone at the school is there to help you -- take them up on their offer! If you need help, don't be afraid to ask a teacher. If you are having a personal problem - go talk to your advisor for guidance. Study hard, but also spend time playing sports and being with friends, because the bonds you make there will be strong.
4.) What did you like most about your school?
I loved being able to play ice hockey. There aren't too many places that offer women's ice hockey to beginners, and I was fortunate enough to be able to have a rink right on campus, which was readily accessible even outside of practice/game times.Also, what I liked most was the support system. If you go to a big school, you can be lost in the crowd, but at Westminster, I really felt as though everyone wanted you to do the best you could and would do anything to help you do that.
5.) Do you have any final words of wisdom for visiting or incoming students to your school?
I would recommend skating at the ice rink! It's a lot of fun. Also, Westminster just built a brand new academic center with really state of the art stuff, and I would recommend taking full advantage of that!
Academics:
1.) Describe the academics at your school - what did you like most about it?
Westminster offered the core classes that you would find at most schools, but additionally had some unique classes not found at other schools (for example, elective writing courses on specific time periods--I took a "Chaucer" course where we read The Canterbury Tales and other works).As I mentioned previously, most of the teachers at Westminster were great. The teachers were definitely the best part about the academics. In the small classes, they were able to focus on each individual student and spend ample time giving productive feedback and outside help. There would never be a need to hire a tutor, as teachers were willing to tutor struggling students outside of the classroom. Additionally, I had a lot of teachers who were extremely passionate about their subjects. One Biology teacher took us to the Bushnell for an interesting AP Biology field trip. He also would constantly bring us articles to read on the most up-to-date findings in the field of Biology.While I was at Westminster, there was a healthy competitive environment, as you were inspired, both my teachers and other students, to do well. The work and workload could be challenging at times, but was never unattainable nor (for the most part) busy work.The last thing that I really liked was that there was an email system called "First Class". Every student had an email address and there was a community where students and faculty could make announcements, wish happy birthdays, post sports scores, and more. It also made outside of the classroom contact with teachers and other students readily available. There was a chat function as well, so you could always invite teachers and other students to chat, say if you had a question about homework and such.
Athletics:
1.) Describe the athletics at your school - what did you like most about it?
As I mentioned, there IS mandatory participation in sports. Westminster was and is very competitive in the Founder's League. The school has won titles in many sports and particularly competitive in ice hockey. There are many sports available as well, and if you don't find that the sport you are looking for is at the school, Westminster can approve you to do it outside of the school. For instance, I had a friend who was competitive in downhill ski racing, which is not offered at Westminster, and she was granted permission to compete outside of the school. The same thing happened with another person in horse back riding. However, usually there is not a need to go outside of the school, as there are many sports.Another thing that I liked was that there were all different levels of the sports offered. Teams ranged from Varsity, JV, 3rds, and even 4ths. So whether you were just starting, or had been playing all your life, you could find the appropriate level for you.The facilities were also great. They have a really nice hockey rink, recently built squash courts (which are ranked 2nd nicest in New England), and nice fields for sports such as soccer, baseball, and lacrosse. Also, in 2003, they built a brand new sports facility which has a pool and a great weight room/gym.
Art, Music, and Theatre:
1.) Describe the arts program at your school - what did you like most about it?
Although I was not really involved in any of the Visual Arts/Music/Theatre area, I was witness to several shows. The schools does provide adequate room for "artists" to express and show off their talents, in a variety of means. Often times, student art work was displayed in several of the buildings. Additionally, there were several concerts and plays that were beautifully orchestrated. They did have a very beautiful theatre where most of these performances took place.
Extracurricular Opportunities:
1.) Describe the extracurriculars offered at your school - what did you like most about it?
There were a wide variety of clubs and organizations offered at Westminster, including groups such as SON, Multi-Cultural Student Union, student tours, and many more. The great thing was, and what I liked most about it, was that if the school did not offer a particular club or organization that you wanted, you were encouraged to create your own. I was involved in As School Match Wits (ASMW), which wasn't at Westminster when I first arrived there, but was implemented upon student request.Also, at Westminster you were not just in clubs for the sake of being in them. There was a time block every few weeks for meetings and time to implement the clubs intended goals/purpose.
Dorm Life:
1.) Describe the dorm life in your school - what did you like most about it?
I was a day student at Westminster, so I did not live in the dorms. Although, I did have many friends that were "boarders", and I found the dorms were nice. As a day student, I stayed over with my boarder friends on multiple occasions. I also found that the room selection process seemed to work well. Most people were placed with who they wanted to room with, where they wanted to room. If there was a problem, there was an available transfer process that students could go through.
Dining:
1.) Describe the dining arrangements at your school.
At Westminster there was a dining hall with 3 separate lunch blocks. The separate lunch blocks ensured that there was never that big of a wait, or too crowded of a lunch room. You could sit where ever you wanted and even carry food outside of the dining hall. The food there was pretty good, and there were a decent number of options. There was always hot lunch, a sandwich bar, a bagel/toast station, cereal, a salad bar, ice cream, and a few other things. There was also a good selection of drinks. My favorite part was the ability to each different things each day and that there were healthy options for lunch.
Social and Town Life:
1.) Describe the school's town and surrounding area.
The area surrounding Westminster is pretty rural and a nice setting. I liked that it was a quiet town with good people, but that there were also restaurants and a few shops. Also, a town over there was shopping, a movie theatre, and plenty of places to eat. Westminster students are permitted to leave campus (with pre-approval) with their parents/relatives or day students and go into the center or town to eat, get a haircut, go shopping, or do whatever else they may need. Students are also permitted to walk into town (but only within certain limits) and it is a completely safe place to do so.
2.) Describe the social life at your school - what did you like most about it?
For the most part, the people at Westminster were good. I didn't find it hard to meet friends, as most people were friendly and inviting. Although occasionally it occurs, day students and boarders can get segregated, but as a day student, I never found this happen to me--I had many boarding friends. There is a strong sense of community at Westminster, because it is so small, so it is a place where everybody knows everybody. It was nice because people (even ones you didn't really know) always said hello and always seemed willing to become friends.
Daily Schedule:
Weekday
8:00 AM
First class of the day
9:00 AM
Second class of the day
10:00 AM
Third class of the day
11:00 AM
Fourth class of the day
1:00 PM
Get ready for sports game (Weds/Sat are game days--rest minus Sunday are practice days)
1:30 PM
Leave for away sports game/report to field for home game
5:30 PM
Between 5:30-6:30, have dinner - time depends on when you are on campus after sports game
Weekend
10:00 AM
Wake up (time may vary based on student sleeping habits)
10:30 AM
Have breakfast at dining hall (offered until around 1pm/2pm on Sundays)
11:00 AM
Meet up with friends, hang in the dorms or outside in nice weather, or go to chapel/church (different times offered)
1:00 PM
Get picked up by a day student/relative (vans also offered by school) - go to the movies, shopping, etc.
2:00 PM
Pick up sports games played by students
4:00 PM
Catch up on some homework or meet with a teacher
6:00 PM
Hang out at the STUD (student center) with friends, play pool or foosball, etc.
7:30 PM
Mandatory Study Hall until 9:15 - must be in rooms doing work
10:15 PM
Lights out - boarders must be in room with lights out.
While Westminster is in the Founder's League, its overall size hovers closely to 400, making it a tightly-knit community where a student at the very least knows everyone's face on campus. The newly built. . .
You mostly have all of your classes besides arts and theatres in one building. The Armour Academic Center is a four-floor building that will host most if not all of your classes. It's home to. . .
Family-style dinners bring the community together and are unique to Westminster - twice a week when I was a student - now they do it during lunch.The senior lawn ceremony was special - at. . .
Show more reviews (

7 reviews

)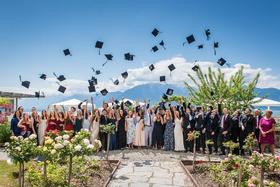 Nurturing Futures: A Journey through Boarding at Haut-Lac School in Switzerland
Nestled in the hills overlooking Lake Geneva in the French-speaking part of Switzerland lies an educational gem that embodies a unique blend of academic excellence, cultural richness and a profound sense of community. Founded over 30 years ago, Haut-Lac International Bilingual Day and Boarding School is now home to both 600 day students and a maximum of 30 boarders from around the world.
What To Wear at Your Job Interview
Navigating job interviews can be stressful, but knowing what to wear shouldn't be. Our comprehensive guide covers the essential dress code tips for men and women interviewing at boarding schools. Make your first impression count with style and professionalism.
Navigating the Modern Maze: Emerging Challenges for Boarding Schools
Explore the pressing challenges facing boarding schools, from marketing difficulties and rising insurance costs to facility maintenance and recruitment of competent trustees and teachers. This article delves into these complex issues and proposes innovative strategies to overcome them.