Pickering College - Review #1
About the Author:

College Enrolled
University of Houston
Home Town, State (Country)
Houston, TX
Years Attended Boarding School
4
Activities During Boarding School
During my time In Pickering College I was in Competitive and recreational Badminton, as well I was in Film club, and Creative Writing which also was a club. In the Spring months I was in Recreational Cross Country running, we would usually run around Fairy Lake which is the park close by the school. Although I never really liked competition sports all that much, It does not mean that we didn't have good Competitive teams, because we did. We had many different competitive sports going on at all times during the different seasons. Such as Ice-Hockey, Swimming, Tennis Soccer, Basketball, Golf, and even competitive Horse back riding. After I graduated Pickering College had just finished renovating their Conditioning room, for boarders and day students to go and be able to work out in a temperature controlled room. They have electric bikes, new weight equipment, basically it looks like the interior of a 24 hour fitness or a YMCA. I was a leader and Created the first ever Walking Club, Yes I thought up the idea one day as a great after school recreational activity, which as you might guess had a lot to do with walking. So I was Captain of the Walking club for two years, as well I was also a Proctor for two years from grades (11 and 12). Ironically my last name is Proctor as well.
Daily Schedule:
Weekday
| | |
| --- | --- |
| 7:00 AM | Bell rings wake up get ready for school/ breakfast |
| 7:30 AM | Breakfast starts for boarders in the dinning hall |
| 8:00 AM | Morning meeting starts |
| 12:30 AM | Lunch time in the dinning hall |
| 3:00 PM | Classes are all over, now it is time for after school activities |
| 4:00 PM | Dismissal/ or in other words free time untill dinner |
| 5:30 PM | Dinner bell rings time for dinner in the dinning room for boarders |
| 6:15 PM | Study time starts mandatory study for around 1 hour and 45 minutes |
| 8:00 PM | Study is over and you have 2 hours of free time untill you need to be back in residents |
| 10:00 PM | Every grade needs to be in residence and getting ready for bed time. |
Weekend
| | |
| --- | --- |
| 10:00 AM | Breakfast (not mandatory on weekends) free time |
| 12:00 AM | Lunch / free time |
| 5:30 PM | still free time/ dinner time |
| 12:00 PM | time to be back on campus but you don't need to go to sleep just yet |
| 1:00 AM | you need to be in your bed getting ready to sleep |
Review

Description

University of Houston

The time I spent at Pickering College, provided me with life long experiences that to this day I still look back upon. The unique thing about Pickering College was that we had an astounding Residence. . .
April 20, 2018
Actually, there is no secret to getting your child into boarding school. Just a lot of hard work and a heavy commitment of time.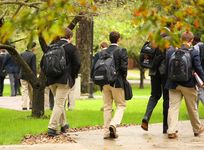 March 22, 2018
Some cynics think single-sex education is old-fashioned. The Kiski School shows how educating boys in a single-sex school is successful.
March 08, 2018
The wide range of fine academic, athletic, and other facilities found in boarding schools underscores the determination of schools to provide the very best for their students.