Reflections and Advice:
1.) What do you think makes your school unique relative to other boarding schools?
By far, the aspect that most distinguishes Culver from other schools is its emphasis on leadership education. For the boys, the military system is a key component of the Culver experience and truly helps develop a sense of responsibility, service, and excellence. In my case, the military system allowed me to, first, learn how to follow and thus embrace an atmosphere of respect, and, later, to lead literally and by example. This principle of acting and behaving like a leader evolves not only around student life but also around athletics and academics, giving way to a well-rounded formation. Overall, Culver prepares the student to face the challenges of college and of life. In my experience, Culver's encouragement to lead allowed me to become an independent person that is not afraid to face an obstacle and that is willing to work hard for my own self-improvement and that of my community.
2.) What was the best thing that happened to you in boarding school?
To put it short, my life took a path I thought impossible when I was back in Mexico. Who am I now and what I have in front of me are all thanks to Culver.
3.) What might you have done differently during your boarding school experience?
I would have done nothing different, I would've done the same...even the mistakes I committed; it was from them that I learned my most valuable lessons.
4.) What did you like most about your school?
The people, the community, and the teachers...I felt an enormous support from all of them all the time. That and running around campus and Lake Max, it is such a beautiful place.
5.) Do you have any final words of wisdom for visiting or incoming students to your school?
Take advantage of EVERY SINGLE OPPORTUNITY you're given. Try new things, go out of your comfort zone and meet people from the other side of the globe, take classes you'd never thought of taking, and most importantly CHERISH EVERY SECOND YOU'RE THERE, it may sound like a cliché, but once you graduate you'll always think back, back to those Culver days.
Academics:
1.) Describe the academics at your school - what did you like most about it?
What made Academics at Culver unique is the student-teacher relationship. Teachers at Culver are not your typical teachers. They develop a strong commitment to not only teach what they teach to their students, but they go beyond that and become counselors, coaches, cheerleaders, and friends that truly want the best for you and your future. In my case, I developed a strong bond with my teachers and coaches and they became a second family, a second set of parents that were there to push me to do greater things, nourish my talents, and advice me in my multiple decisions. Teachers at Culver become teachers for life, and that's just fantastic.
Athletics:
1.) Describe the athletics at your school - what did you like most about it?
I started running back in Mexico so when I decided to go abroad for High School , I wanted to go somewhere where I would truly develop my talents and potential. When I first checked Culver's web-page, I stumbled upon the running program and got really excited about it. Not only did Culver had beautiful places to run but the facilities were also right there for the athletes to take advantage of and the coaching staff was motivated and had produced a great number of great runners throughout the history of the program. Once there, I became aware of talents I was not aware before and my running started to improve. With the help of the coaches, I realized I had the potential to run for a Division 1 program, which I ended up doing and still do today.
Art, Music, and Theatre:
1.) Describe the arts program at your school - what did you like most about it?
Culver's commitment with the Arts has a long story and is continuously being strengthened. Proof of it is the new Crisp Visual Arts Building, whose facilities not only, well, facilitate but encourage students to take a stance at the arts. Besides Crisp, Eppley Auditorium, the Steinbrenner Center for Dance, and the Music Building, provide the necessary and more to every student who seeks to develop his or her talents in either the arts, dance, or theatre. Personally, I had the opportunity to take classes in the Visual Arts department and they were a fantastic experience that allowed me to see and value the arts in a complete different way. The latter plus opportunities such as the "Culture in Chicago" trips that are sponsored by alumni, allow Culver students to be in constant touch with the cultural scene and educated them to become well-rounded individuals.
Extracurricular Opportunities:
1.) Describe the extracurriculars offered at your school - what did you like most about it?
If you have a passion for something, Culver will have a club for it (and if not, you are able to start it with the help of the faculty and Student Life staff). As a member of the Campus Activities Board, I can truly testify for Student Life's commitment to offer the Culver community with events and activities that not only increase the togetherness of the school but that also expose students to different ways of entertainment. An example for the latter is the existence of multiple international clubs, such as Sin Fronteras (the Latin American Spanish Culture Club) that organized events ranging from a "Taste of Latin America" (based on the Taste of Chicago event), and Latino dances that immerse students into different types of music and different customs and traditions.
Dorm Life:
1.) Describe the dorm life in your school - what did you like most about it?
If you live in a dorm, you'll end up developing incredible bonds with all the people in the building. Your unit becomes your family, your roommate becomes your best friend and brother, and the counselor: another parent that looks out for you at all times. Living in a dorm, the unit per se, extend beyond the members of the unit. Families of the members would sponsor late night snacks and events such as barbecues and Super Bowl parties. As an International Student, such things were essential in my adapting to boarding school. I started my Culver career as a stranger among strangers, I ended it as a member of a big caring, supporting family.
Dining:
1.) Describe the dining arrangements at your school.
The ability to share your meals with every student really helps creating a strong community feel. There is a great variety of food and personally, the desserts are absolutely delicious! (the pineapple upside down cake and all types of cookies are personal favorites).
Social and Town Life:
1.) Describe the school's town and surrounding area.
As a student, the town has everything you need...from delicious food to incredible ice-cream, CVS to a movie theater...it's all there, and every shoppe, every restaurant, the coffee shop, all work together to create strong bonds between the town and the Academies.
2.) Describe the social life at your school - what did you like most about it?
Again, the multiple activities brought by the numerous clubs and Student Life truly make students bond. The wide diversity seen on campus makes students interact with people from different backgrounds and from all over the globe, which is an incredible experience and helps in shaping the individual as a global person.
Daily Schedule:
Weekday
7:45 AM
BRC - Breakfast formation
8:15 AM
P.I. - Personal Inspection (of room cleanliness and uniform)
8:30 AM
CP1 - Classes begin. Lunch time depends on class during third period.
3:45 PM
Athletic Practice Time
7:30 PM
CQ - Closed Quarters for Homework and studying, cadets back to their rooms.
10:00 PM
CQ ends, cadets get ready for bed.
Weekend
8:15 AM
Catholic Mass Formation
10:00 AM
Cleaning for G.I. - General Inspection of room and uniform
12:00 AM
First Call to Parade, Parade is the reviewing of the units by the Colonel of Cadets and the Head of Schools.
7:30 PM
Q - Closed Quarters for Homework and studying, cadets back to their rooms.
10:00 PM
CQ ends, cadets get ready for bed.
There is a vast international student acceptance which allows you to learn other cultures. Is also a very good school because it teaches you the importance of manners and routines (this is because is a. . .
One unique aspect of Culver is the requirement of a senior service project for graduation. Personally, I made the most out of this opportunity and took a trip to Morocco to give aid to the. . .
Culver's leadership development programs make it unique among boarding schools. Students are required to enroll in leadership development classes and participate in the leadership system. For boys this takes the form of the military system. . .
Show more reviews (

18 reviews

)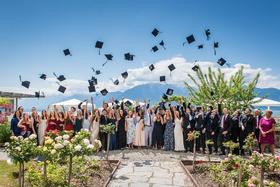 Nurturing Futures: A Journey through Boarding at Haut-Lac School in Switzerland
Nestled in the hills overlooking Lake Geneva in the French-speaking part of Switzerland lies an educational gem that embodies a unique blend of academic excellence, cultural richness and a profound sense of community. Founded over 30 years ago, Haut-Lac International Bilingual Day and Boarding School is now home to both 600 day students and a maximum of 30 boarders from around the world.
What To Wear at Your Job Interview
Navigating job interviews can be stressful, but knowing what to wear shouldn't be. Our comprehensive guide covers the essential dress code tips for men and women interviewing at boarding schools. Make your first impression count with style and professionalism.
Navigating the Modern Maze: Emerging Challenges for Boarding Schools
Explore the pressing challenges facing boarding schools, from marketing difficulties and rising insurance costs to facility maintenance and recruitment of competent trustees and teachers. This article delves into these complex issues and proposes innovative strategies to overcome them.