Reflections and Advice:
1.) What do you think makes your school unique relative to other boarding schools?
The unique combination of a small enrollment with a military-style backdrop is very conducive to all aspects of personal development. Small class sizes gave students the ability to have a better interaction with the faculty. Mandatory, supplemental, teacher-led tutorial sessions for those students who were falling behind ensure that a troubled student was identified and assisted early. Grades were provided bi-weekly, every six weeks, and every semester, so it was easy to properly benchmark progress.By living on campus, cadets have more opportunities to participate in extracurricular athletics, both intramural and against other schools. The academic clubs were also numerous, and participation was highly encouraged.The military-styled environment provided young students the ability to learn and practice leadership skills with progressively higher responsibilities.
2.) What was the best thing that happened to you in boarding school?
The best thing for me was that I was tested academically, athletically, emotionally, and spiritually. I found that I was capable of more than I had thought possible. My experience led me to be a habitual over-achiever. I always wanted to stand out and succeed.
3.) What might you have done differently during your boarding school experience?
I think I was well-prepared and had the right attitude when I started, so the experience was a positive one for me. Do not be nervous or shy. All of the cadets are away from home and experiencing the same thing, so don't ever feel like an "outsider". Get involved as early as possible, as making friends is important in any boarding school environment.
4.) What did you like most about your school?
I liked the bonds that I made with my fellow cadets and teachers. That is not possible in a public school, in my experience. I liked living on campus, because it made learning and participation in activities much more convenient and interesting. The focus on the growth of the individual through group activities is a major benefit.
5.) Do you have any final words of wisdom for visiting or incoming students to your school?
Great campus. Check out the barracks, the classrooms, the Chapel, and the canteen. This will give you a great perspective on daily campus life. Take a tour with a cadet.
Academics:
1.) Describe the academics at your school - what did you like most about it?
I enjoyed the small classroom sizes. I also liked the fact that classes were well-regulated due to the military environment. The class selections were very diverse for a school of its size, and it fully prepared me for my SATs and, subsequently, college. Finding classmates to study with, or even getting extra help from teachers, was easy, as we lived on campus. There was no such thing as "office hours", so the teachers would make themselves available to us in the afternoons and in the evenings.I had attended public schools most of my academic career, and I found that I really flourished in this smaller environment. Having educational resources at my fingertips, at all times, was such a unique benefit. The teachers were able to follow my progress in the classroom, in my extracurricular activities, and in my daily cadet life. Coming from a single-parent home, it was the attention that I had been sorely lacking.
Athletics:
1.) Describe the athletics at your school - what did you like most about it?
The athletics were non-elite. I was a small kid for my age, at that time, and I was never discouraged from participating in any sport that I was interested in. Some of our teams were more competitive than others, but it was an opportunity to expend energy and have a great time. The coaches were also our daily teachers, so athletics and academics were not exclusive of each other.We had all of the usual teams, such as football, baseball, basketball, and soccer. We also had a rifle team.Additionally, we had organized intramural sports almost daily. There was something for everyone to participate in.
Art, Music, and Theatre:
1.) Describe the arts program at your school - what did you like most about it?
The school has talent shows, plays, musical performances, and a Fine Arts Club. We could participate in on-campus productions, and there were opportunities for off-campus concerts and field trips.As a military school, Camden Military Academy also has a full marching band. In fact, students selected to be in the Band get to live together in the same barracks/dorms. They practice often, and they are a highlight of the school's weekly parades. They also perform for the community several times a year.
Extracurricular Opportunities:
1.) Describe the extracurriculars offered at your school - what did you like most about it?
I took advantage of as many extracurricular events as possible. I initially joined several as an opportunity to visit other schools to interact with students outside of our school. Participation was also highly respected by the teachers and the other students.I was a member of the debate team and all of the school's publications. These prepared me well for college, as I was able to learn to speak in public and to write in a professional manner.Due to participation being based upon academic eligibility, extracurricular events became the carrot for getting good grades. Not a bad trade-off!
Dorm Life:
1.) Describe the dorm life in your school - what did you like most about it?
The dorms in a military school are called barracks. Most rooms are two cadets per room, typically of same-aged cadets. I look back on this part of the experience as my favorite. Although the military regimen could appear difficult at times, it led to bonds with classmates that I still cherish over two decades later. Although it appears on the outside that we were well-disciplined toy soldiers, the truth is that we were normal boys who had fun, caused mischief, and acted like any normal boys our age. The difference is that we were held, by ourselves and others, to a higher standard. We also had leadership opportunities, which meant that we were accountable, not just for our own, personal actions, but of those cadets junior to us.Roommates are initially assigned, but we would then change from time-to-time, depending on friendships and other common interests. You are not "stuck" with a roommate that you are incompatible with.
Dining:
1.) Describe the dining arrangements at your school.
Meals were served three times per day in a family-style environment. The whole school ate together, and often teachers and administrators would join us.The food, at the time, was heavily Southern in style. The meals were very well-balanced, and there was always plenty to eat.
Social and Town Life:
1.) Describe the school's town and surrounding area.
Town life was the only downside to attending CMA for me. That likely has to do that I was from a large, metropolitan city, and I had never been in a small town before. There were very few off-campus attractions or activities, so trips into town were rarely memorable for me.I did date young ladies from town, so attending an all-male school does not mean no dating.We attended religious services in town, and there were families that would "adopt" us, which was a wonderful experience.
2.) Describe the social life at your school - what did you like most about it?
It is a boarding school. Everything about it is social!
Daily Schedule:
Weekday
8:00 AM
Drill/Physical Training
Weekend
9:00 AM
Inspection or Classes
One thing that separated Camden from any other school I've looked at or attended was the small and personal classes. My biggest class went from being 34 at a public school to 12 at Camden. . .
This school creates extreme bonds with brothers you will forever remember. Me and my brothers worked hard together, learned together, and learned the values of truth and discipline. Camden Military Academy is a life changer. . .
There is a brotherhood that can be found nowhere else. I would not trade in my experience here for anything. This has been a one in a lifetime experience. The teachers here can help the. . .
Show more reviews (

15 reviews

)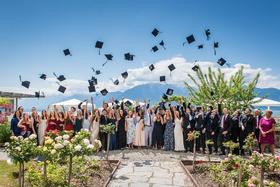 Nurturing Futures: A Journey through Boarding at Haut-Lac School in Switzerland
Nestled in the hills overlooking Lake Geneva in the French-speaking part of Switzerland lies an educational gem that embodies a unique blend of academic excellence, cultural richness and a profound sense of community. Founded over 30 years ago, Haut-Lac International Bilingual Day and Boarding School is now home to both 600 day students and a maximum of 30 boarders from around the world.
What To Wear at Your Job Interview
Navigating job interviews can be stressful, but knowing what to wear shouldn't be. Our comprehensive guide covers the essential dress code tips for men and women interviewing at boarding schools. Make your first impression count with style and professionalism.
Navigating the Modern Maze: Emerging Challenges for Boarding Schools
Explore the pressing challenges facing boarding schools, from marketing difficulties and rising insurance costs to facility maintenance and recruitment of competent trustees and teachers. This article delves into these complex issues and proposes innovative strategies to overcome them.