Reflections and Advice:
1.) What do you think makes your school unique relative to other boarding schools?
Admiral Farragut Academy is a military naval preparatory high school located on the water in St. Petersburg, Florida. The cadets wear uniforms, learn leadership and organizational skills, and are extremely well-prepared upon graduation for higher education.
2.) What was the best thing that happened to you in boarding school?
The best thing to happen to me was earning a full Navy Scholarship to attend college. My educational foundation in high school prepared me for college. I served five years in the Navy and another twenty-six in the Coast Guard. Farragut laid the foundation for my naval career.
3.) What might you have done differently during your boarding school experience?
Advice: Make friends, stay busy, study hard, participate in extracurricular activities, exercise, and go out of your way to help others. More advice: Farragut is a military school. Be prepared to wear uniforms, cut your hair, make your bed, clean your room, and learn basic military drill (drill emphasizes team work).
4.) What did you like most about your school?
It made me comfortable living in a military environment and helped shape my career.
5.) Do you have any final words of wisdom for visiting or incoming students to your school?
Military schools aren't necessarily for students planning on joining the military. Farragut introduced me to excellent study habits and organizational skills that benefited me later in life.
Academics:
1.) Describe the academics at your school - what did you like most about it?
Farragut has a solid academic program. I liked learning to sail and water-related activities. I enjoyed the Maritime Science program where I learned navigation and safe boating regulations. The regular academic classes were small. I did well academically, but teachers were always available to help and there were mandatory evening study periods for students needing academic help.
Athletics:
1.) Describe the athletics at your school - what did you like most about it?
I liked having a swimming pool on campus. Our basketball team was undefeated the year I attended. Our Athletic Program included most sports; football, soccer, golf, tennis, baseball, and basketball. If you didn't play a varsity sport, you could play intramural sports and represent your company (which was highly encouraged).
Art, Music, and Theatre:
1.) Describe the arts program at your school - what did you like most about it?
We had a Band Company, but I didn't play a musical instrument. Our band performed at most sporting events and participated in parades.
Extracurricular Opportunities:
1.) Describe the extracurriculars offered at your school - what did you like most about it?
The extracurricular activity I liked most at Farragut was sailing and boating. It was extremely relaxing to be sailing on Boca Ciega Bay during the afternoon after class.
Dorm Life:
1.) Describe the dorm life in your school - what did you like most about it?
I was a boarding student for two years at Farragut. I had one roommate. Each room had a bathroom. We had set hours that we went to bad and got up. Students could select roommates. Our rooms were inspected and had to be clean and orderly.
Dining:
1.) Describe the dining arrangements at your school.
As a Corps of Cadets, we formed up three times a day during the week and marched to breakfast, lunch and dinner. We had many choices at most of the meals. The food was good and you could eat as much as you wanted. There was no assigned seating. We sat with our friends.
Social and Town Life:
1.) Describe the school's town and surrounding area.
I liked being in Florida and close to the beaches. St. Petersburg is very scenic and the winters aren't cold. There were malls, movie theaters and lots of great restaurants nearby.
2.) Describe the social life at your school - what did you like most about it?
Boarding students made strong friendships. Many of the students were from all over the United States, including some foreign students. There was quite a bit of diversity. One of the students was the Prime Minister's son from Thailand.
Daily Schedule:
Weekday
4:00 PM
Extracurricular activities
Weekend
9:00 AM
Liberty (if academically proficient or with parents permission)
Boarding at Admiral Farragut Academy was one of the best experience of my life, even though I was a foreign student, I never felt home sick.Staff at Farragut where always supportive and well experience. They. . .
The most unique aspect of the school, would definitely be the Naval traditions and guidelines that the school follows. It allows for students to gain self- discipline, strive to be leaders and also have awesome. . .
Admiral Farragut Academy is a military college preparatory school that provides a variety of academic courses to chose from. The teachers truly care about their students and the small class sizes allow the teachers to. . .
Show more reviews (

6 reviews

)
Mastering the Boarding School Selection Process: A 5-Step Guide
Discover the ultimate 5-step guide to choosing the perfect boarding school for your child. Explore essential factors, such as academics, campus facilities, extracurricular activities, and more. Make an informed decision to provide your child with an enriching and transformative educational experience. Read now!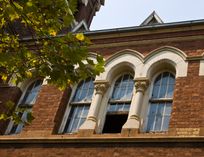 5 Founders and Their Boarding Schools
What prompts somebody to start a boarding school? The motives range from idealism to munificence right on through to capitalism. The common thread seems to be ample capital and a vision of what education can do.