Reflections and Advice:
1.) What do you think makes your school unique relative to other boarding schools?
First of all this is an all girls boarding school with very rich tradition and uniqueness of the Fox-hound community that creates a very strong between friends and school faculty. This bond forms a family like a community especially with the small group discussion based relationships with a student faculty ratio of 1:7. Also the teachers are very positive with their feedback in various lives and due to the small number in the community there is a bond and warmth that cannot compare to others. Foxhound was a second family to me and gave me the support and love that I could never have imagined.
2.) What was the best thing that happened to you in boarding school?
First of all the fact that I went to a boarding school was a very big challenge for me. From a far country across the pacific I was worried about not being able to blend in well due to language barriers and different races however because it was a boarding school I was able to get to know a lot of more kids and I was also able to communicate very well with people which resulted in my academic skills increasing due to a lot of talking and English improvement.
3.) What might you have done differently during your boarding school experience?
My one and only advice for kids going to boarding school would be to have courage. Do not be afraid of being separated from your family or your life long friends. Coming to a new community does not mean that you will start out weak and lonely. It is an adventure in life and a precious experience that will never and can never be forgotten. It may seem a challenge and instill fear within you however if you plunge into this adventure you will soon discover another part or characteristic or even new talent of yours that you never thought to seek out.
4.) What did you like most about your school?
It was a very eco friendly school with lots of nature experiences. The diverse extracurricular activities and profound care of the school faculty helped me a lot during my college preparation. I was able to share and decrease my worries about college and stress due to this school.
5.) Do you have any final words of wisdom for visiting or incoming students to your school?
I really recommend the full use of the library because it is the best place to focus and study. There are library deans who proctor the study hall that set a very focused environment and also give a lot of help in regards to report paper research or checking out books. These specific experiences really prepared me for the full-time college life.
Academics:
1.) Describe the academics at your school - what did you like most about it?
Some of the benefits are first of the small number of students because especially in situations where students struggled they are able to get a lot of attention and care. Even with academics if we are going through a book or academic topic we are able to delve deeper into it with depth and width. Even though the work load may be a bit heavy, this is very helpful towards college preparation and it is also manageable with good time management and thought.
Athletics:
1.) Describe the athletics at your school - what did you like most about it?
Pertaining to athletics, the physical education learning was very intense. There are a lot of facilities to work out in such as the gym which was a very clean and abundant environment. Also our school is known for prestigious field hockey. It also encourages physical fitness through mandatory workout and stretching. There is also a diverse athletic community in which each and every student can find their strengths and push towards a greater physical outcome at the Foxcroft school.
Art, Music, and Theatre:
1.) Describe the arts program at your school - what did you like most about it?
I am an arts student. The first and only reason that pushed me towards this decision was the free and open Art environment. There was no oppression and it provided an environment in which students could really focus on their personal uniqueness and creativity during working on their art works. Also the teachers were incredibly encouraging and there was significant harmony with the work environment and school support. The commitment towards their artworks of the students and the commitment of the teachers is incredible and vast. This must be considered a proud factor of Foxcroft.
Extracurricular Opportunities:
1.) Describe the extracurriculars offered at your school - what did you like most about it?
First of all there is a wide range of extracurricular activities from which students are able to choose from according to their personal tastes and strengths or talents. This diversity was also another factor that was able to make international students to feel more welcome to the school because they were able to flourish their talents in environments at which they were appraised and are able to increase their confidence.
Dorm Life:
1.) Describe the dorm life in your school - what did you like most about it?
The best decision of my high school life is going in the dorms. It was a priceless experience and even if I were to make the choice again I would not only go again myself I definitely recommend others to do it. First of all it is way more safe than host families and also it is very close to the school which significantly reduces transport time. Every weekend there are little trips that we have which also supported the dorm bond. I also really liked and have good memories of late night chats with my dorm friends in the lounge.
Dining:
1.) Describe the dining arrangements at your school.
I especially remember the great food of Mr.B because there were very healthy foods with a great salad bar. And also the dining staff really worked towards a very diverse food choice and it was great to be a community with these very passionate dining families. Also if you stay at school you are very likely to gain weight but because of the good food and healthy balanced diet I feel that I have progressed towards a fitness never before achieved.
Social and Town Life:
1.) Describe the school's town and surrounding area.
Middleburg is a very private town with a rich history. The town has a very unique and strong character which works to preserves this quality. For example fast food places like McDonald's do not exist because they seem to harm the perseverance of this towns character.
2.) Describe the social life at your school - what did you like most about it?
I really liked that there were separate rooms for studying and sleeping, such as the sleeping porch. And also there was a lounge at which we could talk and eat and enjoy our leisure time. Also the study room was a very good environment that supported concentration when studying. Everyone knew each other and the grades which once again encouraged a family like community.
Daily Schedule:
Weekday
10:00 AM
Advanced Studio Art
2:00 PM
AP Human Geography
I think there are a lot of things Foxcroft offers that make it unique, but one that really sticks out. The school's tradition of the "Foxhound" is one that creates a lasting bond between the. . .
Foxcroft is really flexible in how you take courses. For instance, a lot of girls rode horses competitively and spent a few months of the school year in Florida and they were still able to. . .
Most teachers (about 80%) were required to live on campus, so teachers were a part of our lives even more than at a normal school. It wasn't odd to be at a teacher's house for. . .
Show more reviews (

6 reviews

)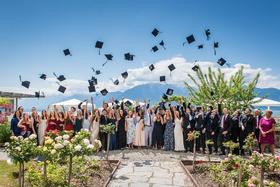 Nurturing Futures: A Journey through Boarding at Haut-Lac School in Switzerland
Nestled in the hills overlooking Lake Geneva in the French-speaking part of Switzerland lies an educational gem that embodies a unique blend of academic excellence, cultural richness and a profound sense of community. Founded over 30 years ago, Haut-Lac International Bilingual Day and Boarding School is now home to both 600 day students and a maximum of 30 boarders from around the world.
What To Wear at Your Job Interview
Navigating job interviews can be stressful, but knowing what to wear shouldn't be. Our comprehensive guide covers the essential dress code tips for men and women interviewing at boarding schools. Make your first impression count with style and professionalism.
Navigating the Modern Maze: Emerging Challenges for Boarding Schools
Explore the pressing challenges facing boarding schools, from marketing difficulties and rising insurance costs to facility maintenance and recruitment of competent trustees and teachers. This article delves into these complex issues and proposes innovative strategies to overcome them.