Reflections and Advice:
1.) What do you think makes your school unique relative to other boarding schools?
Most teachers (about 80%) were required to live on campus, so teachers were a part of our lives even more than at a normal school. It wasn't odd to be at a teacher's house for dinner, homework help, or just a family-style gathering on any given night.Foxcroft has its tradition of Fox/Hound that has been at the school since World War I, which the headmaster created when the girls couldn't go home for breaks due to the war. When girls become students, they are sorted into Foxes and Hounds (each with their own colors, chants, songs, and senior officers) and play each other in field hockey, basketball, and equestrian events.
2.) What was the best thing that happened to you in boarding school?
Boarding school helped me develop two very important qualities: confidence and independence. By participating in so many activities, being on sports teams, and having multiple leadership positions, I was definitely ready to take on the world by the time I graduated. These qualities helped me overcome adversaries, personal tragedies, graduating college early, getting my first job, and being promoted twice in one year.
3.) What might you have done differently during your boarding school experience?
I would not have done anything differently, per se - but I think the school (and all boarding schools) should focus on student's social development. I would have benefited greatly with education about safe relationships, consent, etc.
4.) What did you like most about your school?
Foxcroft gave me the tools I needed to be successful in college and in life beyond.
5.) Do you have any final words of wisdom for visiting or incoming students to your school?
Don't be embarrassed by having to go around the salad bar on your birthday! Summer or winter break babies like me always felt left out by this.Applegate is the best dorm, and if you see Ida, try to talk to her.Go look for Goose Creek and get lost in the horse pens along the way; although be cautious around the horses, of course.
Academics:
1.) Describe the academics at your school - what did you like most about it?
The thing I liked most about the academic program at Foxcroft was how individualized it was. With class sizes capped at 15 (and 12-15 students was considered a rare, crowded class) and teachers who lived on campuses with their families, everyone knew everyone which meant they knew your thought process, your academic strengths and weaknesses, and what to expect from you. When a teacher called on you, they weren't just calling on a student - they were expecting someone specific from you. It helped me learn throughout high school, because it wasn't just learning from a textbook - it was teachers teaching ME.
Athletics:
1.) Describe the athletics at your school - what did you like most about it?
I was never the most athletic child, so mandatory participation was very beneficial for me in the long run. I am now a much healthier, fit person because of mandatory sports in high school. I also liked the diversity of sports available, so my nonathletic self didn't have to commit to a specific sport if I didn't enjoy it.
Art, Music, and Theatre:
1.) Describe the arts program at your school - what did you like most about it?
I was not a part of any Visual Arts, Music, and Theatre program - the school could do a lot more to promote and expand these programs.
Extracurricular Opportunities:
1.) Describe the extracurriculars offered at your school - what did you like most about it?
I enjoyed the atmosphere of extracurriculars; Foxcroft's small community definitely felt like one, big family. There was also something for everyone, and if you really felt passionate about something, you could start something new.
Dorm Life:
1.) Describe the dorm life in your school - what did you like most about it?
I loved the sleeping porches. As a student with anxiety, sleeping in a separate space from the clutter in my room really helped me relax at night and get a good night's rest. It was also like one big sleepover with all of my friends, and I always found that comforting while being away from my family.
Dining:
1.) Describe the dining arrangements at your school.
Contrary to popular opinion, I loved seated/served lunch. It was assigned seating at lunch once or twice a week, and your assigned seating rotated every few weeks. New students also had to serve the table, which definitely instills a quality of humility in you at an early stage. Served lunch gave me the opportunity to get to know teachers I would never have in a classroom (for example, the French teacher because I took Spanish) and students I didn't spend a lot of time with normally.
Social and Town Life:
1.) Describe the school's town and surrounding area.
Foxcroft is situated outside of a one-stoplight town, and that helped the atmosphere of the school. It was wide, open spaces with fresh, clean air, it was quiet, and it was safe.
2.) Describe the social life at your school - what did you like most about it?
There were always social events going on during the weekends - trips into town, trips to the mall, mixers, etc.
Daily Schedule:
Weekday
10:00 AM
School assembly (MWF) in the library
3:45 PM
Beginning of sports
7:30 PM
Beginning of study hall
10:15 PM
Dorm sign-in for the night
Weekend
3:00 PM
Take minibus into town to visit grocery store
8:00 PM
Bus to mixer at boys' school
11:00 PM
Dorm sign-in for the night
Located a short 10-minute drive from the luxurious small town of Middleburg, VA; Foxcroft School is the heart of a place that makes positive upbringing of their students the center of their priority. With special. . .
Foxcroft School is a place of sisterhood and traditions, which is pretty fitting seeing as it just celebrated 100 years in 2014. There are many traditions that stems from years of culture and beliefs. The. . .
First of all this is an all girls boarding school with very rich tradition and uniqueness of the Fox-hound community that creates a very strong between friends and school faculty. This bond forms a family. . .
Show more reviews (

6 reviews

)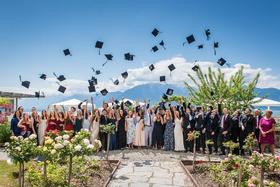 Nurturing Futures: A Journey through Boarding at Haut-Lac School in Switzerland
Nestled in the hills overlooking Lake Geneva in the French-speaking part of Switzerland lies an educational gem that embodies a unique blend of academic excellence, cultural richness and a profound sense of community. Founded over 30 years ago, Haut-Lac International Bilingual Day and Boarding School is now home to both 600 day students and a maximum of 30 boarders from around the world.
What To Wear at Your Job Interview
Navigating job interviews can be stressful, but knowing what to wear shouldn't be. Our comprehensive guide covers the essential dress code tips for men and women interviewing at boarding schools. Make your first impression count with style and professionalism.
Navigating the Modern Maze: Emerging Challenges for Boarding Schools
Explore the pressing challenges facing boarding schools, from marketing difficulties and rising insurance costs to facility maintenance and recruitment of competent trustees and teachers. This article delves into these complex issues and proposes innovative strategies to overcome them.