Reflections and Advice:
1.) What do you think makes your school unique relative to other boarding schools?
Foxcroft is really flexible in how you take courses. For instance, a lot of girls rode horses competitively and spent a few months of the school year in Florida and they were still able to take courses and get the necessary help. One girl was even training to compete internationally in rock climbing and was able to take courses with a tutor. The other unique aspect of Foxcroft is that day students have rooms and can stay on campus during the week, which is a huge plus if you play sports and have to travel from games at night.
2.) What was the best thing that happened to you in boarding school?
I was salutatorian at Foxcroft and captain of multiple teams, which just wouldn't have been possible at another school. I was shy going into my first year and the school definitely gave me confidence in my abilities and confidence to be myself. Since we had so many international students and exchange programs, I also got to meet people from all over the world, which gave me such great perspective as a young adult. The Foxcroft bond is really strong too - I still stay in touch with a few exchange students who live internationally.
3.) What might you have done differently during your boarding school experience?
At boarding school, I feel like we spent so much time trying to get out and complaining about different required activities, required meals, etc. I wish we had cherished it a little more because we had so much fun and there is no other experience like it. Getting to essentially have a sleepover with all of your best friends at school every night is awesome.
4.) What did you like most about your school?
Foxcroft gave us such diverse experiences and really prepared me for college. It shaped me to be ready for the level of independence at college and taught me excellent time management skills and drive to achieve my goals. The alumni network is great too - the Foxcroft group is really tight knit.
5.) Do you have any final words of wisdom for visiting or incoming students to your school?
Definitely take the full walking tour and see how incredibly beautiful the Virginia countryside is. Even if you don't ride horses, you have to go see the stables.
Academics:
1.) Describe the academics at your school - what did you like most about it?
School was unique at Foxcroft because it really felt tailored to your needs. I was good at French and had taken the AP course as a sophomore or junior. I think so I asked if I could do an independent study where I helped teach the freshman into French class, which was so much fun. The girls in my class were smart but not competitive about grades. Everyone was so different, and I never felt like I was trying to beat a classmate. The teachers really focused on making sure you learned the material and developed as a young adult. I also loved that since it was all-girls, we would just roll out of bed in the morning to get to our first class, or could even sleep in if we had a free period first.
Athletics:
1.) Describe the athletics at your school - what did you like most about it?
Foxcroft requires mandatory participation in sports. I didn't have an issue with that because I loved sports, but I remember a few friends groaning about it. However, they did allow you to take non-team sports like yoga and PE. I personally think it's awesome that Foxcroft requires you to take a sport because exercise is so great for mental and physical health. We were good at field hockey and lacrosse when I was there, while other sports felt like they were more just for the fun of it. The facilities are all recently upgraded and really nice.
Art, Music, and Theatre:
1.) Describe the arts program at your school - what did you like most about it?
I took art classes at Foxcroft and remember having a lot of fun going into the art studio. Foxcroft was always showcasing students' work, and we had some really talented artists while I was there. I didn't participate in the music or theater programs, but I attended the school musicals/recitals to support my friends. Since Foxcroft is all girls, it was always funny to see how they adapted to deal with the shortage of male characters in the musicals. Our first year we were required to participate in a few activities surrounding the arts which got me out of my comfort zone but I think is important for finding your passion.
Extracurricular Opportunities:
1.) Describe the extracurriculars offered at your school - what did you like most about it?
If you wanted to participate in a club that didn't exist at Foxcroft, you were encouraged to start one. There were new clubs starting all the time, and the faculty was always supportive. The tradition of Fox Hound is the unique part of Foxcroft and I think falls into an extracurricular activity. Foxcroft is rich in history and tradition, and this was my favorite part about school. The school is divided into two teams, Foxes and Hounds, and we would compete in different activities and have pep rallies, among other crazy traditions that involved sneaking around and dressing up...
Dorm Life:
1.) Describe the dorm life in your school - what did you like most about it?
The sleeping porches! The sleeping porch, where you were required to sleep until senior year, is just a bunch of bunk beds on what used to be a porch but of course now has AC and heat. It felt like camp and was a lot of fun. Senior year you can have your bed in your room. Freshman and sophomore year you have required lights out times, and older students can be in charge of enforcing this along with housemothers.
Dining:
1.) Describe the dining arrangements at your school.
As I recall, the dining hall food was pretty good and very accommodating if you had a sports game and missed a meal. There was one lunch a week with assigned seating with faculty where announcements were made and the freshman at the table had to go get the food and clear the table. I never really liked this, but it did force me to talk to a more diverse group of people in other grades.
Social and Town Life:
1.) Describe the school's town and surrounding area.
Middleburg is a quaint town with just a few restaurants and shops. It is such a beautiful town, but there is not much to it. It's about an hour from DC and there would be weekend trips for boarders to DC or the mall or other places, but if you became friends with day students, you could always go stay with them and do weekend activities.
2.) Describe the social life at your school - what did you like most about it?
Social life just consisted of the typical boarding school mixers and activities planned with boys' in schools like Woodberry or Blue Ridge. I did a summer trip to Scotland through Woodberry with kids from other boarding schools and that was definitely my favorite social activity. As a day student and athlete, I was friends with people from other local schools, but there was not much opportunity for that through Foxcroft. The best part of Foxcroft was really just the deep, lifelong friendships we made with our class. There is nothing that compares to friendships from boarding school.
I think there are a lot of things Foxcroft offers that make it unique, but one that really sticks out. The school's tradition of the "Foxhound" is one that creates a lasting bond between the. . .
Foxcroft is really flexible in how you take courses. For instance, a lot of girls rode horses competitively and spent a few months of the school year in Florida and they were still able to. . .
Most teachers (about 80%) were required to live on campus, so teachers were a part of our lives even more than at a normal school. It wasn't odd to be at a teacher's house for. . .
Show more reviews (

6 reviews

)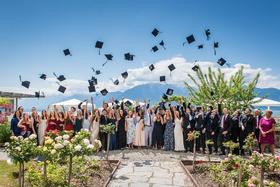 Nurturing Futures: A Journey through Boarding at Haut-Lac School in Switzerland
Nestled in the hills overlooking Lake Geneva in the French-speaking part of Switzerland lies an educational gem that embodies a unique blend of academic excellence, cultural richness and a profound sense of community. Founded over 30 years ago, Haut-Lac International Bilingual Day and Boarding School is now home to both 600 day students and a maximum of 30 boarders from around the world.
What To Wear at Your Job Interview
Navigating job interviews can be stressful, but knowing what to wear shouldn't be. Our comprehensive guide covers the essential dress code tips for men and women interviewing at boarding schools. Make your first impression count with style and professionalism.
Navigating the Modern Maze: Emerging Challenges for Boarding Schools
Explore the pressing challenges facing boarding schools, from marketing difficulties and rising insurance costs to facility maintenance and recruitment of competent trustees and teachers. This article delves into these complex issues and proposes innovative strategies to overcome them.