Reflections and Advice:
1.) What do you think makes your school unique relative to other boarding schools?
The love is Rabun Gap is unreal, the connection you feel to each person is one you don't find everywhere. I loved the fact that I ate dinner with my teachers, went on trips with my teachers or even baby-sat their children. Not only was the love unreal but the beauty was miraculous. It like God took his time crafting the beauty that is Rabun Gap Nacoochee School. It made me want to succeed, I lost count the number of time I just sat on the front hill reading or looking at the stars. Being there allowed me to find myself and my passion in life.
2.) What was the best thing that happened to you in boarding school?
Like I said earlier, being at Rabun Gap encouraged me to do and to push myself to higher heights. When I found out 3 years ago that I was going to boarding school I was against it but I realize now that it was the best move I've made. I fell in love with Rabun Gap, it really is magical place where you will find lifelong friends.
3.) What might you have done differently during your boarding school experience?
The only thing I would have done differently with my boarding school experience is go there earlier. I regret not going to Rabun Gap 2 years earlier because I had so much fun at that place. My advice to anyone considering boarding school is DO IT. It'll be the best choice you ever made.
4.) What did you like most about your school?
Overall, the atmosphere of love and support and kindness.
5.) Do you have any final words of wisdom for visiting or incoming students to your school?
Be open-minded, be open to trying new things and meeting all kinds of different people. Oh, get the steak super burrito from Manriques, you won't regret it. When you see the stars are out, go sit by the flag pole by the front hill, you'll marvel at God's beauty.
Academics:
1.) Describe the academics at your school - what did you like most about it?
The work at Rabun Gap challenged me more than my other school had. I learnt about current events. I was able to apply everything I learnt in the classroom to my day-to-day life. My teachers were amazing! They knew what they were talking about! It was a competitive environment, not one that had everyone at each other's throats but one that pushed you to do better so that you can inspire others.
Athletics:
1.) Describe the athletics at your school - what did you like most about it?
I did not participate in the athletics very much, just Varsity soccer. It was really fun! Senior night was super cool also. I also loved that 4 years of being in the cirque program counted as a sport.
Art, Music, and Theatre:
1.) Describe the arts program at your school - what did you like most about it?
Now this is my area of expertise. The arts program at Rabun Gap is amazing. Being in the theater with Mr.Lakey and everyone else, you felt like you were at home. They were so many amazing opportunities to get involved from One Act to Winter Production to Cirque and even the Dance concert. We were always preparing for something on stage. Rabun Gap commitment to the arts was one that did not go unrecognized. The support from everyone on campus and even those in the community was shown .
Extracurricular Opportunities:
1.) Describe the extracurriculars offered at your school - what did you like most about it?
There was something for everyone at Rabun Gap. You had 3 seasons to do whatever you were interested in.
Dorm Life:
1.) Describe the dorm life in your school - what did you like most about it?
Dorm Life was the best! I loved seeing some of my classmates in the dorm. We has such a sisterhood in the dorms. We would take over the TV room on the weekends and watch movies all day. We had our dorm sweatshirts and everything that I still wear to class in college. The process was pretty easy, Student Life basically took care of everything for us when it came down to room selection and even storage over the summer. Just like college, at Rabun Gap we survived on Ramen noodles.
Dining:
1.) Describe the dining arrangements at your school.
I am so glad we did not have assigned seating in the Dining Hall. Sage Dining did an okay job, the food was not always that great. There were good days and bad days.
Social and Town Life:
1.) Describe the school's town and surrounding area.
The town was actually really cute. Anyone who went to Rabun Gap could tell you how much we LOVE Manriques. I loved the fact that if I turned left out of the school gates and drove for about 10 minutes I would be in North Carolina; if I turned right I was heading to walmart or Manriques or La Cabana.
2.) Describe the social life at your school - what did you like most about it?
Social life, you pretty much were forced to have one. You saw everyone all the time and I loved it. On the weekend , Student Life always made sure we had something fun to do . There was constant movie trips and trips to Mishima or going to the Corn Maze or going Ice Skating.
Daily Schedule:
Weekday
4:00 PM
Afternoon Activity
5:30 PM
Afternoon Activity
Weekend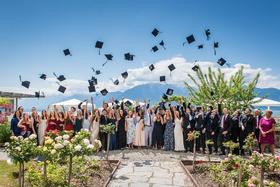 Nurturing Futures: A Journey through Boarding at Haut-Lac School in Switzerland
Nestled in the hills overlooking Lake Geneva in the French-speaking part of Switzerland lies an educational gem that embodies a unique blend of academic excellence, cultural richness and a profound sense of community. Founded over 30 years ago, Haut-Lac International Bilingual Day and Boarding School is now home to both 600 day students and a maximum of 30 boarders from around the world.
What To Wear at Your Job Interview
Navigating job interviews can be stressful, but knowing what to wear shouldn't be. Our comprehensive guide covers the essential dress code tips for men and women interviewing at boarding schools. Make your first impression count with style and professionalism.
Navigating the Modern Maze: Emerging Challenges for Boarding Schools
Explore the pressing challenges facing boarding schools, from marketing difficulties and rising insurance costs to facility maintenance and recruitment of competent trustees and teachers. This article delves into these complex issues and proposes innovative strategies to overcome them.