Reflections and Advice:
1.) What do you think makes your school unique relative to other boarding schools?
Discipline. Academic Excellence..low student to teacher ratio. A plethora of extra-curricular activities available. Excellent sports support. The best prep school for the service acsdemies..esp. Annapolis.
2.) What was the best thing that happened to you in boarding school?
Gave appreciation for world affairs !! ( ie: people from all over the world attended there )I received a great well rounded education.My military jobs and experiences after attending here, were enhanced by my Farragut training. Leadership, Discipline, and Camaraderie.
3.) What might you have done differently during your boarding school experience?
I would have done nothing different.My advice for prospective students going to a military school.......if you don't want to be there, you won't do well,.....in other words, be there for you, and not your parents.
4.) What did you like most about your school?
It taught me to be mature, and independent, but at the same time, appreciate teamwork, and the camaraderie of my fellow classmates....i still talk to 20 or so classmates from 69-70 on facebook periodically, and i graduated in 1970...46 years ago.
5.) Do you have any final words of wisdom for visiting or incoming students to your school?
Stay fit, stay active, and have fun....be a part of, ...not a lone ranger....your're all in this together !!.......and most of all, STUDY HARD !!
Academics:
1.) Describe the academics at your school - what did you like most about it?
Math and Science.....great teachers !!....overall, ALL the teachers were excellent !!.....top notch Naval Science instructors !!!
Athletics:
1.) Describe the athletics at your school - what did you like most about it?
Team spirit was second to none !!
Art, Music, and Theatre:
1.) Describe the arts program at your school - what did you like most about it?
Band was awesome...we had fun,...and we were good !!
Extracurricular Opportunities:
1.) Describe the extracurriculars offered at your school - what did you like most about it?
Naval Science gave you a lot of sailing time !!
Dorm Life:
1.) Describe the dorm life in your school - what did you like most about it?
Great roommates ...always clean....everone was respectful of each other.
Dining:
1.) Describe the dining arrangements at your school.
Food was good....no complaints.
Social and Town Life:
1.) Describe the school's town and surrounding area.
Community of St.Petersburg, Fl. was very supportive of Admiral Farragut Academy !!
2.) Describe the social life at your school - what did you like most about it?
The dances were great. There were always activities to keep you busy, if you weren't already. Most of us were.
Boarding at Admiral Farragut Academy was one of the best experience of my life, even though I was a foreign student, I never felt home sick.Staff at Farragut where always supportive and well experience. They. . .
A naval preparatory school on Bocas Ciega Bay in St. Petersburg, Fl. making it ideal for naval sciences. It has increased it's curriculum of sailing and navigation to include snorkeling, scuba diving and marine. . .
Great education, although i didn't appreciate at the time. i also learned how to be a gentleman and Naval Science. . .
Show more reviews (

6 reviews

)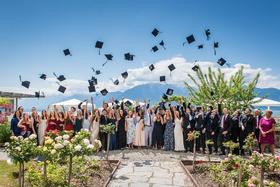 Nurturing Futures: A Journey through Boarding at Haut-Lac School in Switzerland
Nestled in the hills overlooking Lake Geneva in the French-speaking part of Switzerland lies an educational gem that embodies a unique blend of academic excellence, cultural richness and a profound sense of community. Founded over 30 years ago, Haut-Lac International Bilingual Day and Boarding School is now home to both 600 day students and a maximum of 30 boarders from around the world.
What To Wear at Your Job Interview
Navigating job interviews can be stressful, but knowing what to wear shouldn't be. Our comprehensive guide covers the essential dress code tips for men and women interviewing at boarding schools. Make your first impression count with style and professionalism.
Navigating the Modern Maze: Emerging Challenges for Boarding Schools
Explore the pressing challenges facing boarding schools, from marketing difficulties and rising insurance costs to facility maintenance and recruitment of competent trustees and teachers. This article delves into these complex issues and proposes innovative strategies to overcome them.