Reflections and Advice:
1.) What do you think makes your school unique relative to other boarding schools?
At Cate I engaged with learning in a completely different way. I entered Cate thinking that the best thing about this kind of education was it would get me into a good college and therefore a high-paying job. I thought that the most important thing was to get good grades. My experience at Cate transformed me from being a hyper-focused student who put lots of pressure on herself to a student who valued curiosity and exploration. I now value learning inside and outside of the classroom. With the support of the faculty, I developed a genuine love for learning and began to view my education as a means for discovering what's important to me, instead of merely a tool for traditional financial success.
2.) What was the best thing that happened to you in boarding school?
I learned how to advocate for myself. Having come from an immigrant Filipino family, I learned to share my story and learned that it needed to be shared. I learned to speak and connect with a diverse group of people - students and faculty included. I felt that I transformed from a student who was unhealthily focused on only my schoolwork and traditional "success" to someone who values living a full, fulfilled life.
3.) What might you have done differently during your boarding school experience?
I wasn't very open at first to people who were different from me. I wanted to hang out with similarly minded classmates and wanted to connect with those who felt like they weren't only leaving their hometown, but leaving their culture in some ways. I wish I had spoken up about what I needed in those early years - that I spoke to the Director of Diversity and that I connected with faculty earlier on about how I felt through the transition. I found later through expressing my concerns that the faculty were incredibly supportive and willing to listen.
4.) What did you like most about your school?
Cate creates a culture where it's okay to try new things - I tried surfing, kayaking, soccer, lacrosse. And I explored passions like neuroscience and writing. I felt supported by faculty and other students to be a beginner. The most helpful thing I gained from the school are my lasting relationships with faculty who have become my mentors.
5.) Do you have any final words of wisdom for visiting or incoming students to your school?
When you visit, ask students about memorable assembly announcements. Ask about our traditions on campus - snow day, the elimination game, the pirate hunt. Ask them about their favorite free day announcement.If you're interested in Cate, know that it's a place that requires that you invest yourself in the community in small ways every day but also through leadership roles when you're an upperclassman. It's not a place where you just go to class and go back to your room, but a place that students and faculty altogether are creating and sustaining.
Academics:
1.) Describe the academics at your school - what did you like most about it?
In the later years of my Cate career, I felt that I was able to choose electives within my interests and dedicate time to areas of study that I felt passionate about. I chose to take double up my course schedule with science; in those years I took Genetics, Honors Bio, Environmental Science, Neuroscience of Well being and Science Research. I designed a study on the effects of meditation on a number of behavioral and cognitive measures. I felt lucky to be a place where I was supported to be curious and to explore neuroscience deeply. This set me up for my studies at Brown - I ended up studying Cognitive Neuroscience and Contemplative psychology.My all-time favorite course is American Wilderness - an interdisciplinary course in science and English. We read the writings of Thoreau, Abbey and McPhee and talked about the role of the wilderness in American culture while learning to white-water kayak. The week prior to Commencement, we went on a week long river trip down the Green River in Utah.
Athletics:
1.) Describe the athletics at your school - what did you like most about it?
I had only played tennis for two summers before I arrived at Cate. At first I felt overwhelmed by the requirement to play two interscholastic sports, but then I discovered that the requirement created a culture where students were encouraged to try new sports and be beginners. I played tennis, soccer and lacrosse. Even though I only started playing lacrosse during the spring of my first year at Cate, I entered senior year as a varsity captain. As a lacrosse goalkeeper, I felt very supported - the boys coach would warm me up almost every practice. Because our coaches are also our teachers, we developed deep relationships with them on and off the fields; my lacrosse coach was also my dorm parent and my goalkeeping coach was also my genetic teacher.
Art, Music, and Theatre:
1.) Describe the arts program at your school - what did you like most about it?
I was most involved in music, but I was thrilled that during my first year I was able to try visual arts, music and theatre. I also was able to write for Cate Review and our annual writing contest. Writer's workshop was a forum for me to share my work and get feedback.
Extracurricular Opportunities:
1.) Describe the extracurriculars offered at your school - what did you like most about it?
I was particularly grateful for the opportunity to go on an exchange to India during the summer between my junior and senior years. I lived in a dorm with 40 Indian girls and met a group of exchange students from Germany and Colombia. That experience inspired me to travel more and to create more opportunities for me to be more globally engaged. This exchange was through the Round Square program which also offers service trips and week-long conferences around the world.At Cate, there are an incredible number of club and extracurricular options and also the freedom to start one's own club or forum.
Dorm Life:
1.) Describe the dorm life in your school - what did you like most about it?
Each dorm at Cate has a different flavor. I loved having a different experience with different dorm faculty every year. Having my own room was really important to me because I needed lots of time to recharge from being so engaged with others on campus. Only one dorm on campus, with the exception of select rooms in upperclassmen dorms, has double-rooms. That dorm, called '25 house, is reserved for either first-year boys or first-year girls, depending on the year.
Dining:
1.) Describe the dining arrangements at your school.
Meals are buffet-style, with the exception of sit-down dinner on Monday nights. There are lots of choices - fresh salad bar, hot meal, soups, gluten-free section, sandwich bar and panini press for lunch (sometimes used to make quesadillas), waffles on Sundays. There's also bread and spread - nutella, peanut butter and jelly - available in the toaster room. Students, including myself, really loved Breakfast for Dinner which is traditionally served once every month.Sit-down dinner is on Monday nights - students are assigned to tables with a faculty member at the head. It's our chance to chat with folks we haven't sat with before and to share a meal altogether.
Social and Town Life:
1.) Describe the school's town and surrounding area.
I loved having access to a beach nearby. When I was a senior, I borrowed bikes from the outdoors program and biked to the beach some mornings before class. I would jump in the ocean and then quickly get dressed to head straight to history class. Those were the best mornings. Carpinteria is a small beach town with restaurants, grocery stores and boutiques. I enjoyed taking a break from campus and grabbing lunch in town.
2.) Describe the social life at your school - what did you like most about it?
At Cate, I was able to create deep relationships with my peers. I was friendly with my classmates, but the real advantage of the dorm life was that it fostered depth in friendships, at least for me. And I noticed that I was able to create these relationships over the course of my time at Cate with friends in different grade levels; my deeper relationships were not only with those who entered in 2007 with me. And through activities and sports, my relationships changed over time - every year there were different people I felt closer to.
Weekend
9:30 AM
Go to Sunday brunch in pajamas, wait in line for a made-to-order omelet
10:00 AM
Make plans with friends at the breakfast table to go into town
11:00 AM
Lazily walk back to the dorm and run into teachers and friends on the way
12:00 AM
Get on the bus to Carpinteria
12:30 AM
Grab a drink and a burrito to-go
1:00 PM
Sit at the beach - eat, chat, read English homework
4:00 PM
Catch the bus back to campus
Cate is a smaller boarding school and has a very much community bubble. This is a west coast boarding school so people are more liberal and open to alternative teaching. They also emphasize outdoor learning. . .
One aspect of Cate School that I think makes it unique is its campus. When I was doing my research for what kind of boarding school, I wanted to apply to, there were a few. . .
Cate is one of the unique places you could ever imagine. High up on a mesa with an ocean view surrounded by hundreds of acres of avocado trees, a utopian little community exists and thrives. . .
Show more reviews (

16 reviews

)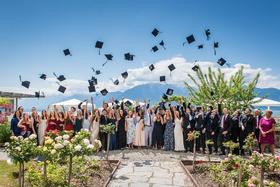 Nurturing Futures: A Journey through Boarding at Haut-Lac School in Switzerland
Nestled in the hills overlooking Lake Geneva in the French-speaking part of Switzerland lies an educational gem that embodies a unique blend of academic excellence, cultural richness and a profound sense of community. Founded over 30 years ago, Haut-Lac International Bilingual Day and Boarding School is now home to both 600 day students and a maximum of 30 boarders from around the world.
What To Wear at Your Job Interview
Navigating job interviews can be stressful, but knowing what to wear shouldn't be. Our comprehensive guide covers the essential dress code tips for men and women interviewing at boarding schools. Make your first impression count with style and professionalism.
Navigating the Modern Maze: Emerging Challenges for Boarding Schools
Explore the pressing challenges facing boarding schools, from marketing difficulties and rising insurance costs to facility maintenance and recruitment of competent trustees and teachers. This article delves into these complex issues and proposes innovative strategies to overcome them.