Reflections and Advice:
1.) What do you think makes your school unique relative to other boarding schools?
The Harkness method of teaching keeps classes small and interactive. Everyone, including instructors, is seated in an equal position around the table. Harkness classes helped me find my voice and prepared me for work conferences in my adult life. The Harkness method made me a much more capable and confident speaker, especially in group and public speaking settings.The House system helped me bond with students quickly even though I did not start as a freshman. House Olympics are a fantastic introduction to the School.
2.) What was the best thing that happened to you in boarding school?
Attending The Lawrenceville School is one of the best experiences I have ever had. It was incredibly challenging (to the point that college felt like a breeze) and it demanded a lot of me, but it also made me more confident, better able to express myself and communicate with others, and more understanding of the world around me. I have also successfully used my Lawrenceville network to help me find job opportunities and social connections when I move.
3.) What might you have done differently during your boarding school experience?
I would advise kids going to boarding school to get involved in anything that sparks their interest. They should take advantage of all of the opportunities in front of them and try all sorts of sports, arts, and academic subjects. They should also remember that, while grades are important, they are not everything. Campus-wide capture the flag, skating on the frozen duck pond, and pulling a really great senior prank are among the Lawrenceville experiences that I will never forget. Lawrenceville does a great job of developing students as whole people; athleticism, appreciation of the arts, academic intelligence, emotional intelligence/ability to with others, and community service are all valued at Lawrenceville. Students should nurture all of these parts of themselves.
4.) What did you like most about your school?
I liked feeling like I was part of something bigger than myself. Lawrenceville has a huge international student population that connected me with the world outside of my small home town. It also has a long history and a big sense of tradition that was so much fun to be a part of. The sense of community was impressive. I love running into people while I'm wearing a Lawrenceville shirt and having them stop me to tell me about their kids who go there, or how they went there themselves. I've run into Lawrentians in so many countries I can't even keep track!
5.) Do you have any final words of wisdom for visiting or incoming students to your school?
Students should take time to explore the campus and be outdoors. The campus is huge and New Jersey gets all four seasons, so it's great to go on walks or runs with friends and get away from the computers and books for a while. The duck pond is a fun little area and there are tons of fields in the back of the campus to wander through.
Academics:
1.) Describe the academics at your school - what did you like most about it?
Lawrenceville students tend to be very passionate about their studies. They truly care about learning. Teachers often hold class outside and students often leave class still discussing what they were studying.Because teachers work duty in the houses and live on or near campus, opportunities to get to know your teachers as people are frequent. I have not found another school that does such a good job of integrating lessons and life.
Athletics:
1.) Describe the athletics at your school - what did you like most about it?
I loved the diversity of options for athletics and the fact that everyone participated. If I had stayed in public school I would never have been a varsity athlete, but Lawrenceville gave me the opportunity to find a sport I enjoyed and excel at it. I'm also glad that Lawrenceville required athletics six days a week. It helped me learn to build exercise into my schedule even when I'm busy, and to turn to exercise to balance myself and relieve stress in other areas of my life.
Art, Music, and Theatre:
1.) Describe the arts program at your school - what did you like most about it?
Student productions are of incredibly high quality. I worked at Allegro Camp teaching voice, guitar, ballet, and theory. I loved getting to teach kids to read music and play instruments. It opened up a whole new world for them and it allowed me to deepen my understanding of the material I was teaching. My favorite class at Lawrenceville was an intensive study of five albums, including Abbey Road, Dark Side of the Moon, and So by Peter Gabriel. I had so much fun in that class, and it introduced me to careers I had never considered (music production etc.).
Extracurricular Opportunities:
1.) Describe the extracurriculars offered at your school - what did you like most about it?
The focus on community service at Lawrenceville is fantastic. Not only does Lawrenceville do a Martin Luther King Jr. Day of Service where everyone spends the day on community service, but the hour requirement to graduate ensures that community service is a regular part of life for Lawrenceville students.
Dorm Life:
1.) Describe the dorm life in your school - what did you like most about it?
The House system builds community and encourages healthy competition. Prefects and house masters live in the houses to provide guidance and support for students. You'll often find house masters' kids running around and playing with students in the halls.
Dining:
1.) Describe the dining arrangements at your school.
The food at Lawrenceville is great. There are plenty of options for all sorts of diets, including vegetarians. Various "bars" (grilled cheese bar, "wok joy" bar, etc.) let you custom-make your meal if you want, and the prepared selections are always good. Once you're a senior, you use a different dining hall with even better food. Lawrenceville is great about growing its own food and sourcing meals from local farms. I learned a lot about sustainable eating and nutrition from Lawrenceville. The School had a dietitian speak to my sports team about ways to meet our nutritional needs before, during, and after heavy workouts, and the dining staff are always very friendly. Many housemasters and their families eat in the dining halls regularly, so that should give you a sense of how good the food is. Regularly scheduled house lunches strengthen community, but on most days students sit in a mix of houses to catch up with all different friends.
Social and Town Life:
1.) Describe the school's town and surrounding area.
The town is nice, quiet, and safe. There are a few good restaurants nearby, including options that deliver to campus. There are opportunities to get off campus and go shopping or to the movies. Princeton is right nearby and is a fantastic town. The School also takes advantage of its proximity to Philly and NYC by organizing theatre trips and other excursions.
2.) Describe the social life at your school - what did you like most about it?
I liked being friends with people who cared about what they were doing. They were very motivated people which is not something I experienced at public school. My friends all had very strong and diverse interests and always wanted to share those interests with me. Because of my friends at Lawrenceville, I learned to golf, speak a little Mandarin, and cook some really good stir fry. We also had regular dances and mixers with other houses which were a lot of fun.
The house system is unique to different boarding schools and the dress code.. . .
What makes Lawrenceville unique from other boarding schools is definitely its house and harkness method. Harkness is especially unique because it allows for students to everyday engage critically with the text they are reading and. . .
One of the most notable aspects of Lawrenceville is the house system. It is often compared to Harry Potter. After freshman year all students are sorted into the houses they will live in their sophomore. . .
Show more reviews (

3 reviews

)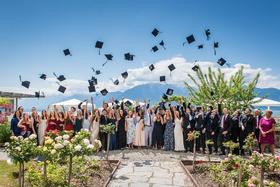 Nurturing Futures: A Journey through Boarding at Haut-Lac School in Switzerland
Nestled in the hills overlooking Lake Geneva in the French-speaking part of Switzerland lies an educational gem that embodies a unique blend of academic excellence, cultural richness and a profound sense of community. Founded over 30 years ago, Haut-Lac International Bilingual Day and Boarding School is now home to both 600 day students and a maximum of 30 boarders from around the world.
What To Wear at Your Job Interview
Navigating job interviews can be stressful, but knowing what to wear shouldn't be. Our comprehensive guide covers the essential dress code tips for men and women interviewing at boarding schools. Make your first impression count with style and professionalism.
Navigating the Modern Maze: Emerging Challenges for Boarding Schools
Explore the pressing challenges facing boarding schools, from marketing difficulties and rising insurance costs to facility maintenance and recruitment of competent trustees and teachers. This article delves into these complex issues and proposes innovative strategies to overcome them.